Golden Quill - The Legacy
Description
They're EXO, the kingkas and she's a transfer student with a secret. Her mission to seduce and destroy. Sung kyung must save someone she loves, and Kai is the one standing in her way. Kai is searching for someone but he will put his past behind him, all for the mysterious girl who draws him into the dark underworld of clubs. This is the sequel to the Golden Quill - a drama about 5 families and their quest for power, acceptance and above all, love.  This is like soap opera where you read about characters everyday life. 
FYI - Spoilers in comment feed 
This is what you need to know:
Around 80 years ago five friends came together and made a pact to always stand by each other. They promised to help each other and support each other. They formed the Golden Quill Consortium. Every generation has a chance to compete for the Golden Quill and the winner is awarded as head of the Consortium. Part two of the Golden Quill follows the lives of their children and grandchildren. 
Note - if you want more background information on the families then you can read The Golden Quill. Part one of the Golden Quill featured Lee Soo-hyuk, Jung Hoseok, Min Yoongi, Jeon Jungkook, Kim Taehyung and Namjoon as main characters. 
Also for the sake of the story, names and ages are altered. The characters will still look the same though. 
Their family names are:
Lee – Construction and Real Estate
Song – Security and Technology Systems (Oracle)
Jung – Hotels and Resorts (Finite)
Min – Malls and Entertainment (Emerald)
Woo – Investment Services
CHARACTERS 
Lee Household 
Jongin 
Nickname Kai because his uncle named him that as a baby. 
Firstborn of Song Gaelin and Lee Soo-hyuk 
Is next in line to take over the President Position at his family business - but is in two minds about it. 
Can be incredibly sweet to those he knows and especially his family but is a cold city guy to outsiders 
The Class President and rules the school with a no-nonsense attitude 
When Jongin was born, Gaelin said that she knew he would do great things one day 
Jeon Jungkook feels closest to Jongin because his nephew's personality resembles his own at the same age. 
Lee Soo-hyuk tends to have a very professional relationship with his son as he grooms him to take over the company and be the next leader of the Consortium 
Jongin loves his mother more than anything and his dog. 
He respects the House Master who he feels helped to raise him and often helps him out with work. 
Everyone thinks Jongin is the best looking for this generation
Kyungsoo tends to disagree with Jongin a lot but its because he wants Jongin to realise and accept when he is wrong and needs to change. He feels its his responsibility to make Jongin into a proper leader. It was the same thing his father used to do for Lee Soo-hyuk. 
Sehun 
Second born to Song Gaelin and Lee Soo-hyuk
Nicknamed the nerd by Jongin because he is always busy building something. 
Is next in line to take over his mother's family business Oracle. His grandmother wanted a female heir. 
Sehun works out and has the best body 
Baekhyun once said he wished he could be closer to Sehun. 
Sehun is closest to his mother and one day wants to take over her company. 
Sehun pretends to hate spending time with his siblings, but he secretly enjoys their company. 
Sehun thinks Arran is an idiot and is not afraid to say it. He gets angry when anyone else calls her stupid. 
Baekhyun 
He is a twin with Arran
Very sport-inclined and likes to boast that he gets his talent from his mother. 
Loves living in the apartment and wants to turn the ballroom/events hall into an indoor soccer field 
Baekhyun is the youngest captain of the school's soccer team 
Baekhyun is the lively warm and loving child of the Lee Household. He does his best to ease the pressure of his family members.
Baekhyun has a lot of female followers 
Jung Hoseok says that Baekhyun is the living reincarnation of his uncle Kim Taehyung because Taehyung was exactly the same in his youth 
Baekhyun is closest to his uncle Taehyung and they often go off on adventures together
Arran 
Arran is the image of her mother. If you read the Golden Quill then you will know that Song Gaelin is beautiful beyond words and most beloved of everyone in the Consortium. 
Arran sometimes feels like she has to compete with her mother for attention. 
Lee Soo-hyuk spoils his daughter because she reminds him so much of Gaelin. 
Hoseok and Yoongi are afraid of Arran because she reminds them of Gaelin as a child. Scary! 
Arran loves Tanaka the most because he always takes care of her and is the only one who can calm her down. 
Arran likes to act cute but has another side that she tries to hide from everyone. The side that she thinks is too similar to her mother. Gaelin has always been afraid that Arran is too similar to her. 
One of the things that Arran is proud of is that she is the President of the Alphas. The Alphas were featured in a BTS fanfic called BTS and the Lake Terror Mystery. It is the same school. 
Arran and Jung Minah are best friends 
Jung Household 
Kyungsoo 
Kyungsoo is second born to Jung Hoseok and Sarang. 
People call him the muscle because he is always ready to solve problems for his friends. 
He tends not to talk to strangers. 
Likes spending time at the Finite flagship hotel in Seoul so much that his father gave him his own suite. Kyungsoo likes the privacy and his father thinks it will help him understand the business. 
Kyungsoo has never been interested in the Golden Quill
Most people at school avoid him, and he is fine with that. He doesn't really want to go through the whole process of introducing himself to new people.
Kyungsoo has a soft spot for Lee Arran but he doesn't like spoiling her like everyone else does. 
He thinks that Minah is over dramatic and wishes she could be calmer. 
His favourite person in the consortium is Min Yoongi. Kyungsoo respects how calm and put together he is. He is most intimidated by Lee Soo-hyuk. 
Kyungsoo is not particularly close to his mother, she is always on conferences. When he was a baby he thought Julian was his father. 
Minah
Last born of Jung Hoseok and Kyungsoo's younger sister. 
Named after Song Minah, (Gaelin's mother) because their grandparents are best friends. 
Is Lee Arran's best friend but is secretly jealous of the relationship that Arran has with Gaelin because Sarang is hardly at home. 
Is always on her phone, even during class. 
Has a mean streak and tends to pick on girls at the school. Has a whole host of younger girls to run errands for her. 
Loves power and money and Imagines that she will one day marry Jongin and be part of the Lee Household. 
Favourite activity is shopping
Has a love/hate relationship with her father and brother who always and don't take her seriously. 
Min Household 
Chen
Firstborn to Min Yoongi and Lee Jiyeon
He likes to spend time alone and this often frustrates the others
He wishes that Minah wouldn't be so mean to everyone and always tries to save the people she bullies, which make Minah angrier. 
Very responsible and takes ownership of his decisions 
Chanyeol 
Chanyeol is the second born to Min Yoongi and Lee Jiyeon 
Closest to his mother. His mother is Lee Soo-hyuk's younger sister 
Chanyeol is happy most of the time. 
He doesn't understand why his father likes to sleep so much. 
Jungkook and Taehyung think he could be a great musician because he is so talented with instruments.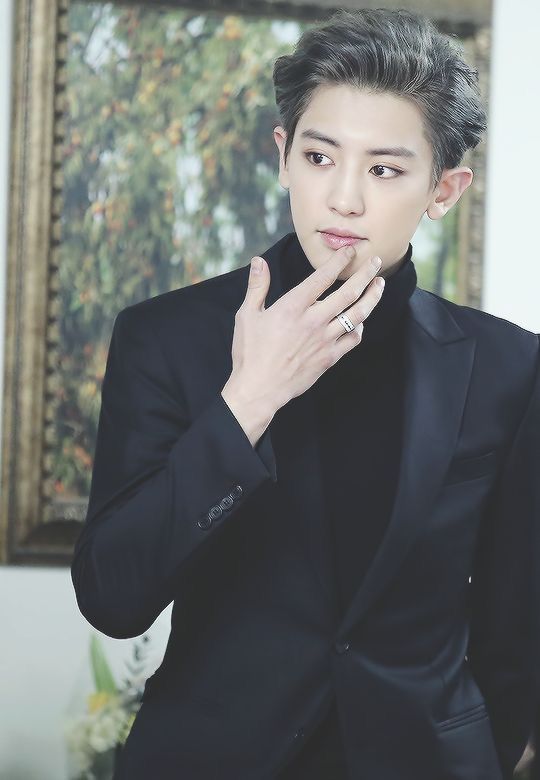 Guest appearance 
Kris
Tao 
Sana (Park Min-hye_(Pony)
Miranda 
Characters carried over from the Golden Quill 
Lee Soo-hyuk - Kai, Sehun,  Baekhyun and Arran's father 
Song Gaelin - Kai, Sehun,  Baekhyun and Arran's mother. (OC)
Jeon Jungkook- Lee Soo-hyuk's younger cousin
Kim Taehyung - Song Gaelin's younger cousin
Jung Hosoek - Kyungsoo' and Minah's father 
Min Yoongi - Chanyeol and Chen's father 
Kim Namjoon - The Lee House Master 
Tanaka - The Lee Butler 
Julian - The Jung House Master (OC)
Luca - The Min House Master (OC)
Ren - The Song House Master (OC)
---
Thank you so much for the amazing poster! It's exactly what I wanted and creates the right feel for the story. <3 
https://www.asianfanfics.com/story/view/1281635/