Forever with you~ (Sequel to Me With You?)
by TeenTopGirl
| Updated | Created
Tags b1a4 infinite jinyoung ljoe myungsoo sandeul teentop | Report Content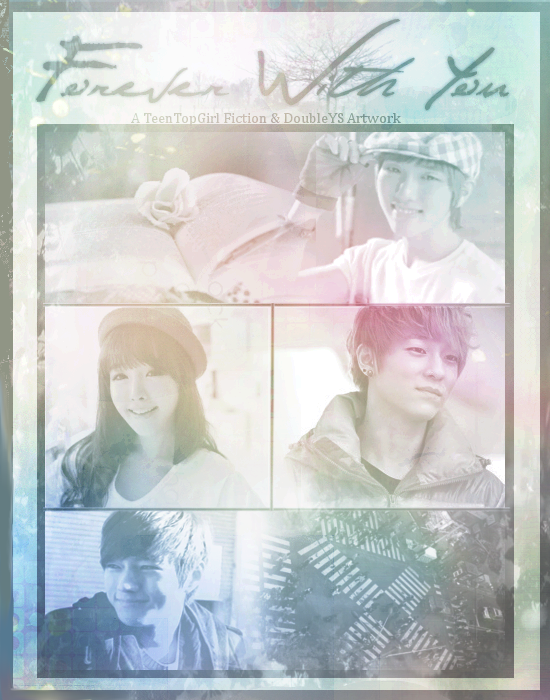 Characters
Wonderful, Teen Top, B1A4, Infinite, and more to come!
Description
After an accident, Jung Soomi forgot everything that's happened to her. Her brother and his friends pushed back their debut to help her remember a majority of her life. They didn't mention anybody in Infinite or Teen Top because they thought she would get hurt. After remembering the remembering basics, she trained under WM entertainment, a company her dad owns, she fills her new dream in becoming a singer along with her new bandmembers; Minhee, Hyomi, Daeun, Hyejin, Jungah, Kyumi.
I'm don't remember you. But..... Can't I-I still love you? The way I did before?
I can't stop thinking of you. Why can't you leave my head?
Fine. I love her. But she loves him.
Why can't it be me! I've been with you since day 1!!!!!!!
Y-Your the reason I lost all my memory?
Characters:
Jung Soomi – She is a cute, bubbly, smart, pretty, and talented girl. She's an incredible actor and a magnificent singer. She has leader-like qualities and looks out for people she cares about. She would do anything for the people she loves including hurting herself for the one she loves. She is debuting under WM entertainment with her friends. Her band is called 'Wonderful'. She is visuals, leader and the actor.
Jung Jinyoung – Her loyal and best brother in the entire universe.  He pushed back his debut to help Soomi regain a memory. He loves Soomi with all his heart. Soomi is the world to him. He's currently dating Kyumi; Childhood friend. But soon they break up because of meeting new people. The leader of B1A4.
Lee Byunghun/L.Joe - Her ex – boyfriend. He was Soomi's first love, and first kiss. He's sweet, chessy, understanding, considerate, and funny, towards Soomi. He's a cocky, funny, weird, fun guy to be around towards his friends. He loves Soomi more than anyone combined, and he still does. He didn't know that Soomi has experienced an accident, which made her loose all her memories of them together.
Kim Myungsoo – Her other ex – boyfriend/best friend. He was always there for Soomi. Ever since, they were kids. Soomi was his first love. He secretly (everyone knew except Soomi) loved Soomi until she became L.Joe's girl. After their breakup (due to L.Joe's debut) Soomi decides to give L a chance because she slowly fell for him. He's the opposite of L.joe but he is sweet, caring, and chessy. He thought he understood Soomi the best out of everyone, but in the end he was the one who let for down the most.
Lee Sandeul – Her best friend. He is Jinyoung & Soomi's best friend. He's has always been secretly in love with Soomi, and never told her because he wanted the best for her. But figured he wasn't the best. His eyes have never left Soomi for another girl, ever since they met. Soomi hasn't realize/noticed Sandeul's feelings because he kept it down low. He's sweet, understand, protective, funny, fun to be with, and a really big sunshine boy. He is the main vocalist of the band B1A4.
Bandmates:
Hyomi – The oldest in 'Wonderful'. She's sweet, fun, and amazing inside out. She's the main vocalist of the group. She gets into fights with Daeun a LOT. She loves chicken, along with Daeun. We call thier fights 'chicken fights'. Her nickname is 'Tigger' because of her love of Tigers. Her ideal type is DooJoon of BEAST.
Minhee – The 2nd oldest in the band. She loves food, anime, and is very boyish. She's nice, understand, easily annoyed (She doesn't get along with Kyumi), and very protective of her favorite dongseang; Soomi. Her nickname is 'Froggie' because she's cute and has big eyes like frogs. She's the lead vocalist of the group.
Kyumi – The 3rd in the band. She's cute, on the outside. But on the inside she's filled with pure evil. (BFF evil) She's mean, playful, hyper, and weird. (Good weird) She loves chocolates and birds. Her nickname is 'Pengu' because of Penguins. She's the sub-vocalist of the group.
Hyejin – The 4th oldest in the band. She's very shy and sweet. She tries her best to be perfect, but she can't face the fact that she's already perfect the way she is. Her nickname is kitty because they are sweet, and cuddly unless they don't like you. She's the lead rapper of the group.  She has a secret crush on Gongchan.
JungAh- The 5th oldest in the band. She's cute and pure. If she get her mad, she will kick you, literally. She's cute, funny, nice, and the definition of awesome. She's the main dancer of the group. If you ever challenge her in a dance battle, you will lose. BIG TIME. Her nickname is 'Ducky' because she loves ducks and is very cute. She has a secret crush on Jinyoung.
Soomi – 6th oldest. Majority description in the beginning.  Nickname 'Bunny' because they are cute on the outside, COULD be evil on the inside. Hyper and jumps around a lot. She's the leader, visuals, and actor.
Daeun – She's the maknae. She's very cute, not that hyper, but very fun to be with. She's loves chicken and food. (; She LLLOOOVVVEEESSS to B-Boy and she's very sweet. She loves to 'chicken fight' with Hyomi.  Her nickname is puppy because she loves dogs. Especially Chihuahuas. She's the main rapper of the group. 
Foreword
Annyeong readers! This is the seqeal to my first fanfic. I hope you like it! If yoru interested subscribe! Here is the link to the first story if you havent read it yet. http://www.asianfanfics.com/story/view/103758
All tralier credits go to 
My other story with Daehyun!(= 
http://www.asianfanfics.com/story/view/168755
I give credits of my poster to A Dreamer's Wish || Graphic Shop! (: I hope you're able to check them out! (: http://www.asianfanfics.com/story/view/253821
Tweet
^ Back to Top