Chapter 21
by AnneTOP
Tags choiseunghyun skydragon topbom ygfamily aliencouple springtempo 2ne1bigbang | Report Content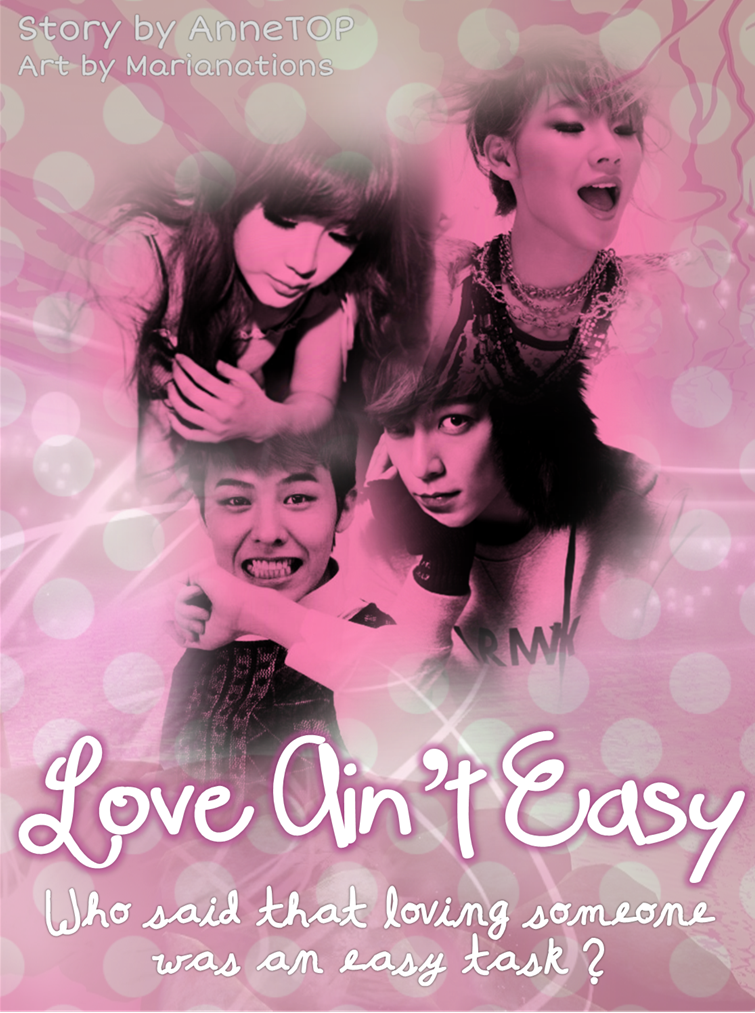 Chae's POV
"Neh sajangnim. Neh, mianhe."
Yang sajangnim called me to report to the headquarters.
I guess I'll be scolded also after what happened in Japan.
Though still there's no news about that incident. Yet.
"I'm heading to the headquarters, who wants to come with me?" I asked the girls now playing scrabble.
"I'll pass." Dara and Bom chorused.
"I'll go with you unnie. Dae oppa is there." The maknae said happily.
"Kaja!" I told her and headed to the door.
"What's that?" I asked Minzy as I saw what she was holding.
"This? It's packed lunch… for Dae oppa…" she said with a flushed face.
"It's for him only? What about the others?" I asked teasing her and that made her blush more.
"But…uhm…err…" she scratched her head.
"You really like Daesungie huh?" I finally asked her. I never asked her before about the 2 of them.
"Neh unnie… Nomu Nomu Nomu joha!" With her high pitched tone.
"Well I hope he'll take good care of you."
"He does. Really." She said as she looked out the window.
"Unnie, I'm really glad that you and Ji oppa are together now." She added.
"Yeah. Me too. I almost thought that we'll never be together." I agreed.
"Let's hope you're his last girl. Kekekeke" she joked.
"I'll cut him if he cheats on me!" I joked back.
"Cut what?" she innocently asked and with a confused look.
"N-n-n-nothing." I answered trying not to laugh.
"Annyong haseyo sajangnim." I greeted him as I entered his office.
He's standing on the corner window talking on his phone.
I thought that it'll be just me and him talking but I saw Ji Yong in his office, checking out the action figures.
God he's so hot with his outfit.
He's wearing a faded denim jeans and white v-neck shirt flaunting his sexy collar bone.
I just stood there and stared at Ji's heavenly body.
Ji grabbed my hand and led me to the couch. He sat down beside me and rested his arms around my shoulder.
"Hi Chaebabe!" he smiled my favorite smile of him.
"Hey!" I smiled back and messed his long blonde hair.
He leaned on my face and I thought for that moment that he'll kiss me so I closed my eyes...
"We'll get scolded." He whispered on my ears.
I opened my eyes and saw him grinning on me.
'That's pathetic Chae!' I muttered to myself as I turn to YG.
Ji rested his head on my shoulder and let out a deep sigh.
"Afraid?" I whispered to him.
"Yeah." He muttered.
"You're used to this, why get scared now?" I whispered again.
"Coz you're involved…" he sighed again.
'Awww…. That's so sweet'
I felt like someone tickled my heart.
Though I should feel afraid also about our situation, I just can't help but to feel this way.
"Don't worry. We're in this together." I assured him and held his hand.
"Ji Yong, Chae Rin… You two." He started off as soon as his phone call ended.
We didn't respond. We just sat properly while I looked down.
"Ji Yong why drag Chae Rin into this?" he asked.
"Mianhe hyung." Ji answered while looking down.
"We are lucky that Hyun Seung didn't press any charges against you Ji." He said calmly.
"And we are lucky again that there isn't any press that caught that incident. If that news broke out, you are over Ji." Now with a more serious tone.
"Mianhe sajangnim. It won't happen again, and it was Hyun Seung's fault anyway. He deserv~~"
"Ji…" I cut him off. Talking back like that won't do any good.
"I think you should apologize to him." Yang sajangnim told Ji.
"But~~" Ji was cut off by a knock on the door.
As the door opened my eyes went wide as I saw who came in.
"Annyong haseyo. Sorry for barging in like this." Hyun Seung greeted us.
Thank God it's just his lips were bruised.
"Ah. Hyun Seung long time no see." YG shook his hand and gestured him to sit by his side.
"What are you doing here?" Ji scoffed.
"I'm here to apologize to Chae Rin." He answered as he looked at me.
"You'd better be!" Ji almost yelled.
"Ji Yong straighten up your act." YG warned him.
"It's okay Yang sajangnim." Hyun Seung butted in.
"Tsch!" Ji Yong smirked at him.
"Let's hear him out." YG uttered.
"I'm sorry for causing you this trouble Chae." He started off, "But I know this will be good for us,"
"Good for the both of you?!" Ji butted in.
"Ji let him finnish." I told him.
"If I didn't fake cheat on you, you'll be still suffering with me." He continued.
"Fake cheat??" I blurted out looking dumb.
"Neh… Hyuna and I faked it… We both know that you don't love us the way you love each other… and with that we decided to do the act... So you two could realize the things between the two of you… Now look, you're together." He smiled at us though it's not his happy smile.
"Oppa…" I'm overwhelmed by his story.
"Seriously dude?!" Ji exclaimed. His expression changed from annoyed to happy face.
He almost hugged Hyun Seung from what he just heard.
"Oppa… that's too much… how can you do that??" I tried not to tear up.
"I want you to be happy Chae… and I can't see you being happy with me. Don't worry I'm okay." He tried to smile again.
"And besides Hyuna and I started trying it." He let out a big grin. "Hope you don't mind." He added as he looked to Ji Yong.
"No he don't!" I quickly answered for Ji Yong.
The 3 men just looked at me and laughed.
"So you two. What's happening?" YG asked us as Hyun Seung left.
Ji held my hand and said, "Hyung I love Chae Rin."
I looked at him and YG alternately.
I don't know what to say.
It's like my tongue just ran off my mouth.
"Are you serious this time Ji?" YG asked him seriously.
"Neh hyung! She'll be my last girl." Ji answered.
He squeezed my hand and winked at me.
"Make sure that you won't cause any more trouble Kwon Ji Yong." YG warned him again.
"Neh hyung!" he assured YG.
As soon as we got out of YG's office Ji grabbed my hand and dragged me until we reached the recording studio.
"You know I can walk normally, no need of dragging." I told him as I crossed my arms.
"And why are we here?" I asked.
"I just want to relax." We went inside and saw Minzy and Daesung sleeping on the couch hugging each other.
"Ooppss. Occupado!" Ji exclaimed.
"Sshh!" I hit his back.
He pushed me on the making me squeal luckily the 2 didn't woke up.
"Yah! Ji Yong-ah!" I blurted out.
He jumped beside me and started tickling me.
"Yah~yah~yah!" I tried not to squeal loudly.
"Oh my God! Ji Yong stop!!" I tried to push him away.
"Call me oppa first!" he commanded me.
"Arasso! Arasso!" I gave up fighting back.
My knees are getting weaker. My strength almost leaving my body.
"I love you." He suddenly changed.
He hugged my waist and nudged his head on my shoulder.
I messed his hair and cupped his face.
"I love you more oppa!" I said and showered his cheeks with small kisses.
"Yong Yong oppa is blushing!" I teased as I poke his cheeks.
He sits down properly and pulled something out from his pocket.
A red velvet pouch and he pulled out something.
"I know this is not a diamond ring but I promise you that my love for you will be infinite as this ring."
"Oppa... I don't need rings... I just need you..." I told him as he placed it on my ring finger.
He wiped off the tears on my cheek and leaned forward to kiss me.
I cupped his face and kissed him back.
The taste of his lips makes me crave more of him.
I bit his lower lip as he sucked the life out of my tongue.
His hands caressing my face gaves me chill.
I looked into his eyes and saw the loving and caring side of him.
We almost ran out of breath as we parted our lips.
I couldn't help to blush and the sound of my heart pounding inside my chest, the fact that I had fallen head over heals for this guy.
"I love you forever." We chorused as our foreheads touch together.
---
@Elmoheartz I guess he should be beaten up for his doings but I can't beat him :(
Thank you for reading my story :">
@Yuraaa hahahaha! I guess a little beating will do for him >:)
@suhbbe aww :(
@ChibiCheonsa IKR :D I think they suffered enough! ~kekekeke
---
Sorry if I can't update for a few days :(
Having girl issues. I hate this time of the month. I can't think and move -_______-
Will try to update again tonight :)
Philippines time. Now it's 4:40 am here :) Got to go :)
Will try to make more SkyDragon moments in the next few chapters :)
THANKS TO THE SUBSCRIBERS AND READERS! LOVE Y'ALL!
HUGS AND KISSES! :**
^ Back to Top