Please log in to read further chapters
Description
Everyone has a story behind them. Looking at their physical appearance, you could never tell what someone has been through behind the mask that hides their true reality. Some people try to run away from it, while others try to forget it, and some are forced to live it. 
Foreword
Kim Namjoon: "I
was left all alone in this cold cruel world."
Jung Hoseok: "I would rather feel the pain on my skin than in my heart."
Kim Taehyung: "As I try to run away my past continues to chase me."
Min Yoongi: "The best way to forget about this pain is to put your self in danger."
Kim Seokjin: "My life consisted of nothing but beatings, nothing hurts anymore."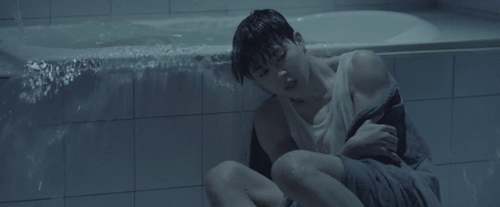 Park Jimin: "My joy is seeing your heart break."
Jeon Jungkook: "No one was there to guide me, I found it all on my own."
Lee Minhee: "You might get lost in the darkness, but eventually there will be an escape."
Lee Jungmee: "There is no way we can forget but there is a way to find beauty in life."
SUMMARY: A horrible accident breaks the hearts and minds of twin sisters Lee Minhee and Jungmee. They move to South Korea only to find out a few years later their father announces his second marriage. They meet their two step-brothers; one who loves them and one that loathes them. Along the way they meet five other boys who have dark and horrible pasts that continue to chase them along the road. Slowly they learn what each hides and how broken they truly are inside. 
Poster belongs/created by: 
A big thank you for this amazing poster shop!
WARNING: This story deals with bullying, depression, suicide, gangs, self-harm and death. Some of these topics might be sensitive to AFF users. Discretion is advised. Thank you. 
Rated: PG-13
Note: We have something really important we want to talk to you guys about. We been getting subscribers everytime we update the story but we have also noticed that some of the users have been playing games with us. Miss_Right15 and I have noticed that some users have been subscribing and then unsubscribing. Then they continue this in a loop. We are kindly and respectively asking you users to stop doing that. It has been going on since we started this story. Both of us had a long conversation about this. It is hurting our feelings. It makes us feel that our story is a joke or we are a joke. We are kindly asking you to please stop. If you like our story and enjoy please do subscribe but if you aren't sure about it then be a ghost reader and don't subscribe. For now we decided that we will keep the story public. So please their is no need to play games like this. If this continues we will change the story to private. Thank you once again.  I am sorry if this doesn't imply to you. If you are a subscriber that hasn't done this, we want to thank you for being so kind to us. Have a good day! Enjoy!
-PopPanda16 and Miss_Right15