7

I Tried

by jazlin and WBLuver |
138 subscribers | 16995 views | Updated | Created
Tags bigbang gdragon heedragon kwonjiyong sohee wondergirls | Report Content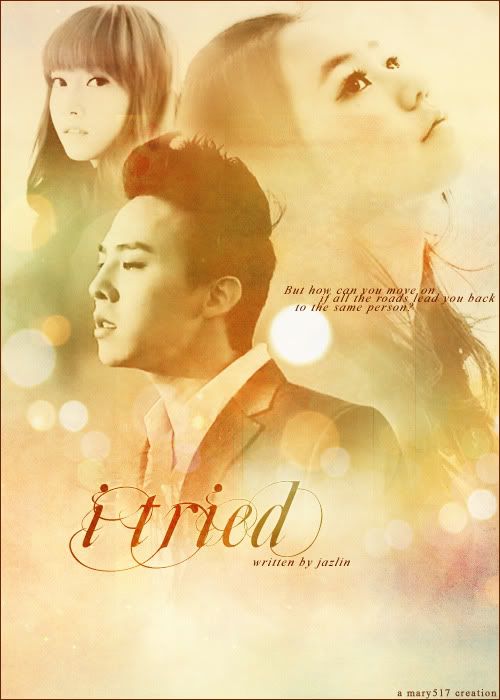 Characters
ahn sohee, kwon jiyong, jung jessica
Description
Sohee and Jiyong were childhood friends…
Their parents are the best of friends. They reside on the same neighborhood and their homes were only one block away from each other.
They were always together even though he was four years older than her.
All of the time, Jiyong was there on her side when she needed him. He was there if someone made fun of her… in short, he was her protector.
He was her oppa and she was his dongsaeng.
All was well… until she came into their lives…
Her name? Hmmm...
It's Sooyeon.
Her protector from other bullies was now protecting the new kid and new found friend from her.
Later on, his attention was divided between Sohee and Sooyeon. Jiyong keeps defending the cry baby Sooyeon from the playful Sohee…
Then came the announcement that shocked Sohee….
 Jiyong and Sooyeon was officially a couple.
That totally broke her.
She chose to keep away for her own good and tried to forget...
She needed to move on...
But how can you move on if all the roads lead you back to the same person?
Foreword
Credit to mary517 for the wonderful poster.
thank  you very much!
comment and subscribe!
you
---
THIS STORY IS A WORK OF FICTION. NAMES, CHARACTERS, PLACES, AND INCIDENTS ARE THE PRODUCT OF MY IMAGINATION. ANY RESEMBLANCE TO ACTUAL EVENTS, LOCALES, OR PERSONS, IS JUST A COINCIDENCE (or just merely borrowed). THE CELEBRITY NAMES AND/OR IMAGES ARE SIMPLY BORROWED. NO OFFENSE IS INTENDED TOWARDS THEM, THEIR FAMILIES, FRIENDS OR EVEN THEIR FANS. 
---
other stories.

 Everytime
---
Just so you know, the Rated M mark on some chapters were automatically done by AFF because they detected some words that were unappropriate for minors. 
Tweet
^ Back to Top