Description
Being a teenager is tough. Plain and simple and just true.
Every day teenagers stress over various things: school, clothes, friends, love. The most trivial and ordinary things. But what's the one thing most teenagers shrug off and act as if it is of no importance? Bullying.
For Choi Eunhui, avoiding her bully seemed like the best thing to do. Why wouldn't you avoid your bully? Of course, things only seem to worsen the more she avoids him. She can't stand Oh Sehun, the cool guy with the attractive face who thinks he's God's given gift to this world. He's hateful, cocky, and many more adjectives that mean bad things. She never thought she would be a victim of bullying, one reason being because she was always the one helping the bullied, being their friend and defender. But that only seemed to make trouble for herself because now she's got the world's worst bully sitting on her shoulder like some annoying monkey screeching in her ear. And just when she thinks it's over and she's free of it all, he strikes again every time. She doesn't know what she expected to happen...
But falling for the boy behind the mask of a bully was what she least expected.
The hear this story through audio fic rather than read it, click here. (The beautiful voice credit goes to juliyah.)
Foreword
Choi Eunhui | 최은휘
"나는 니가 싫어요."
"I imagine one of the reasons people cling to their hate so stubbornly is because they sense, once hate is gone, they will be forced to deal with pain."
- James Baldwin
오세훈 | Oh Sehun
"내가 너무 미안해."
---
OSTS:
01. In Your Eyes - Onew
02. 후 - J-Min
03. Don't Go - EXO
04. 최고의 행운 - Chen
05. Lightweight - Demi lovato
06. 울보 - 신지훈
07. Wildest Dreams - Taylor Swift
---
I do ask that none of you take this story seriously; the actions and personalities do not reflect the real people mentioned in this story. Not only that, but bullying is a very serious issue today and it is not something to play with. I myself have never experienced bullying and I do not inflict it on others, as I wish you all refrain from doing also. If any of you are experiencing bullying, please seek help; feel free to talk to me about it too. I hope this story sets an example as to why you should not bully others. I also hope that none of you fall under the impression that this could actually happen in real life; all the love and fluff that will come to the storyline surface at some points is not going to happen between you and your bully (I mean, it could but let's not play with fire; Eunhui will show us why we shouldn't). Just please enjoy the story and leave it at that. Oh Sehun is not going to bully you and fall in love with you (he probably would bully you but you know, that's Ohun). Do stick up for yourself and let your bully know what they are doing is wrong and should stop. This does not reflect actual bullying events. For additonal information on bullying, click here and here.
*WARNING* This story contains verbal, emotional, domestic, ual, and physical abuse.
---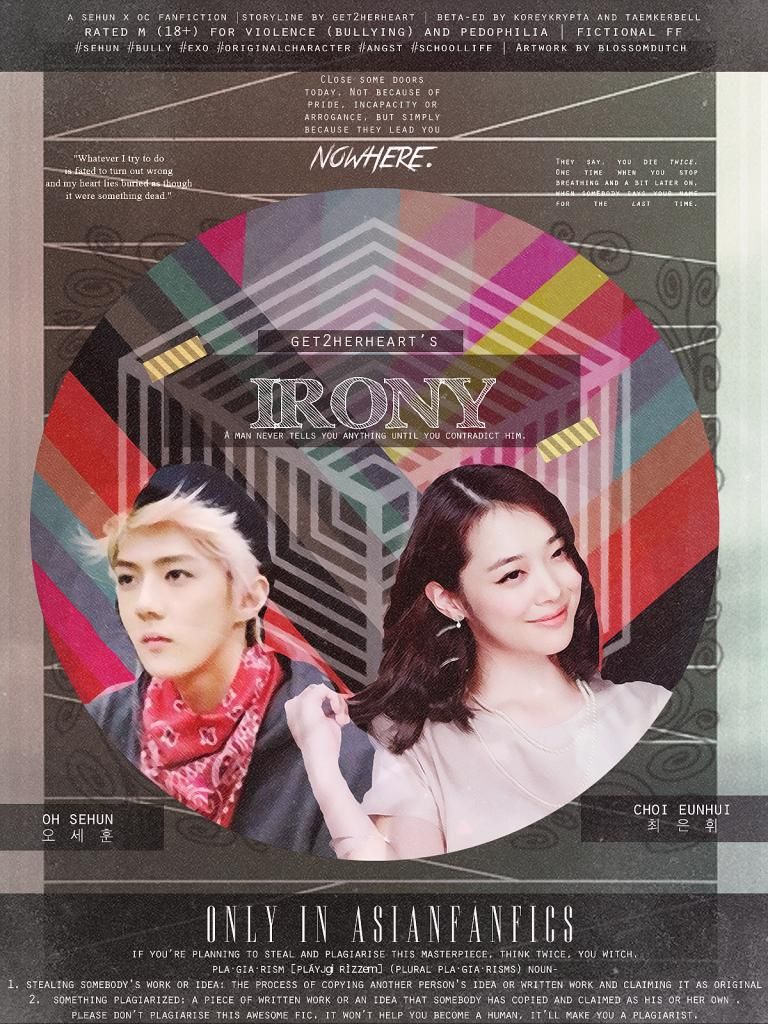 -BrokenPiece; hamskkuma; Angela27; pearlydaisy; zazazazzz; xxesmeee; Mochi_Cream_Smile; Lumieve; Queensabelle; kaibee__; chossychicc; heyitsme94; Saera-ah; sachixia; tsinaee; Blossomdutch; TheMusicLover258; BeAminG; shin_chaye
Trailer credits!
         dreamer0205; sehun_themaknae   
Reviews!
Review done by ღ Lust Review Shop ღ with an 89.5/90 .
Review by Dramabunster
Major thank you to all those who subscribe, comment, vote, all who recommend my story, my beautiful betas (Koreykrypta & Taemkerbell), and to all the poster and trailer makers as well.
Shout out to Oh Sehun for being fab. 
And, readers, one word for you: patience.
---
Copyright © 2014 by get2herheart. All rights reserved.
[There are no translations and/or other versions of this story. This one and the audio listed above are the only two.] 
Do not translate this story.
Do not repost this story anywhere.
There is no sequel and never will be.