7

You Belong With Me

by aceofspades
179 subscribers | 19835 views | Updated | Created
Tags cnblue hyuna leejoon seohyun snsd yonghwa yongseo | Report Content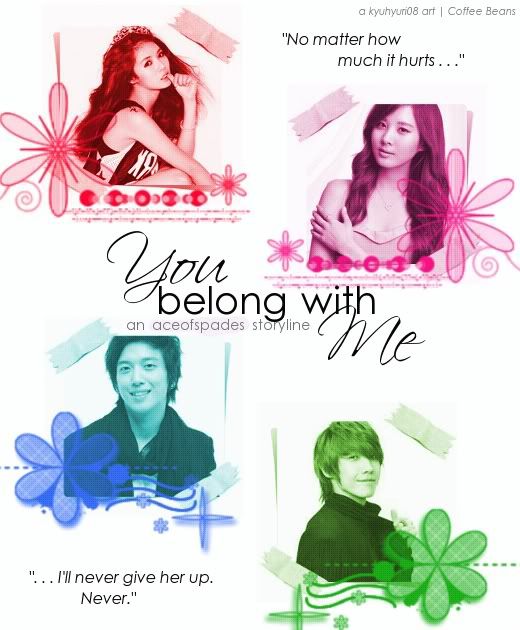 Characters
Jung Yonghwa, Seohyun, Lee Joon, Kim Hyuna
Description
Nice guys finish last is what people had always told him. That was something that Yonghwa was proving through his own experiences. It wasn't fair that the sweet and innocent guys always got the short end of the stick when it came to getting the girl of their dreams. The fact that he was in love with his best friend wasn't really helping his cause either. They grew up together. They ate, played, and lived every waking moment together. It was only natural that he was attracted to the girl that he had spent his entire life with. But, everyone knew that you should never fall in love with your best friend. It was a fact of life that anyone who had ever experienced it knew. You couldn't afford ruining everything you two shared because it would kill everything if for some reason it didn't work out. Like that mattered though, it's not like your heart would listen to you anyways. Why did it seem like that part of you always made you do things that only caused you pain? Why was it that it had more power over your body than your brain did?
All of these questions had been asked by Yonghwa millions of times over but he couldn't get a clear answer. Even after being in love with his best friend for as long as he could remember, one would think he would have learned his lesson. Pain and suffering is the only thing he was getting out of loving that girl, so why did he continue doing it? The biggest joke life played on him was the way that his best male friend, Lee Joon, had actually been the wall preventing him from confessing to the girl he had loved in the purest way for ages. That's when he knew that he had to leave his two best friends to live their lives happily without him. He would only get in the way and ruin things for them.
Years went by in which he told himself he would grow out of his foolish and forbidden love. However, he never reached his goals. If anything, the distance made him love that woman even more. It got him through the day to think that eventually he would go back to his homeland of South Korea and finally have his chance. The time came for him to go back, but nothing changed. He was still the same foolish little boy that unconditionally and pitifully loved a woman that would never be his.
Characters
Jung Yonghwa (23) - As a boy he had fallen in love with a girl that he was forbidden to do so. Well, it wasn't explicitly forbidden, but he knew it was so. Nobody had told him he couldn't love her, but he could understand life well enough to know it would never work. For this reason he drowned himself in schoolwork as a student and worked hard in order to try to break the barriers down between them. He was intelligent, hard working, loyal, and caring. If there was an award for being the nicest guy in all of Korea, there would be no doubts that he would win it. He had many admirers during his studies in Korea as well as his university years in the United States, but none of those girls mattered. There was only one girl in his heart since the first time he had laid eyes on her. He came back to Korea after going to college in the United States determined to make sure that he finally got his moment with his love even if it cost him everything.
Lee Joon (23) - Joon was a playful and foolish young man that lived life to the fullest. He was a jokester and there were no boring moments when he was around. When he was just a kid he met Yonghwa and felt an immediate bond with him. Joon was the son of a rich family that hated the disparity between him and his new 'brother' Yonghwa. Joon may be one of the biggest idiots on the planet, but he was a good friend. Yonghwa and him spent many happy years together as children until one fateful event when they were entering high school. Joon began to date a girl, the girl that Yonghwa had admired for so many years. Now as the heir to his father's company he has started to work dilligently to take over, but that still doesn't stop him from acting out every once in a while.
Seohyun (22) - Seohyun is a delicate and kind-hearted girl that had spent her entire life sheltered by her father. Her mother had died during childbirth leaving behind a weak and sickly parting gift to her father. As a child she was always sick and constantly missed school. Even so, she never lost her bright and dazzling smile that would melt the hearts of anyone who saw it. She never let her disability (her weakened immune system) keep her down. Now as a grown woman, she has blossomed just as the roses bloom when the sunlight flows over them. No longer as weak as she was before, she is learning to run her family's business as she also is the child of a wealthy family. This pure and angelic girl won over the hearts of anyone and everyone she met. Even though she was a rich girl, she never once showed it off. It was these qualities and more that made more than just one of her best friends fall madly in love with her.
Kim Hyuna (22) - Jet black hair, S-line figure, legs that could drive a gay man straight, and that gorgeous face made Kim Hyuna, a sly and calculating woman, a deadly force to be reckoned with. She knows exactly what she wants and she knows exactly how to get it. Coming from a humble household, she has never been able to just ask for anything she wanted. Instead she had to work hard in order for her to obtain it. This was a lifestyle that was tiring her out. She was considered one of the prettiest, if not THE hottest, girl in all of their university. Why should she be so perfect but not get what she wanted? This lead her to live a life of dating boys here and there just to see who would be the best catch. During her time at her university she meets Seohyun, her near opposite. For some reason the two girls met and became friends even though they were like night and day.
Other Characters
Lee Jang Woo (23) - Perverted, cocky, and fun-loving guy is a member of the group that had been together since they were in elementary school. Even though he can annoy the hell out of anyone with his lame jokes and constant sexual innuendos, he's someone that could be counted on to have your back no matter what the situation.
Ham Eun Jung (22) - Once a tomboy but is now a girl that uses her aegyo to get her through the day. She constantly has to keep her boyfriend Jang Woo's pants on as he is possibly the horniest man on the planet. Even though he constantly embarasses her throughout the day with his sexual comments, she still loves him unconditionally. She also was part of their group in high school but ever since Hyuna and Seohyun had met during their first year of university, she distanced herself as she felt out of place.
Jung Soo Jung (18) aka Krystal Jung - This spunky and arrogant girl is Yonghwa's kid sister. She used to admire Eun Jung for being such a strong and independent woman during her school years so she began to emulate her tomboy behavior. While she still respects her unnie, she is disappointed that she has degraded herself to using aegyo to please her boyfriend. There is only one thing that she truly hates and that is anything that hurts her brother whom she believes is someone who deserves the best. This causes her to clash with the girl that Yonghwa has loved for so long as she hasn't ever loved him back.
Foreword
"I know it's really selfish of me to ask you this, but can you not like her anymore? Promise me you won't like her anymore!" Krystal cried with tears brimming in her eyes.
"Krystal, I can't promise you that." Yonghwa continued to hug his younger sibling and run his hands through her black hair. "As much as I know you mean well, I just can't do that."
"But oppa why do you like her!?!? She's hurting you so much and I can't take it anymore."
"Krystal, can we not talk about this right now?"
"No, we have to set this straight now. You left in order to forget about her! Why are you still hurting yourself by liking her?
"Krystal…"
"What?"
"Do you really want what's best for me?" Yonghwa asked in a voice devoid of all emotion.
"Yes, I truly do," Krystal answered with certainty.
"She is what's best for me," he replied with all the sincerity that he could.
_______________________________________________________________________________________________________________________
Hey there everyone it's Ace and I'm finally back with a new story. I actually wrote the first like 3-4 chapters of it waaaaaaaaaaay back in November of 2011 and I had everything already planned out since then. I got too burned out from writing my story "I'm a Loner" so writing became something I lost interest in. I'm sorry for everyone that was expecting my two stories to take off. I had to quit them both since I just wasn't feeling them. This story however should be something to look forward to. I feel like I'm really going to like writing this story since it hits me close to home. I can relate to Yonghwa and trust me, I wish I couldn't. You guys will understand soon enough what I'm talking about haha. My other two finished stories are in third person but they're a bit more inclined to be from Seohyun's perspective. This time around it will be a little more Yonghwa-centered.
Anyways, this story will probably move slow at first and then pick up speed at a certain point. Anyone that has read my stories before should know that I write pretty long chapters that don't move fast until I hit the climax and then the drama just explodes beyond belief. I probably will only update this story every 2 days as opposed to every day like I used to since that will keep me from burning myself out from writing. If I feel exceptionally good about it all, I may begin to update everyday.
Thank you all for taking interest in my story. I wouldn't be anywhere without you readers. Now without further ado, have fun reading :)
A big shout out goes to kyuhyuri08 at the Coffee Bean poster shop for the great poster!!
http://www.asianfanfics.com/story/view/86223/coffee-bean-a-poster-cafe-hiring-3-more-applicants-graphics-poster-request-cafe-hiring-characterchart-desginer
Tweet
^ Back to Top