Super Junior at KCON 2018 NY!!!!!!!!!!!!!!!!!!
Omgggg!!!! I finally saw Super Junior in concert last night at KCON 2018 NY.
I'm just going to go through my whole day.
I got to Newark (it was actually in Newark, NJ) at 9:15 am. My husband and I literally ran the entire way to the Prudential Center and got there at 9:30 am. Super Junior was doing a Star Talk Panel at 12:30 pm but my cousin Kai got there at 8 am and she was saying if they started to let people in before we got there that we probably wouldn't get in because the line was so long behind her. We literally got there ten minutes before they started letting people into the cordoned off area.
We were right in front of the stage up against the barricade! I couldn't believe how lucky we got. So, we stood there for two and a half hours and then Super Junior came out.
Ofcourse, I freaking died because I had never seen them in person before. Heechul couldn't come because of his ankle. I'm really proud of him that he put his health first and that he didn't fly out. So, they all went on stage and there was an interview. It was really funny, they were asking questions like, who would be most likely to win an Oscar out of the group and then the guys had to decide. Things like that. If you go on my Instagram (@83LineForever) there was a super funny segment where the host asked Eunhyuk to sell his microphone to the fans. So, he basically said you could use it as a headband of sorts and he started doing the Choki, Choki Wa dance lol. The host asked other questions, like who was the most likely to have a book published and be an Olympic champion (they said Shindong and I think he did like a roll on the floor or something, it was really funny). Then they did a really short dance to Lo Siento and the segment ended. 
Okay, so here's where things got really crazy. There was a fan in a wheelchair who was in front of the barricades. Donghae spotted her and he walked a bottle of water over to her. When he was leaving, he walked right past me. So, I was literally leaning over the barricades as far as I could screaming Dongahe!!!!!! over and over again with my hand out lol. And he actually touched my hand *dead*. (Skip to 28:51, you can clearly see it happening.)
So, yeah I basically freaking died lol.
Here are pics from the Star Panel --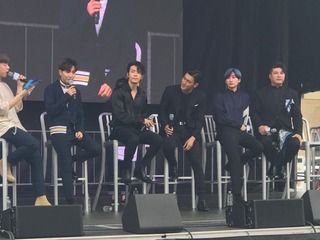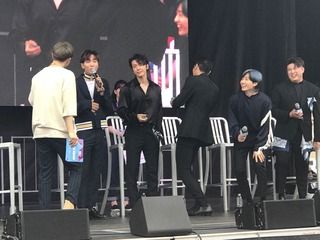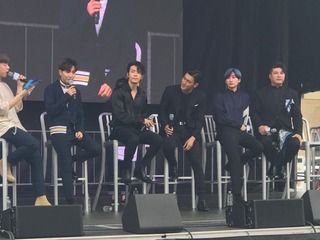 Once we were done with the Star Panel, we got in line to get food. In my Sichul story, there was a scene where I had Siwon and Heechul eat bulgogi. I had looked up different Korean dishes when I wrote the story and I thought it sounded really good so I was really excited to try it. They actually had spicy bulgogi, which is what I got. And it was delicious. But. The line for the food was over an hour and a half!!!!! That is just ridiculous! They just did not have enough Korean food stalls and trucks out there which makes no sense given that this is KCON. You would assume most people want to eat Korean food, right? So, yeah. An hour and a half.
By the time we got our food, people were already lining up for the Red Carpet. So, that was another three hour line for that, lol. I now understand why people call it LineCon. Even waiting that long in line, we were pretty far back. I am only 5"1 so I literally couldn't see anything so I was really bummed. Then right before Super Junior came out, I literally started jumping up and down desperately trying to see over the shoulder of a really tall girl in front of me. She turned around and was like, do you want to get in front of me and I was like yes! Lol. So, I moved up. But I still couldn't see over the crowd of people in front of me. Then luckily, two people left so I literally fought my way to the front and I was so close to SJ again! It was awesome.
First, Leslie Grace came out, who I love! She looked stunning, as always, and she talked about Lo Siento and how she was excited to be performing with SJ at KCON. Then Super Junior came out. I screamed so much, lol. Honestly, it's a blur for me what they talked about, I was screaming so freaking much lol. Eunhyuk danced to Black Suit, the video is on my Instagram (@83LineForever). Siwon was speaking English and sounding super y, lol. Here are some pics from the Red Carpet --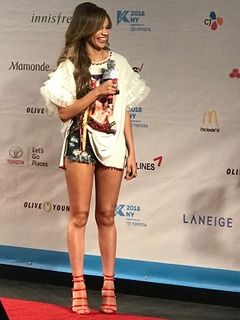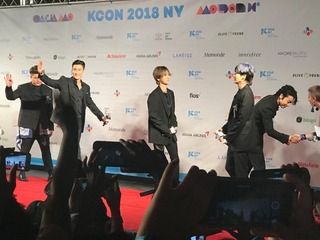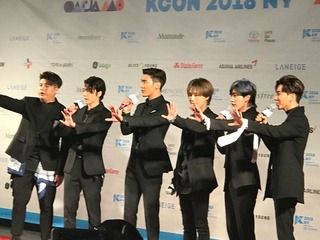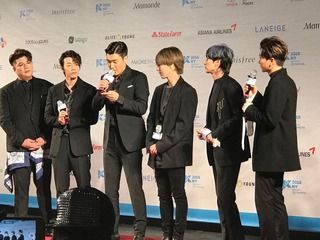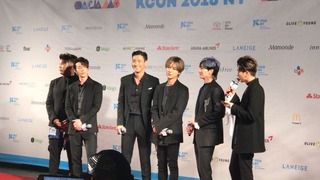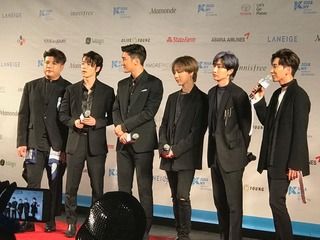 Then right after the Red Carpet, we lined up to get inside the Prudential Center for the concert. This line wasn't that long. This is me waiting to get in --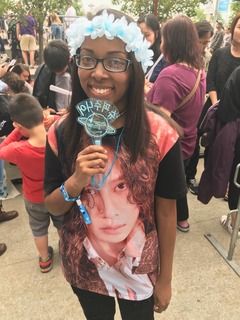 So, we got inside the Prudential Center and went to our seats. We had a really good view of the stage --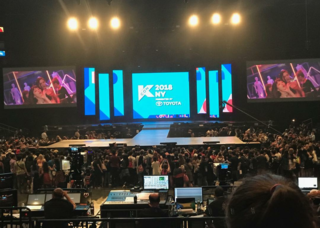 For the concert, I only took videos. You can check them all out, I have videos for every song performed, at my Instagram at @83LineForever.
So, the concert started. Now, we all know that Super Junior are freaking legends and kings. So, ofcourse I knew they were going to close the show. 
But no, they came out at the very beginning and did a shortened version of Sorry, Sorry! I literally almost died because I was like, wait are they actually performing first? Lol.
Oh, and Siwon was the host for the evening, which was so cool. He was so y *-*
Now, I'm going to be honest. I wasn't into any other performance except for Pentagon and Heize (she was simply amazing, she blew me away). So, I was kind of just waiting for Super Junior to come out.
They came out and the first song they performed was Black Suit. The first verse was an alternate version of the song, it was super slowed down and y, and ofcourse they all had their suits on and I legit almost died, lol!
They then performed (this isn't in order, I was very overwhelmed yesterday in the best way possible lol) Mr. Simple, Bonamana, Sorry Sorry, Lo Siento.
Ok, so at this point, I was like praying for Mamacita lol. It's my second favorite SJ song of all time and it's the one I want to see in concert the most. They didn't do it but the song they did do almost made me cry.
They performed Miracle!!! That is one of my favorite, favorite Super Junior songs.
Oh! And I almost forgot, Eunhyuk said he wanted Super Show to come to the US so we all screamed our freaking heads off when he said that.
I literally jumped up and down screaming during Super Junior's entire set waving my light stick around like a crazy person. So, that on top of standing in line for over six hours, didn't do wonders for my arthritis lol. I am in pain today but that's okay!
I'm just still like processing the fact that I actually saw Super Junior in concert yesterday, was so close to them and that Donghae actually touched my freaking hand lol!
It was such an amazing experience I can't even put it into words. It was literally a dream of mine to see them in concert and then I even got to see them in the panel and Red Carpet.
I'm so freaking happy!
Check my Instagram for all the concert videos - @83LineForever