Description
Her appearance at his wedding caused him his reputation and status. Who is she? What's her purpose of ruining his wedding ceremony and who was it that had sent her? He's going to get to the bottom of things!
All these while, many prettier and ier girls came into his life, but why is she the one he's so desperate to have? Why is she the one in his heart and mind? What has she done to him? Could this...be a sign?
"First, I'd like to apologize for ruining the ceremony, but before Lee Yuri marries Kris Wu, I think she has the right to know who her husband-to-be actually is…"  - Kim Nina
"You've only made one mistake, Nina...You stole my heart." - Kris Wu
Foreword
A new story by

Elfish95 (currently known as Pixie-Tink)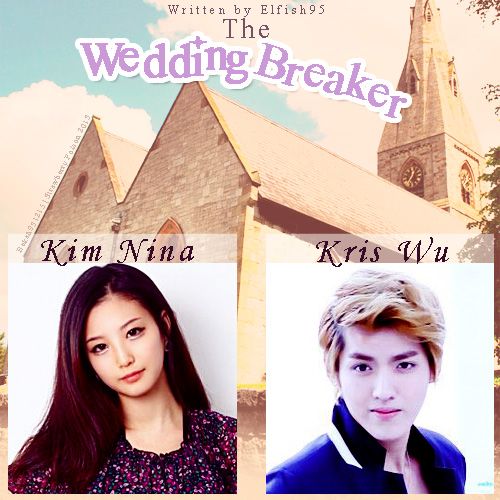 Story credit: Elfish95 a.k.a Pixie-Tink
Adapted from: The Wedding Breaker, a Malaysian novel by Evelyn Rose
Beta author/proof-reader: Bunjai
Poster credit to: Bekah931215 from ღ Strawberry Poison ღ Graphics Shop
(A/N) This story is inspired from the novel mentioned. I got the idea and all that from the novel and decided to do my own plot/version of The Wedding Breaker. If you think I am plagiarizing, do tell me and I'll quickly remove this. I don't want to be called a plagiarizer/plagiator so do save me if I am. Thank you! 
## I know, I haven't finished a few of my stories. But that doesn't mean that it'll stop me from writing now. A story featuring Kris of EXO and OC. I will randomly fit the other members into the story later. Do comment and subscribe. Thank you. ##
---
---
WARNING: PROFANITIES WILL BE INCLUDED THROUGHOUT THE STORY
CONSIDER YOURSELF WARNED
---
---
Story posters:
by: Bekah931215 @ ღ Strawberry Poison ღ Graphics Shop
by: GuardianExostans
by: katastrophy
---
Subscribe, comment & upvote cupcakes! ^^
---