seoul_lover
Personal Message
Hello everyone and welcome to my page, where I publish my fanfictions! :D
I as you can tell love writing, and it's been a hobby of mine for as long as I can remember. I wish to become a better writer and continue writing, as I find calmness in doing that.
I dont know what else to say, other than I hope you guys will support me. If you like some of my stories, please support me by leaving comments and upvoting.
Also, I only use asianfanfics and wattpad to share my fan fictions.. I am mostly on here to just update my stories, and check them..
I don't accept random friend requests from people on here. I only accept friend requests from those who actively comment on my story(s), or those who've spoken to me before.
I AM NOT into roleplaying! so please refrain from spamming me regarding that. I do not take requests to write certain fictions/about certain idols either.
I believe that commenting and voting is only in its right place to do so. It takes time for us writers to write.. Hence, getting your support would mean a lot. And to some writers like me, it can really work as a factor for motivation! so don't hestiate, and keep coming with the comments.
You can find me on;
You can drop me questions on my ask.fm. My username is seoullover 
You can also find most of my stories on my Wattpad account. My username is seoul_lover_fictions
XXX
SEOUL_LOVER 
About Me
---
---
My first ever featured story!
Featured 8th, October, 2018
---
---
I just made a list of my top biases, because I got nothing else to tell >.< This list gets edited sometimes, because I'm such a hxe lmao
The list is in no particular order, except that Yongguk and Soo Hyuk are my ultimate biases. 
I don't specifically have female biases. But I do really admire some of them, which are: 
Hwangbo, Lee Hyori, Kahi, Son Dambi, Hwang Jung Eum, Park Min Young, Lee Si Young
Idols/rappers:
Bang Yongguk, Tey, Simon Dominic, Daehyun, Shownu, Wonho, Lee Kigwang, B.I, Bobby, Mino, Gray, Song Kyung Il, Owol (Taehyun), Christian Yu, Mark, JB, Yugyeom, Kim Hyun Joong, Ok Taecyeon, Junho, Lee Joon, Yunho (U-Know), Baro, Johnny, Bang Chan, Mingi
 Kim Jonghyun ♥️
Actors:
Lee Soo Hyuk, Ji Chang Wook, Woo Do Hwan, Seo Kang Joon,  Seo In Guk, Nam Joo Hyuk, Ji Soo, Park Seo Joon, Gong Yoo, Song Joong Ki, Ahn Hyo Seop, Bang Sung Hoon, Kang Ha Neul, Kim Hyun Joong, Yoon Si Yoon, Kim Soo Hyun, Hyun Bin, Lee Jae Wook, Wi Ha Joon, Ahn Bo Hyun, Kang Tae Oh
---
---
May, 2021 -> BANG YONGGUK'S LONG WAITED RETURN TT 
---
---
Favorite Quotes 
~✺~ 
"If you have a dream, don't get too focused on it. If you are only focused on your dream, you lose sight of those around you. You really can't look back. You can forget some people. You can miss some stuff that you can only do at a certain age. Just relax a little bit." - Bang Yongguk
"Everyone has a different standard to define beauty. Everyone has a beautiful side, and the attractive side. There's no way to define beauty as everyone has their own beauty and style, we can't give it a definition." - Lee Soo Hyuk
---
---
Yuzuru Hanyu
 2-times Olympic Champion, most googled Figure Skater on the Planet, National Hero and Figure Skating Legend and the first ever to achieve grand super slam!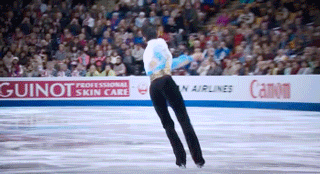 YUZURU HANYU aka THE GOAT
---
---
THE SONSATIONAL SONSHINE
Son Heung Min
You don't need to love soccer in order to love this man! He is a national treasure <3
(I know they got nothing to do with Kpop/kdrama, but I want to include them! ^^)