All my fault
by dbskgirl4ever
Tags blockb korean zico bapband bap daehyun schoolliferomance | Report Content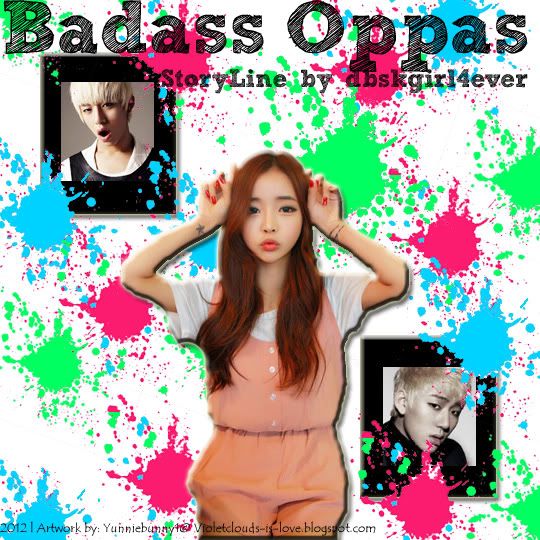 http://www.youtube.com/watch?v=FKNY7lulG7k
----
The ambulance arrived ten minutes later. Daehyun was immediately sent to the emergency room. The surgery light blinked on.
You waited for what seemed like hours. You anxiously rubbed your hands together as you paced back and forth in front of the double glass doors. *How long has it been? Why is he in there for such a long time? Did something go wrong?*
A hand on your shoulder made you jump. You turned around to see Zico. You had forgotten he had come with you.
"Sit down, Yeojin or you'll pass out."
You shook your head, "I'm fine."
"No, you're not." He firmly grabbed your elbow, "Come and sit-"
"I CAN'T SIT DOWN! NOT UNTIL DAEHYUN OPPA IS OUT!" You lashed out. Zico blinked at you, stunned that you had raised your voice at him. You realized what you had just done and your face fell. "I-I'm sorry. I just-" He stepped back with his face full of disappointment and hurt. You took a step towards him, "I didn't mean to snap at you. I'm just really scared right now." Your bottom lip trembled as you glanced back at the doors, "If something goes wrong…"
Zico softened. He came closer and gently squeezed your arm, "Nothing will go wrong. You probably know Daehyun better than I do. He's strong, right?"
You nodded *So strong that he won't let anyone know if he's having a hard time.* "But still there was so much blood. If…If something happens to Daehyun oppa I- I wouldn't be able to live with that." Tears spilled down your face.
"Don't say that." Zico pulled you into his arms and held you comfortingly.
"Yeojin!" Voices called. You stepped out of Zico's arms and turned your head. Your eyes widened, "Oppas!" You started running towards them. Yongguk caught your arms and examined you. "Are you all right?! Did you get hurt?!" "It's not me, it's Daehyun oppa." Your throat closed up with dread.
Yongguk looked towards the surgery room. "Oppa, otokae?" You choked out another sob. His eyes fell on you. "It's my entire fault. Daehyun oppa came saved me. He risked his life for me. I should've been the one that was injured but Daehyun oppa took the blow…" You covered your face and sobbed loudly.
Yongguk squeezed your arm and ran over to the glass doors. Himchan wrapped his arms around you and soothingly rubbed your back, "Don't cry, Yeojin. It's not your fault. Shh…." Jongup patted your back. Youngjae and Zelo ran over to Yongguk.
Zico felt invisible as the 'family' comforted each other. *I don't belong here.*
"Hyung, do you think Daehyun will be all right?" Youngjae asked, his eyebrows furrowed together in worry. "We have to hope." Yongguk whispered. "Will he die?!" Zelo yelped. "Shh." Yongguk shot him a look. You had heard already and another cry escaped your mouth. Himchan buried your face into his sweater and stroked your hair as he muttered words of comfort to you.
"We know Daehyun. He's tough. He'll make it. Believe in him." Yongguk told his dongsaengs. They nodded somberly.
Zelo ran back to you, "Noona!" You came out of Himchan's embrace and hugged Zelo's waist. The two of you held each other and cried. Although you were the older one, he patted your head to comfort you, "Don't worry, noona. Daehyun hyung is strong. He'll make it out okay." You squeezed his waist *I desperately wish that to be true.*
Just then the surgery light blinked off and the glass doors opened. You straightened up right away. Blood rushed past your ears. *Is Daehyun oppa okay?! Please don't tell me it was too late!*
The doctor, interns, and nurses came out. Blood covered their scrubs.
*Daehyun oppa's blood.* You felt queasy at the thought.
"Daehyun!" Youngjae ran over to the bed where he was lying down.
You ran over with the others. Daehyun's eyes were closed and his face was very pale. For once, he wasn't wearing his mask. Tears welled up in your eyes.
Zico saw Daehyun's entire face for the first time. *So this is what he looks like.*
"Doctor, how is he?" Yongguk asked. The doctor took his mask off. You held your breath. "He'll be fine." He answered. You exhaled loudly in relief. Your knees felt weak and you stumbled back. Luckily Zelo was behind you so you didn't collapse.
"If he had been just a few minutes late…" The doctor glanced at Daehyun. You gulped as you felt a guilty pang in your heart. *He could've died.*
The nurses wheeled the bed towards a hospital room. "Thank you, doctor." Yongguk bowed.
You automatically followed the bed into a room that was already occupied by another patient. The nurses hooked his IV up and made sure the machines were all on. She turned around and saw the massive crowd. "Only one may spend the night." "Can't we all stay?" Youngjae asked. The nurse adamantly shook her head, "You may disturb the other patient." The boys grumbled and complained.
"Can I stay?" You asked. Zico stared at you. "You?" Himchan blinked.
You nodded. He shook his head, "No, Yeojin. You've handled too much drama already. You should go home and rest-"
"Please. I want to." Your eyes glistened with tears.
Yongguk slowly nodded, "Araso." Himchan looked at him, "But-" "She wants to stay then she'll stay." Yongguk gave him a firm look. He knew what you were thinking. If you staying would get the guilt off your shoulders, he would allow that. "We'll be back the next morning. Take care of Daehyun." Yongguk patted your shoulders.
You nodded and sat by his bedside.
"Let's go." Yongguk urged everyone out of the room. Youngjae sighed in frustration and stormed off.
Yongguk shut the door and looked in through the window. Himchan gazed at your sad figure. "Do you think she'll be okay?" He worriedly asked. Yongguk paused then answered, "She'll be fine." He looked up and saw Zico also gazing at you. *Where were you when all this happened?*
Too exhausted to accuse, Yongguk left and Himchan followed.
You carefully tucked the blanket over Daehyun and grabbed his slightly cold hand. Your eyes searched his face and your bottom lip trembled. "Oppa…mianhae. It's all my fault. I'm so sorry." You leaned your forehead to his hand and silently cried.
Zico watched you and his heart twisted in pain and guilt. *It's not her fault at all. It's mine. If only I had let her text him back…if only I had protected her better…if only I hadn't let jealousy get the best of me….* Disappointed in himself, he disappeared.
^ Back to Top