trigger warning: alcoholism, multiple deaths
"the way you make that coffee look sweet as hell"
MEETING GEUM
NAME heo geumro 허금로
NICKNAMES
geum established by herself. she thinks it rolls off the tongue nicer.
dodo coined by a house member, an alternate to 'roro' topped off with aegyo. used only when said house member wants something done, knowing the voice is annoying.
pororo a childhood nickname, initially for her curiosity when she was younger. carried into her adult years because she's smol and waddles (when she's drunk)
AGE&BIRTHDATE 14 03 1995 (26)
HOMETOWN buk, daegu
ETHNICITY korean
LANGUAGES
korean native tongue. daegu dialect and seoul standard. you would think someone would be fluent being born in south korea and all.
japanese advanced eh... pretty much fluent. self-taught. she worked an internship in tokyo for a year and a half. her love of anime and mangas may or may not have helped with the motivation.
english strictly quotes learned via her favorite american tv shows. her accent is pretty on point though, you'd probably think she was fluent.
OCCUPATION coordinator, cube ent.
FACECLAIM
     1. kim sejeong (gugudan)
     2. park gyuyoung (actress)
something about the way she talks
i think we can all agree on something and it's that geum may just be the most adorable being on the planet. standing at 158 cm and weighing about 49 kg, geum has always been smaller than everyone she knew. she indeed has a little stepstool in every room of the house that would require the need for a stepstool. she has these little dainty hands; it's why everyone always wants to hold her hand. another outstanding feature would have to be her little pouty lips. without even needing to use overdone aegyo, she juts out her lower lip and looks up at you with her big brown eyes - BOOM, you're wrapped around her little finger. her hair is one of her favorite things about herself. it's black, silky and healthy. it truly tops off the chic aesthetic she's always loved.
and about the way that she walks
ever since geum was young, she loved fashion and makeup. she would always play in her mother's dresser and vanity. geum's taste in clothes says that she has a 9-figure salary (6-figure usd) while her closet says that she definitely carries herself as such. she only ever wears neutral colors: browns, grays, whites, and blacks. she may have only a few colored articles, only to give an outfit that pop when she's feeling. however, she does own quite a few animal print items. she loves her snake skin and cheetah print. the minimalistic accessorizing and occassional statement corset tops are her favorite fashion ventures; and to this day, what she is known for at work. her makeup style is pretty minimalistic. you could reference the american dewy, no makeup look. she wears a very light layer of foundation, tops it off with setting spray and dusts on the setting powder. she'll groom and fill in her nonexistent eyebrows and apply mascara to her lashes. she's been into faux lashes and often varies between them and a bold eyeliner moment. she always has on a or brown and glossy lip. most would call her style business chic or light academia.
THINGS GEUM LIKES
romcoms unironically. fave romcom: 200 pound beauty
sushi yellowtail and tuna belly is her shiiiet
novelty pins she collects them. her overnight bag and gym bag is covered in them
photobooths it's something about that aspect of the early 2000s she wishes she could live, just so she could have  a whole shoebox of photo strips.
sour things her tolerance is *sparkle sparkle* and no reaction. it's just candy to her.
tapioca pearls she gets boba tea, just so she can have the chewy bubbles.
vanilla sweet cream cold brew, double shot of espresso with the way she drinks at night, she's gonna need the caffeine boost.
THINGS GEUM HATES
thrillers & horror you'll never catch her watching something scary on her own, she's usually forced.
chocolate covered anything she just doesn't have that sweet tooth.
cologne/perfume geum has a sensitive nose and absolutely hates when people overdo it with the scents.
bugs she isn't afraid of them or anything. she just finds them gross and will squash them.
cigarettes the scent stains everything it touches. she cannot stand the smell. it's even worse than the cologne issue.
ABOUT GEUM
— she has sensitive/delicate skin. she has a prescribed skin care routine and she is required to wear sunscreen before leaving the house.
— she is allergic to latex and many different brands of makeup.
— she religiously reads webtoons.
— watch out folks, she's a lefty.
— her english-speaking idol clients adore her.
— her celebrity crush is sung sikyung
— she has the pain tolerance of your average toddler.
— she doesn't have her ears pierced!
— she runs a pretty well-received fashion blog called taste of gold (황금맛)
— she is a monster, like drinking monster. even when she's already kinda drunk, she can still do tricks.
— she makes scrapbooks, it's something she uses as a tool to express her emotions.
— pickled radish are a must with all her meals.
— her body always wakes her up on time, at 7am. no matter what time she went to sleep the previous night, 7am.
— she is a decent cook, has a talent in street food cuisine.
— she is a new plant mom. she has 3 succulents: boo, mike wazowski, and sully (all ranging different sizes and named accordingly)
— her biggest fear is abandonment
THINGS GEUM SAYS
— "그럼 뭐..." (her korean version of it is what it is.)
— "alright, i'm gonna need everyone to get on my level." when drinking, this is her catchphrase. it's rare that someone is able to catch up or keep up with her.
— "yes, biologically speaking, i am a woman." it's an automated response, as her mannerisms when drinking are questioned often.
— "i must have been damned the moment i was born." one of her melodramatic catchphrases.
— "darn you...!" often paired with shaking her fist in the air in response to any small inconvenience.
THINGS GEUM DOES
vlogging? she often narrates her everyday as if she's filming or is livestreaming.
proverbs she can spew the perfect 4-letter idiom for every situation.
daegu dialect when she is drunk or angry, she reverts to her gangster-like vocabulary because it's comfortable.
chewing gum another angry habit. this is if she's so upset that she can't even speak, she will have a stick of gum. and it's angry chewing, not normal chewing.
finger tapping when she's reading something or spacing out while thinking, she taps her left middle finger on the table or usually a flat surface.
keeping busy working overtime, drinking, even a petty activity like flossing. she has to have something to do so she doesn't have the chance to sit and drown in her thoughts.
PLAYLIST: GEUM
— action : dpr live
— so this is love : ilene woods
— ordinary : umi
— i've got a crush on you : ella fitzgerald
— deja boo : jonghyun ft. zion.t
— a paper dream : dygl
— question mark : primary ft. beenzino & zion.t
— she's a baby : zico
— lemonade : iris temple
— move! : niki
GEUM TYPE THINGS
— too faced eyeshadow palettes
— fresh laundry
— studio ghibli aesthetics
— sunlight through white curtains
— pink tulips
— bubble beards
— shampoo mohawks
— the smell of bubblegum
— kkw lipsticks
— stargazing on the beach w. friends
THE TELLING BIOGRAPHY
the only child ('95 - '02)
heo geumro was born to heo jisung (허지성) and goo yebin (구예빈). although her parents worked most of the time, her parents always made sure she knew she was loved. she was looked after by her paternal grandmother while her parents worked. when geum was five, her grandmother had passed away, peacefully in her sleep. she was a little young to really process what was happening, so it didn't affect her that heavily.
her parents made the executive decision to switch off: jisung would work the day, while yebin would work nights. her parents made this transiton seamless, so she had an easygoing childhood. geum usually got along with everyone she knew, even if most of them were surface level. she wasn't always the social butterfly she is now. younger geum was quiet and just kept to herself.
forever best friend ('03 - '14)
in november of 2003, geum (8) was gifted a little sister, heo ahreum (허아름). when ahreum was brought home from the hospital, geum's words to her parents expressed such joy. "now i'll have a forever best friend, huh?" and so she did. when geum was finished with school and her homework, she never left ahreum's side. aside entertaining ahreum with funny faces and noises, geum would often read to infant ahreum.
following the girls into geum's teenage years, they never bicker as geum is patient but ahreum wasn't a difficult child either. when ahreum turned five, she was diagnosed with a terminal illness, which gave her only 2 more years to live at best. geum was going to make ahreum's last years the best she could. she threw it back to when ahreum was a baby and was always by her side. when geum was sixteen, ahreum (7) succumbed to her sickness (19.10.2010). this time was crucial to geum's social development. instead of shutting herself in and grieving, she chose to take up ahreum's life mission: spread love and joy. of course, behind her smile, she was absolutely hurting.
at school, geum always put her all into her work. she wanted to get into the best university she could and it would be the cherry on top if she could get into her dream school. the only extracurriculars she has on her academic resume is directing her high school festival shows (2nd and 3rd year). being able to create and execute a concept in show business became her passion.
surviving the most painful years ('15 - '20)
geum's hard work paid off as she got into seoul national university's fashion program on a full scholarship. while she was in school, she didn't go back home too often. she did, however, have scheduled videocalls with her parents. during breaks, she was either working overtime or working on new designs. the only times she would return home would be for ahreum's birthday and death anniversary.
when she was reaching graduation, there was an amazing opportunity that opened up for geum. she was chosen by one of her favorite companies, based in tokyo (uniqlo). she was going to be temporarily hired as a personal assistant to the japan creative director.
during of her internship, she was feeling stressed out because she was homesick, which she voiced to her parents. her parents thought it'd be a good idea to surprise her with a visit, so they planned a trip to see her a few months after her little breakdown. she lost her parents in the plane crash. she had heard the news from her best friends. she took this one a little harsher. geum was devastated for a while longer, she did have to become a shut-in for a week or two.
*her parents' deaths (18.05.2019) were the trigger to her lowkey drinking problems. she would go out with her coworkers and drink away her sorrows, but it would only be just enough so she wouldn't think about it anymore.
all caught up (< '21)
preparing for her return to korea, geum was pressured to apply to many jobs. having to bury both her parents and keep up with their memorials along with ahreum's, geum was collecting serious debt. she did move back to daegu until she was able to sell her childhood home to settle some of the debt. when she came back to seoul, hyerin and wooseok provided her with a roof over her head the best they could while she was getting back on her own two feet.
a couple of weeks after coming back from her internship, she got a job at cube as one of the stylists working under boram. since being employed under cube, she's been the happiest she's ever been since ahreum's death. she quickly climbed the ranks within the couple years she's been there. her dedication caught the eye of the superiors and she was finally promoted to a fellow coordinator.
before finding out about the sharehouse, she's been couch hopping between her great friends: hyerin, wooseok, and boram (more recently). wooseok ever so kindly shoved a flyer in her face one morning to literally wake her up with good news. which geum most definitely did not oppose, she finally had the opportunity to stop burdening her friends. she immediately called about the listing and enthusiastically let the landlord know she could move in as soon as possible.
SUBJECT OBSERVATIONS
keys  pisces, aot sasha, enfj-a, ouran tamaki
pos  supportive, warm-hearted, organized
neu  persuasive, tolerant, reliable, venturesome
neg  melodramatic, strongwilled, ed
cc taken from geum's 24th birthday message video
"hi, birthday girl... oh wait, that's me! why are you still single? i'm dateable, aren't i? maybe it's because you look like a cute girl but behind that, you are so dirty! naughty girl! god, it's a curse and a gift all at the same time. is it not? maybe you shouldn't be so open with that mind of yours, then you might have an actual chance to have a boyfriend. and another thing, don't get me wrong here... why are you so willing to take risks? and it's like not even all the time. you're just always so excited to experience new things. i dunno, is it a period thing? maybe it's the way mom and dad raised you to always see the brighter side of everything, i guess? ooooh rice crackers, gimme!"
- a completely knackered geumro
"if we're gonna be honest, geumro is a big kid. she may be turning 24, but that big head of hers acts like a 7-year-old. like for example: you could be giving her bad news that's not even bad news and she'll literally be like woe is me, it's like it's me against the world.  or you could do something the wrong way or not do something the way she had showed you and she'll be like i'm the worst teacher. you shouldn't rely on me. and she'll be seriously devastated. this does not apply to the... incidents. anyhow! she does, however, have this photographic memory — which can work for you or against you. she's always watching everyone from afar as well, kinda like a mom watching her kids: with lots of love and straight up happiness. she truly is the kindest person i've ever met although she can be a little loud sometimes, but she's very bright. if it wasn't for her, i'd have never commited to pursuing my dream to be a neurologist. she made sure i knew i was mentally prepared and was always there to cheer me up if i was stressed out about my studies. i love you 3000, dweeb. happy birthday!"
- hyerin
"geummiebear! happy birthday, my dear! you are the most creative person i've ever come across, besides myself of course! you're always full of these fresh ideas and such an inspiring being. you do this amazing job at leading others with this aura of yours. the charisma: that power you carry is immense, and i admire you in that sense. i know i'm always so all-over-the-place, and i'm grateful i have someone like you to keep my head on straight. you're always well put-together, dressing to impress and keeping everyone in line when they need to be 24/7. although, we know you do it for you and your little sister, may she rest in peace. amen. oh my go- geum! get off the table! ugh - anyway, enjoy your party! muah!"
- boram
"we'll start it like this, see: she is possibly one of the most annoying beings on this planet, but a lovable little idiot. don't get me started on the things she chooses to have these big reactions to are absolutely hilarious. that only goes to show that the serious problems in her life are addressed maturely. she's always looking out for everyone but herself. trying to prove that she's patient and calculating when the issues she faces are actually serious... as admirable as that seems, geum, you know you're not alone in this. i want you to remember that. let me tell you that this woman is most definitely the most stubborn woman i've ever met. many would tell me that i've met my match, but she won. in our first and second years of uni, we had this little rivalry. and she is frankly much more competitive than i. she always refused to "lose". we all know that she thinks she can handle it all on her own. she will never willingly let us help her out. we have to be persistent: which i'm glad that at that point, she's not so stubborn to decline the assistance. 생축, loser. loveyouorwhateverbye."
- wooseok
how do you act at parties?
they don't call her the party friend for nothing. "i'm the one who pulled everyone off their butts! i'm passing out shots while i'm already a couple drinks ahead myself. i'm making my rounds; gotta make sure everyone is enjoying themselves!"
what would you do when you first meet someone?
"uh? greet them accordingly, tell them my name and such." she pinches the bridge of her nose and shakes her head. "are you asking me first meeting as in a date? or just in general? because there's a different approach i take for each kind?"
how willing are you to do chores?
"100% willing. as a matter of fact, i created the schedule." she pulls out a draft of her cleaning assignments.
how do you prefer living conditions to be? what kind of roommate are you?
"i like a lively environment! is that so wrong? i grew up really close to the only roommates i ever had — which was my family, but that's besides the point!" she waves her hands about to switch it up. "i'm a person who hates clutter and when the environment doesn't feel..." she snaps her fingers a couple times, eyes closed and her eyebrows furrowed. "how do you say: cleansed." she grins like a fool. "you know, feng shui and all that yippee-dee-do-da."
what would you do if two of the housemates got into a fight?
"i would hope i'm living in an environment where we're living in harmony but i guess it'll depend on what kind of altercation it is? if it's a verbal argument and their voices are raised, i will act as a mediator and make sure they are talking in a more civilized manner." she exhales, with her lips shaped as if she were blowing. "if it's physical, then i will call another house member to help me break it up. though i hope no argument ever comes to that point."
what's your idea of having fun with others?
"i hate being cooped up in the house. an ideal fun time would be walking the streets of seodaemun or hongdae, eating good food and bonding." she sighs. "but if we had to stay in... i guess, a night of games would suffice." she grins and nods. the interviewer squints with suspicion. geum surrenders. "okay, a night of drinking games."
what pisses you off?
"not a lot of things piss me off though." she chuckles. "just kidding. what gets me really riled up is when someone tells me they're gonna do something or not do something, and then do it or not do it. and i absolutely hate when someone asks me for advice and not take it. like that right there — you've lost your geum advice column privileges."
what kind of sleeper are you?
she taps her chin. "ya know... i don't actually-" she is interrupted by her closest friends, hyerin and wooseok. "this lady is out like a light. you could be shooting the place up-" "or or there could be an explosion down the street or something." "and she will be sound asleep. it's a good thing she has a body clock because setting an alarm clock is also ineffective." "you have to physically touch her, for her to return to the real world. and i mean the gentlest possible shake, as if you're waking a child."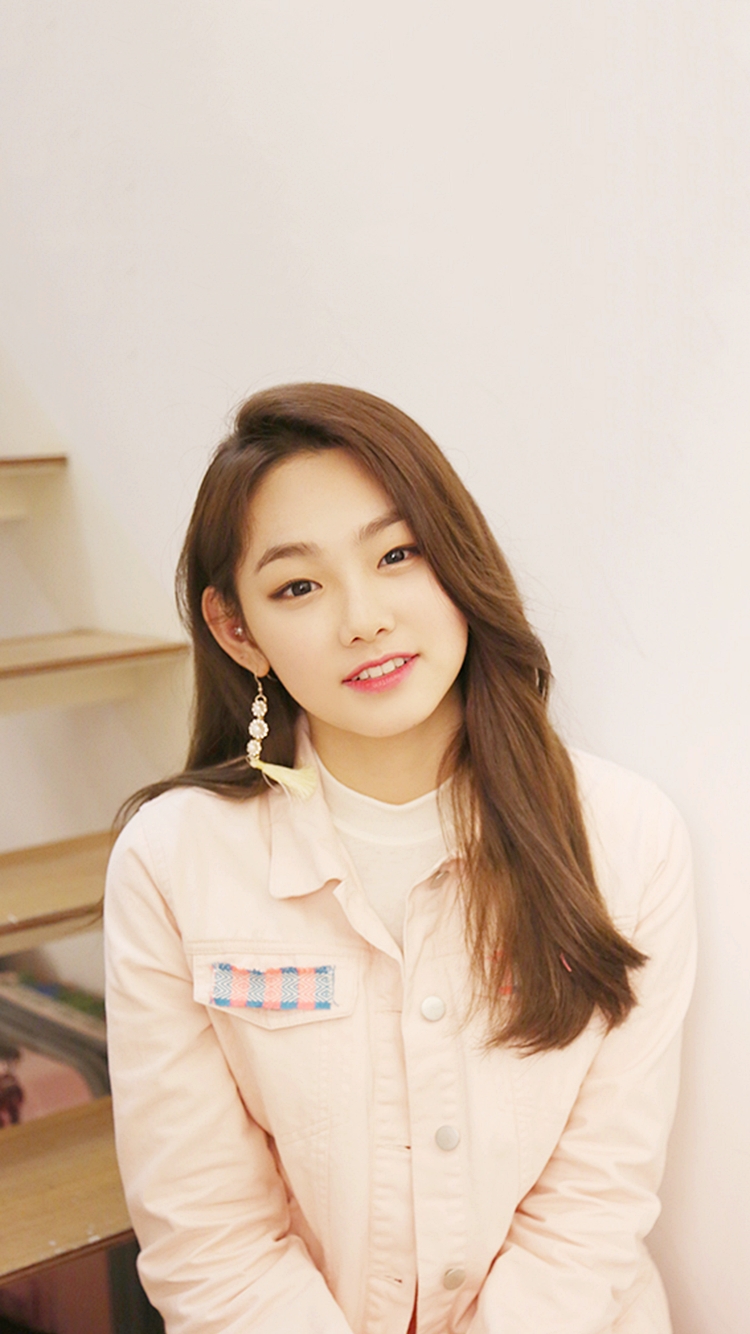 kwon hyerin
권혜린
best friend
26 yrs — grad student, seoul national uni
hyerin is geum's self-proclaimed guardian angel. the two have been friends since high school. so hyerin did meet ahreum, but only briefly as hyerin wanted to give all the time geum needed to cater to ahreum when she was still alive. she was always available to geum during ahreum's death. she gave her the space to make her own decisions and grieve properly, all while also checking up on her in good time. they worked to get into seoul nat'l uni together. while geum was a fashion student, hyerin was pursuing the medical field. geum and hyerin often give wooseok a hard time, as the three are comparable to a single father with 2 daughters. if you thought geum was bright and outgoing, then hyerin is the sun itself. geum will always express how grateful she is to hyerin, sober or not. geum considers hyerin as a sister, not to replace ahreum's memory but as appreciation in geum's heart. they often bicker playfully usually over silly things for fun and play pranks on wooseok together.
ji wooseok
지우석
best friend
27 yrs — head engineer, kukbo design
wooseok and geum met in uni because they shared many general education classes. initially, the two were academic rivals. they were constantly at war with who had the best presentation or who scored the highest on the latest quiz. but as their classes became more focused towards their majors, they kept in touch to maintain their friendly rivalry. wooseok is always "humbling" geum, when in reality, he's roasting the hell out of her. geum isn't that great at comebacks, so she usually just tells wooseok that he's ugly or that his breath smells and he goes into a corner and sulks. or hyerin butts in and the girls would become a tag team against snu's most sarcastic man. hyerin was too busy with her school work, so he flew to tokyo a month after geum's parents' passing. knowing geum's history, he always looked out for her silently.
song boram
송보람
work bestie
29 yrs — head coordi, cube ent.
these two met in 2019 a couple of weeks after geum returned from japan. geum thinks boram is kind of like her mother. after getting to know geum as she trained her, boram quite quickly took her under her wing. they enjoy the time they spend together at work. they joke around often and will prank the idols. boram is considered a genius in her field, but she is a little ditzy. think of the mad hatter, like very eccentric? so days at work are never dull around boram. it did take geum a little longer to open up to boram than wooseok, but that was mainly geum maintaining the respect she has for boram and not wanting to ruin her professional relationship. boram, on the other hand, was all for it!
LAVISH FOR THE LOW
geum is up at 7am, no matter what. her morning routine includes a shower and brushing her teeth, a short yoga session, and breakfast before she's off to work. she will start her day with a bottle of water and either a pear or an orange. if need be, she will act as an alarm clock for the housemates as well. when she's done acting like the rooster of the house, she will spend the next 30 minutes applying her makeup and choosing an outfit for the day. then she's off to the bus stop to get to work which is about a 20 minute trip.
geum is that coordi 언니/누나, she typically works all week and is free weekends. people think her job is eazy-breezy, consisting of socializing with idols and just getting them ready. but she's constantly running around making sure things are set correctly and costumes aren't ripping at the seams. she works 12-14 hour days on average. she gets a 1 hour unpaid break and a 30 minute paid break. during her 1 hour break, she usually uses it to take a little power nap. her job is incredibly stimulating and she couldn't ask for more.
every 3 months, the company will hold a small "workshop" that is actually kind of like a festival, within the company building. trainees, the idols, and staff use these workshops to establish a relationship together and bond with each other. it is one evening perfectly filled with distractions.
she has an agreement with her friends to try to meet every other weekend as wooseok's career is finally kicking off and hyerin is working towards her master's. they're each busy with making their ways to the top. during the week and with the other weekends, she will take the time to bond with the housemates. geum is always making suggestions to do something fun, usually involving getting out of the house.
every 6 months, boram has to push geum to take a vacation and use those hours. geum will usually take a week off from work. during this time, geum will be longing to get blackout drunk every night. unfortunately, that will not be possible. the housemates will have been asked a favor by wooseok and hyerin (when the two were helping geumro move in): when time comes for her vacations, keep geum from drinking her feelings. so geum took up scrapbooking to express herself and grew to love it.
UNTIL NEXT TIME
COMMENTS 
when i commented, i zoomed to set everything up so fast. idk why — i just was inspired! i really enjoyed creating this character for you! playlist: geum and geum type things are things that inspired me to come up with her. so you can say if you listen to those songs or come across those things, you'd think of geum <3 i hope you enjoyed learning about my baby. i would also appreciate lots of feedback because this is my major comeback to applyfics! (it's been a few years since the last time i completed an app for a fic i really liked.) also i'm surprised there isn't more of a competition! i'm not complaining, but this is such a well executed applyfic >:( i hope you do receive more applications!
alloted time worked on this app was roughly a little over 20 hours.
STORY DIRECTION
as you know, geum is borderline an alcoholic. there could have be an incident that involves alcohol poisoning, where she would then be inspired enough to seek help. since geumro struggles with opening up and properly addressing her emotions, it'd be great to see her development regarding feeling safe enough to confide in the housemates.
with her love life, i'd like to see that geum is loved properly. geum has never felt intimacy in that sense because she was always focused on her career and future. and although han is not as affectionate as most are, he becomes an affectionate person because it's what geum needs: what with geum's history and really having only herself. in time, he's more than willing to become her family and decides to propose to her. and i'd love to see han encouraging geum to ween off the alcohol.
SCENE SUGGESTIONS
— one drunken night, they go and persuade geumro to pierce her ears!
— han picking up geum for their first date. as awkward as han is (what with it being kind of both of their first dates ever/in a long time), he takes a moment to decide whether or not he wants to ring the doorbell or knock on the door. before he even gets the chance, the protective member of the house opens the door and gives han the older sibling speech they memorized as instructed by hyerin. geum rushes out and practically trips over herself.
— before han becomes a factor in geum's life, one of the housemates regularly set her up on blind dates.
— geum arranging a little funeral for the death of her oldest plant, mike wazowski.
— geum normally gets blackout drunk on the death anniversaries of her parents and ahreum. coming close to one of the anniversaries, some or all of the housemates actually keep her company, knowing it's a hard time for her.
— the housemates throw a little get-together for whatever reason. and han restricts geum from drinking too much and geum whining about it, but like not annoyingly. kinda like 훙훙 type of frustrated whining, but she'll get over it and comply. han gives her a kiss on the forehead as a reward and she goes off to enjoy the company of her friends not even thinking about her dissatisfaction with no more alcohol for the rest of the night.
— han arranging a picnic date on the han river egotistic little bastard and watch the fireworks. he prepared the food and they even share his airpods to have a little slow dance. this is where he realizes he's in love with her.
— a day in the life of coordi geum, where we see her in action interacting with idols and all that jazz.
— ROAD TRIP and somehow geum was granted aux cord privileges.
— one of the housemates noticing how geum is such a pretty eater and eats pretty well. they try to convince her to start a mukbang streaming channel.
— BEACH TRIP, like every great anime... you can't avoid a more perfect filler episode like a beach trip. and geum has this gigantic sunhat that's big enough to actually protect her face and shoulders from the sun while the rest of her body has double the sunscreen
— more to come when i think of them :)
PASSWORD geum would 100% be the one using a blanket as her shield, flinching, cursing at every jumpscare. catch her rubbing her chest to soothe her heart. geum would probably not even make it to 50 years old, not with the amount of bits of her soul leaving her body during a scary movie.
LOVE'S IN THE AIR
NAME seo han 서한
AGE&BIRTHDATE 29 08 1994 (27)
HOMETOWN seodaemun, seoul
OCCUPATION webtoon artist "the god of high school"
ETHNICITY korean
HEIGHT 187 cm
WEIGHT 75 kg
FACECLAIM 
     1. kim rowoon (sf9)
     2. lee juyeon (the boyz)
PERSONALITY
keys virgo, ravenclaw, ouran kyoya
"yeah, i might be your ol' pal. it's your fault for assuming i'm gonna be nice about it." han's entirety is based on the sense of trust and the ability to take criticism. in the case of having close friends and family, sugarcoating anything will never be a factor. his words are actually helpful nowadays because people could use the cold, hard truth. he's very straightforward with his opinions, when asked. if you're second guessing yourself, he won't be afraid to tell it to your face. this is the main benefit of his loyal friendship. he wouldn't dare lie to you, given he is a terrible liar, it just goes against everything he stands for. he has an amazing judge of character, so he will definitely let you know when you've become worthy of his loyalty.
"i try to not be as physically violent as i may sound." because of han's normal tone of voice, you can't tell when he's being serious or sarcastic. he has always sounded ironic. he was raised to be well-mannered, so the act of raising his voice isn't an option. to express his frustrations, he will speak out in an obvious tone of sarcasm. if you are unable to detect how upset he is, he will stop talking to you altogether until he has cooled down.
"huh...? oh i'm sorry, i didn't even realize that you got here." when han is determined to get something done (like a new webtoon chapter), he gets tunnel vision and only has eyes for his assignment. when he's totally focused on finishing a project in one night or one week, he's usually pretty good at getting it done quicker than most because he will cut himself off from the outside world to get it done.
"if i have to explain myself one more time, i swear-" anyone and everyone who's ever met han will know that there is no way to overpower him. no matter your age, you may as well just assume he's older solely based on the way he talks to you. because of the way he carries himself, most people ask for help. han is a focus-minded being, he takes in a lot of detail and he is usually willing to re-explain something in as much detail as he possibly can. he became this way in elementary school because the other students would be too afraid to ask the teacher to go over something again, so they had resorted to han. he's very quick-tempered, so having him explain twice would be pushing it. he will guide you in a non-complex manner, so you'd understand quickly. to not pick up on what he puts down, you'd have to be a very special kind of stupid that is beyond his help.
BACKGROUND
han was born into a pretty well-off family. his father was a doctor with his own practice and his mother ran a daycare. his family life was pretty average. his parents were very much in love and he was an only child. he's had a talent for art since he was young and his parents were always behind him in everything he chose to do.
as for his school life, han was a quiet kid. he never caused trouble. he was always more of a people watcher and very observant of his surroundings. he got by without ever needing to participate in any extracurriculars. he pursued his art on his own and didn't appreciate someone dictating what he should or shouldn't do with his work.
he attended seoul national university as a creative writing major to work on his storytelling. it was always his dream to become a published comic writer. in his senior year of uni, he had made his first webtoon public, the god of high school, which quickly became popular. a couple years after graduation, he had hit a writer's block because he thought something was missing from his story. so he decided to apply for work at the local newspaper, maybe constant stories from reality could give him back his spark.
THEIR STORY 
it's the start of something, alright
the first meeting was like something straight out of a kdrama, which only justified geum's overdramatic actions. geum boarded the bus one morning, hands full with a bunch of portfolios and some props she had finished for work. han was on his way to his dayjob. han was seated and geum was standing off to the side. with the amount of things she had, she wasn't really able to hold onto anything. she was relying on her balance. the bus had hit a strong turn and geum fell into his lap. she got back up as soon as she was able to and was panicking with apologies. whilst he was frozen, a beautiful woman fell right into his lap. he didn't say a thing, he couldn't. nothing like this has ever happened to him and nothing that embarrassing had ever happened to her. they would both have been thinking about the incident the rest of the day.
little did they know, these fated meetings would occur more often. they actually get off at the same stop for work. they frequent the same coffee shop. they go to the same 7/11 for their lunch breaks. their conversations typically go a little like this. "oh-" "oh-" "it's you." they will awkwardly laugh and mention how it's funny they bump into each other. it would be about after the 5th time they meet that they finally introduce themselves to each other. han, later on, would go out of his way to meet her. he just couldn't stop thinking about her. it took a little bit for him to realize, but he was developing a little crush on this stranger. this was it - the block was broken, he was inspired. in his webtoon, he began to build up a romantic sub-plot.
geum is a follower of the god of high school. she attended a fan meeting when she moved back to seoul from daegu, tickets courtesy of hyerin and wooseok. when han was introduced and brought onto the stage, she was practically drooling. the author of her favorite webtoon was built like a god? they've bumped into each other numerous times? what kind of twisted crap is this? when they bumped into each other again, he decided to ask for her number and they exchanged contact information. "you must be stalking me," he joked. she laughed along and replied, "in your dreams." which in fact, he did dream of her often.
what i've been looking for
in the beginning of this budding romance, he admitted to himself that their relationship broke him out of his creative jail. in a sense, this experience was love at first sight for han. he just wasn't aware. han is the only person geum is comfortable with calling her geumro. something about the way he says her name that makes her melt a little bit.
they don't exactly spend every waking moment with each other, but let's just say they are the voices they go to sleep and wake up to (insinuating that they fall asleep on the phone together). the way they interact is almost as if they've known each other for years. you could call han a simp or whatever because he practically would drop everything whenever geum asked for help with something. geum, on the other hand, would frantically rush to pick up the phone whenever han calls (usually almost dropping her phone).
they usually go on for hours about what seems like nonsense, but these two basically share one braincell. you'd watch from afar and think they're discussing some deep , but it's really about stuff like "is mayonaise an instrument?" to an exaggeration. geum has slowly chipped away at han's hard exterior and brought out a naturally funny guy; she'll brag that it's her best magic trick.
just wanna be with you
at one point, han and geum come into a conflict. han's ex-girlfriend oh nayeon (fc: apink's son naeun) is back in the picture. nayeon and han dated for a little over a year in uni before han found out she cheated on him, while she was overseas during an exchange program her major was hosting. she stayed in australia for a while longer to avoid han.
nayeon contacts han to reconcile, but he negotiates and decides to meet with her to get proper closure. this meeting was set at his favorite coffee shop by his work. here, he bluntly expresses how nayeon now leaves a bad taste in his mouth and wants nothing to do with her. she laughs it off thinking he's just having a little tantrum. she thinks back to how they would have similar back and forths when they were together. he insists and mentions that he is in a happy relationship even though it's obviously none of her business. frustrated, he ends the meeting, leaving her to sit alone with her thoughts.
this does not stop nayeon from pursuing han. she attempts getting him back by leaving him voice messages, visiting the park he loves, and lowkey stalking him to plan coincidental meetings. geum, being the observant girlfriend she is, notices all the calls and messages he's been getting. she confronts him, but realizes that han is a bit stressed out. he explains to her that his ex-girlfriend has popped back up and wants to get back together, but ensures that [geum] is the one he wants. insecure, she expresses her discomfort and insists on giving him space to decide how he wants to go about the situation, which he does not want at all.
han ends up planning date after date to dote on geumro. she knows how much he loves her; she just let the fear of him leaving her take over. sooner than later, she confidently convinces herself that he could never hurt her. one day, nayeon comes across a nasty sight: han with his arm around [geumro]'s shoulders, laughing brightly as they exit the same cafe. nayeon takes this opportunity to approach the couple acting like the other woman. in the corner of nayeon's eye, she sees geum become visibly upset. han, knowing geum would rip her head off, pulls her behind him to confront nayeon firmly with geum in the back like merong sticking her tongue out and teasing nayeon like a cocky little kid.
can i have this dance?
han's proposal to geum was a whole shabang. he reserved a rooftop restaurant and planned it with her friends (this includes the housemates). hyerin was assigned to distract her and also get her done up. when it came time, she was escorted to the restaurant by hyerin. when the elevator doors opened, she was welcomed by her favorite flowers, tulips. there were bouquets everywhere and rose petals sprinkled on the ground as a pathway.
the housemates were spread out, holding stationary cards with a notable memory written by han. as she read them, she was lead onto the deck outside where their song was playing, with han at the end  looking majestic. he reads out a cute little speech before kneeling on one knee leading up to say "i want to be your family. will you do me the honor of becoming my wife, heo geumro?" all choked up, geumro smiles and nods as big as she could with tears streaming down her face. he stands to bring geum into his embrace and comfort her. everyone is applauding and cheering from a distance.
THINGS TO KNOW 
— when things get rolling, they have more phone calls in their histories than text messages because they both consider phone calls to be more interpersonal and real than messaging.
— han initiated the first skinship: an awkward nudge while they laughed.
— geum intiated the first real skinship: "hey, can you hold this for me?" han holds his hand out without a second thought. geum takes his hand in hers. they both avoid eye contact while their faces are red with embarrassment and satisfaction.
— their song is lay your head on me by crush (this is the song they dance to on their picnic date, scene requests)
— on han's phone, geum is saved as 'hater ♡'
— on geum's phone, han is saved as 'stalker ♡'
— geum confessed first and was definitely the one who asked han if she could be his girlfriend.
— han isn't ticklish, but will pretend he is to entertain geum
— geum feels blessed that han is a talent in the kitchen
— "geum snores." han admits. "but it's a cute snore, not obnoxiously loud or anything!"
— han knows he is a terrible singer, but will serenade geum anyway because he thinks her reactions are funny
— geum knows how much han hates worms and caterpillars so when she spots one, she will sometimes pick one up and be like aw how cute, look isn't it adorable and he'll be like absolutely not and run off ahead of her a little bit to motivate her to put it tf down
tl;dr they sound like a cringey couple but i promise it's justified. during the duration of the story, they make their ways into becoming boyfriend and girlfriend. in the end, they get engaged.
PLAYLIST: HANGEUM
— i want you around : snoh aalegra
— tú : maye
— kiss me : dpr live
— frozen : sabrina claudio
— rose : jareena montemayor
— céline : gallant
— someone to spend time with : los retros
— my luv : zion.t
— over and over : sky
— too good : christian kuria
"i swear it's hard to keep these feelings to myself"