A cracking time [Updated]
As you may all know (and to those who don't), today on the 25th of April 2015, my country Nepal was hit by a 7.5 to 7.9 magnitude earthquake at approximately 12 o' clock in the afternoon. Nepal is a small country in between China and India; also known as the birthplace of Gautam Buddha, the land of Gurkhas, the land of mountains and Himalays - particularly Mt. Everest - and the country blessed by nature. I was born in Nepal and raised there till the age of 13 after which I moved to the UK. And I'm proud, really proud to say that I'm a Nepali.
I myself have experienced earthquake once when it was of about 6.3 magnitude during 2013-ish in Nepal. Today morning I woke up when I heard my mom and dad literally shouting at each other. Worried, I listened from bed, to hear about the earthquake and I sprinted to the dining hall to watch the TV. To my horror, it was true. My family spent the entire day trying to contact my relatives and family members alike to check up on them but the telephone signal had gone down. It was a long day but when we were actually able to contact my Aunt in the evening, it wasn't very pleasant to hear. My Aunt had just given birth to a bay girl so it didn't help that she had to escape home in that condition. We also got informed (since she lives there) that our home had suffered quite some stuff. I was kinda worried what my dad's reaction would be since he had worked hard for the money to build it over a decade ago and was quite confident that it had escaped everything but he just nodded. Thankfully, my aunt had escaped without a single scratch. Phew! However, my other relatives were not that lucky. Most of them had suffered broken legs and broken arms but they'll survive. (Thank the LORD!) And according to my Aunt, the tremors can still be felt and rumour has it that an even more powerful quake is approaching soon!
Personal feelings aside, the pictures broke my heart; it's not easy to see the place that raised you and spent your childhood in crumble before your eyes. This is the worst earthquake the country has faced in about a century as the last one, measuring of 8.0 magnitude shook the country in 1934 A.D. Nepal is also a fairly poor country and it's infrastructure is not earthquake resisitant. If you've been to Nepal, it is a shame that you will see street children there. The streets are narrow and crowded, particularly so in the Lagankhel area in Lalitpur (one of the three districts that make up Kathmandu, the capital city) where tall buildings provide shelter to large families. Nepal is one of the most popular tourist destinations because it is an ancient country with loads of religious monuments and legends. In fact, it has many religious monuments regarded as UNESCO world heritage sites. Unfortunately, some of them have been completely destroyed by today's earthquake: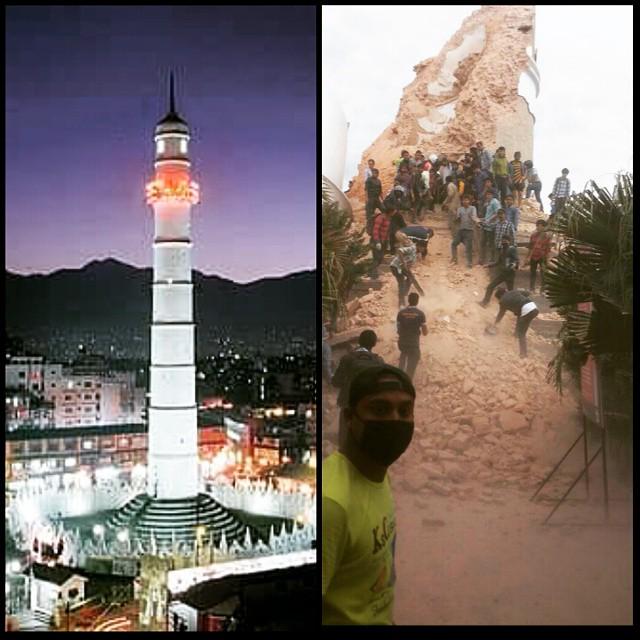 The Dharahara: It was a tower made in the the 19th century for military purposes by one of the Prime Ministers I believe. I still remember climbing to the top and looking out at the Kathmandu valley and jumping with joy. It is hard to accept that this tower where I once stood upon thinking I could touch the sky from no longer exists. I just hope they rebuild it again but with the financial unstability, I cannot say. This is not the first time it has collapsed either.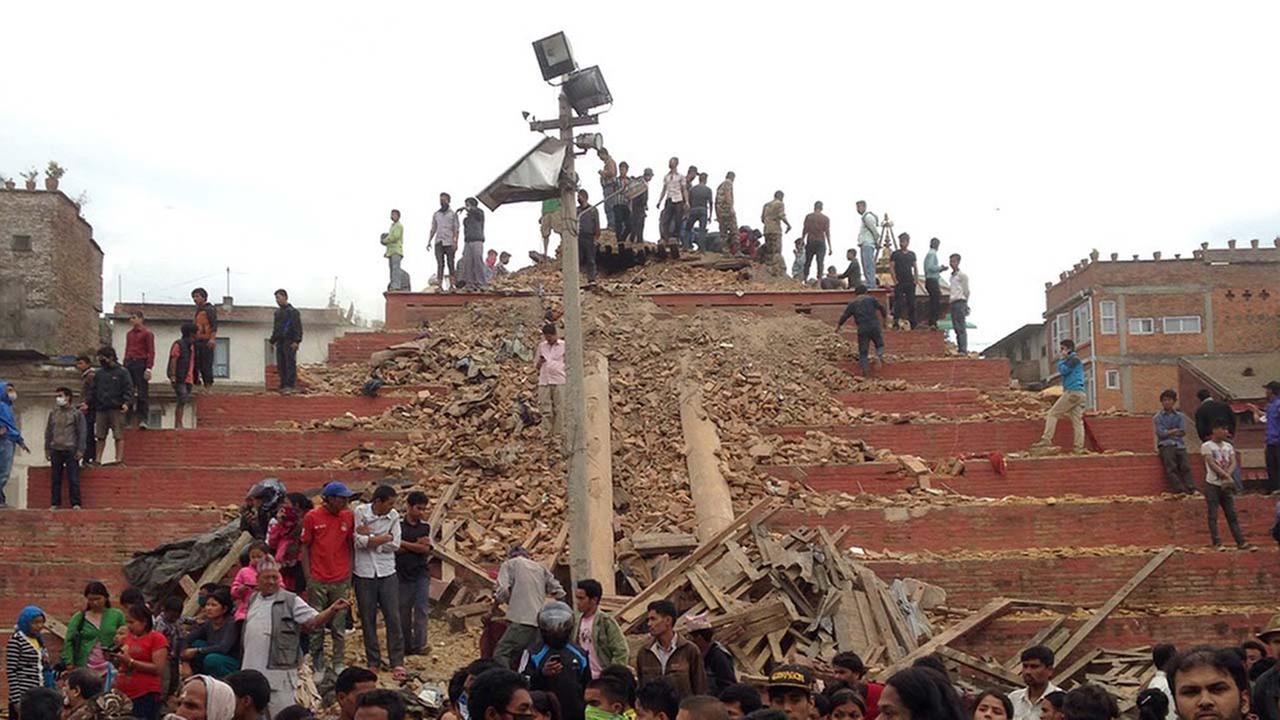 Kathmandu Durbar Square: a plaza which is infront of the old Roya Palace, hence called Dubar (roughly translating to a castle). It is a very populated area but with lots of arts and skills displayed as well as impressive architecture surrounding the square, it was one of the jewels of Kathmandu and Nepal. I have been here too, tired of my mom looking at too many stuff but the structure of the temples that sit on top are very impressive. I think the entrance of the temples were sometimes opened on some festivals(?) and it was built in a pagoda style.
---
Nevertheless, Nepal has not seen a day so dark as today. It shall be marked as the darkest day faced by Nepal in the hearts of many Nepalese where at least a thousand have been reported to be killed and many others injured. The hospitals are overflowing with injured people and the country is in chaos. More info at: http://www.theguardian.com/world/live/2015/apr/25/nepal-earthquake-nation-worst-tremor-80-years-kathmandu-live-updates and http://www.usatoday.com/story/news/world/2015/04/25/nepal-earthquake/26354073/ and http://www.telegraph.co.uk/news/worldnews/asia/nepal/11562782/Nepal-earthquake-live.html
This is where I come to ask you guys to help; for my country and for the sake of mankind, please donate as much as you can:
USD ($): https://life.indiegogo.com/fundraisers/nepal-earthquake-relief-fund or http://www.globalgiving.org/projects/nepal-earthquake-relief-fund/ or http://www.gofundme.com/sxc44vk
British sterling (£): https://donate.oxfam.org.uk/emergency/nepal?pscid=ps_msn_Emergencies_bing_nepal_earthquake_generic or http://www.gofundme.com/swhx5n9h
Please donate as much as you can, even if it just a single dollar or a single pound, every little thing right now counts. I myself with some of my other friends have decided to raise money for our country too by baking and selling and various things inside and outside of school. We might have to talk to the Head of Year so that our scheme can be bigger and we're planning it out tomorrow. Thank you for viewing this and I shall remain forever grateful if you donate! #PrayForNepal
---
19/05/2015
It has been weeks after the earthquake hit Nepal and the fact that the aftershocks still continue is scary. Schools are closed and exam season is approaching, landslides are taking place as the monsoon weather has started yet people are still on the streets. If you've helped, I and the Nepalese community are very grateful. If you plan to help, please make sure that the money you are donating DOES NOT go towards the government of Nepal; the politicians are deecks that will use the money for themselves. As a matter of fact, the inorganized and issues with the aid workers are due to the fact that the government is taking all the resources. I've heard that rice sent as relief and aid materials are being SOLD instead of being given out. 
As I had mentioned, our scheme became big. We had a "Step up for Nepal" the week before the last week I believe and we raised about £650 with that. Basically, we had to wear our PE kits and do fitness stuff for which we paid 50p. Then, we had a Nepalese food sale on the Thursday of the same week where four of us cooked food in the canteen to sell. That brought us to a £1300. Additional money was being donated bringing us to £1600 and tomorrow we are having a massive cake sale. We hope to raise £2000. Also, our school collected blankets and tinned foods to send off to Nepal. Thankyou all for all your support and regards!
Note: Please do not believe anything said by the Indian news outlets as they are all false! Indian medias have a tendency to exaggerate and deliver false news to make it all dramatic. No offence to any Indian readers here by the way.