27

Lucifer's Butterfly

★

by Thea-3
1421 subscribers | 102028 views | Updated | Created
Tags action angst harem romance shinee supernatural you | Report Content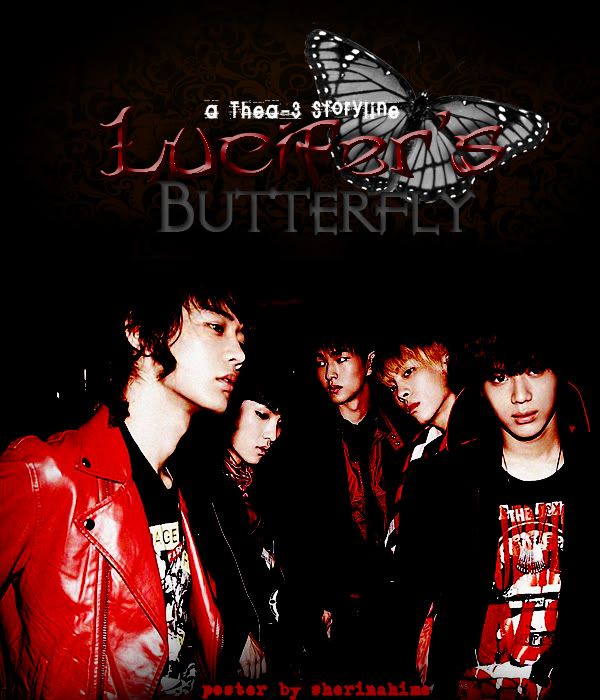 Characters
SHINee and You
Description
SHINee aren't as innocent as we think, being demonic beings with a dark side. They fall in love (or obsession/lust) with a girl that works for SM Ent. Sweet as pie and friendly towards them, she captures their attention. Was it for better or worse?
Foreword
This was originally posted on Winglin and was called "Their Butterfly". And is still there but the site isn't letting me login to update my story anymore so now I'm here!
Anyways.....
Inspired by the "Ring Ding Dong" music video that came out in 2008, this was the start of my SHINee obsession...

The Forwards really doesn't tell you much. I don't like to reveal too much at a time ;)
Other thing. This is rated. But for a while, it'll probably be around PG-13. Don't want to like offend people who don't normally read R-rated fics and they start reading this, all happy and whatnot. And then suddenly I put in some graphic scene and BAM! "MY EYES!!!" kind of reaction. Rated R for violence, possible sexual scenes, language that kids shouldn't be hearing/using (but a lot probably do anyways), and other R-rated stuff. Duh. But yeah. You know people, R-ratings don't always mean sex scenes. Just pointing that out to people who are looking for them. So if you just want to go read porn without plot(or undeveloped plot), then this isn't for you. You'll be bored out of your mind for many chapters until you actually read a scene (I'm still wondering if I am going to put in any graphic sexual acts).
Reviews for this story:
by Insanity
This Foreword's poster was made by sherinahime !

If anyone feels the urge to make a poster for a particular chapter, feel free. I can put yours up for a particular chapter that you gained inspiration from. The more sides of SHINee we see, the merrier!  
Comments always welcomed, always read, and much appreciated!
No really. It's ridiculous how many times I check for new comments per day. I sadly do not always reply to all of them though. If you give me a particularly interesting comment, I definitely will though ^^
<3 THEA
Tweet
^ Back to Top