Cleaning for the Music Boys Live in Absolute Quality
by Yamasau and FlamingMinho |
112 subscribers | 5731 views | Updated | Created
Tags jungjihoon leejoon mblaq romance seungho you | Report Content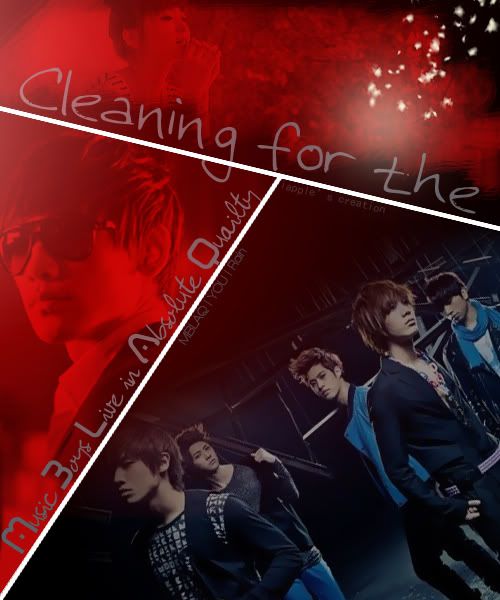 Characters
You, MBLAQ, Rain other idols will make surprise visits
Description
When you come from America to visit  your homeland and you work in Ahjusshi and Ahjumma's shop but when you discover that Bi Rain is a loved customer what would you do? What about when your asked to work for him, but no in the way you want to? Would you say yes or just leave it?  HOW WOULD YOU REACT TO THE MBLAQ DORMS!!??
Choi ___________
- Age 20 (Korean age 21)
-Elbow length Black hair with Side Fringe to the right
-Born in America to Korean Parents and came to visit her parents motherland (Speaks Fluent Korean)
-Choi Minho is your Cousin
- Works for her Ahjusshi and Ahjumma (Not Minho's parents)
-Nice, pretty very child-like but is mature when she has to be, cleans very fast but doesn't realise it
(http://img.visualizeus.com/thumbs/08/07/04/asian,cute,girl,hwang,mi,hee,korean,nikon-09db3ce11bf3b91864015ee0e3e4d9e8_h.jpg)
MBLAQ:
Seungho: 24
G.O: 24
Joon: 23
CheonDung:  21
Mir: 21
All are there ages now I'm pretty sure
http://www.asianpopcorn.com/battle_images/MBLAQ_Stay_24022011072141.jpg
Bi Rain will turn up here and there as well
Thanks to iapple for the amazing cover!! Check out her work!
Foreword
How would you like to work for me?
You don't know who we are?
Do you want to get killed or what?
I think I like you
How can you live like this?
Tweet
^ Back to Top