~Even in my Dreams~
by Yamasau and FlamingMinho |
Tags jungjihoon leejoon mblaq romance seungho you | Report Content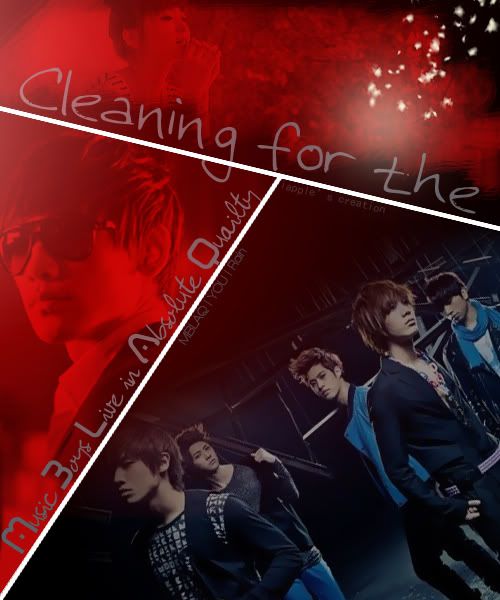 G.O's POV:
It's been awhile, the author hasn't given me a POV for ages! SHAME ON YOU!!
Me: I'm sorry!
Anyway after ______ told me to go watch the MV, I ran to my room and watched it and took down notes. But it seemed I don't know sort of, weird. It takes too long, with the whole taking photos, which by the way is very stalker-ish and then going to club and dancing! Too much effort! I decided to ask Seungho instead, I went to the bathroom and saw him standing there in middle doing nothing.
'Seungho can you help me with my confession to Grace?' I asked him
'Huh? Oh yeah sure' He said turning around.
His shirt was wet but I didn't want to say anything, it looked funny! I walked towards the lounge room and saw _______ squatting behind the couch talking to Minho.
'Are you ok ______?' I asked her
She nodded
'Whatever you say' I said sitting down at the table with my laptop.' Seungho come'
He sat down next to me and I showed him my ideas for my confession. A candle lit dinner, to write her a song, to sing for her, give her a ring on a balloon and a lot more. I was getting excited at what her expression would be during each event.  I looked at Seungho's face with big eyes and staring at him.
'So what do you think Seungho?' I asked him
He was staring at _______ who was still hiding behind the couch.
'Hyung if you like her just confess' I whispered to her
'No!' He said 'I don't like her'
'Seungho, we all know you like her, you made it pretty obvious' I said 'Anyway what do you think of my ideas?'
'I don't know' He said 'You could just be pretty straight forward, you know'
I sat there thinking about it.
'I GOT IT!' I said jumping up and startling Seungho who fell of his chair 'Sorry, but I just got the perfect idea, to confess'
'Confess to whom?'
Grace's POV:
I was listening to Mir translating all of Kaichou Wa Amid Sama. Don't get me wrong I love the anime, but hearing Mir translate it for the third time, was really starting to bug me even if it's only 24 episodes.
'OK!' I said sighing 'Mir you're doing really well, Umm… Just use these flashcards to study'
I handed him the cards and he instantly started practicing. I walked out with my books in my hand and heard G.O call out.
'Sorry, but I just got the perfect idea, to confess'
'Confess to whom?' I asked
He turned around and looked at me. _______ stood up from behind the couch and fiddled with her fingers, while Minho looked up at me.
'Umm Grace it's no one' _______ said jumping over Minho on the couch
'Does he like someone?' She asked me
'Ummm' She looked behind to face G.O, he just nodded 'Yeah'
I looked up at him and then looked at the floor and gripped at my books.
'Ok, it doesn't concern me anyway' I said 'I'm going to go…Ummm, take a walk'  I said
I walked past G.O and put my books on the table and headed towards the door.
'Grace…' I said
'I'm just going to go for a walk' I said opening the door and walking out. I took the elevator downstairs. I looked around and walked where ever my legs took me. I ended up finding myself in a park, climbing a tree. I sat in the top branch and looked around at the scenery, the blue sky, kids playing around and then me the random foreigner sitting in tree looking like an idiot. I was looking around when a tennis ball come flying towards me. It hit me in the forehead and I fell out of the tree. I closed my eyes waiting for the impact into the ground. I looked up and saw G.O looking at me.
'Are you ok?' He asked me
I just nodded looking at him and blushed. He put me down and hugged me.
'I didn't think you were the jealous type' He said
I stomped my foot at him.
'I'm not!' I said loudly at him 'I never said I was jealous!'
He leaned in and shut me up with a kiss. I calmed down and had my eyes wide open; I closed them slowly savouring the moment. I opened my eyes and there was a light looking down at me and I had a killer headache. I looked around and was confused as to where I was.
'Oh thank god your awake!'
-----------------------------------------------
Hello my loyal readers who probably hate me for not ever updating! Yamasau here!  I AM SO SORRY SORRY SORRY SORRY! For not updating because all the creative juices in my brain dried up i think. My brain gets working during school (CRAZY RIGHT?) But yeah thats how my crazy brain works! So now that Im back at school ill be able to update more often and as usual i will update on Thursdays!
Anyway this is the beginning for Grace and G.O so no more Seungho and _______ just for a while! Depending on the ending for The GG Couple! 
Anyway how many of you have seen B.A.P Warrior?! IF U HAVENT GO. WATCH. NOW!! SUCH AN AMAZING DEBUT MV!!! I DIED WATCHING IT!
^ Back to Top