Kiss the Radio or Kiss Lee Joon?
by Yamasau and FlamingMinho |
Tags jungjihoon leejoon mblaq romance seungho you | Report Content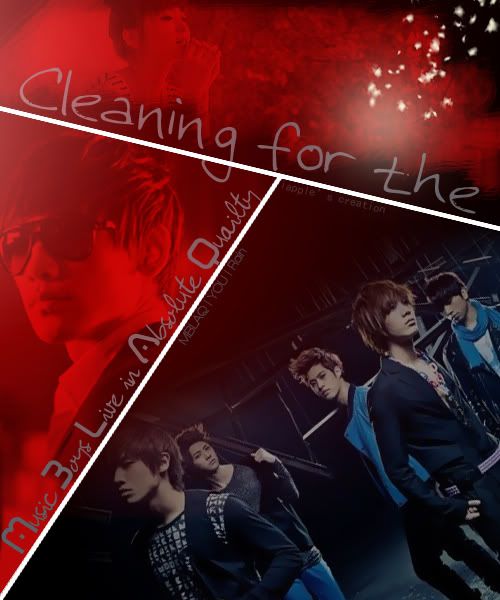 Your POV:
It's time for Super Junior! WOOHOO!! EVERYONE PUT YOUR HANDS UP AND GET YOUR DRINKS UP!
I was getting ready (with out the gloves and bag) for my trip to visit Kiss the Radio and was dancing around the house. I stuck my head out of the door to see if anyone was around *COUGH* MBLAQ *COUGH*. I finally stepped out the house and bumped into CheonDung.
'Ah!' I screamed 'How did you get there?'
'Me?' He said pointing to himself 'I'm a ninja what else'
'OK whatever' I sighed 'I have to go'
'Where you going?' He asked
'Kiss The Radio' I said walking past him
'Joon Hyung's going too' He said
'He what?!' I yelled loudly
MBLAQ all came running out of the dorm.
'What happened?' Seungho asked '_____ are you ok? CheonDung what did you do?'
'I didn't do anything Hyung' CheonDung said defending himself
'YOU!' I said pointing past CheonDung pointing at Joon
'Me?' He asked confused
'My first meeting with Super Junior and you just had to be there?' I said loudly
'Hey it's not my fault the Super Junior Hyung's want me there' He said
'I think I'm going to kill you' I muttered under my breath
'Woah Woah Woah' Seungho said standing in front of me 'OK we need Joon to promote'
'Fine if he comes near me during the broadcast I'll kill him 'I hissed 'Then and there'
And with that I walked towards the elevator.
Joon's POV:
That girl needs to calm down a little bit. Sheesh! It's not my fault the Super Junior Hyungs want me there as a surprise for the fans! I went back into the dorm and changed. I put on my hat and waved good bye.
'I'm going' I called out and took the elevator downstairs. I drove with Manager Hyung to Kiss The Radio.  I walked to the dressing room where Eunhyuk Hyung and Leeteuk Hyung were playing Mario Cart on Nintendo DS, I slumped onto the couch.
'What's wrong Joon?' Eunhyuk Hyung asked not looking away from the controller
'Girl problems?' Leeteuk Hyung asked looking at me 'YAH! Don't aim the red shell at me!'
'Yeah' I muttered under my breath
'WHAT?!' They both said together dropping there DS's
'Is she pretty?'
'Where is she?'
'How long have you two been dating for?'
'WHAT?!' I exclaimed 'I'm not dating anyone, its Choi Minho's cousin'
'Ah the one that lives with you guys right?' Leeteuk Hyung said picking his DS up again
'Yeah' I sighed 'Wait how did you know?'
'He told us' Eunhyuk Hyung said 'HYUNG! Why did you turn ghost and steal my bomb?'
~That damn Minho~
At that moment the PD knocked on the door.
'Time to start' He said sticking his head in through the door
'One minute' He was staring at the screen with his tongue poking out to the side 'AND…. TAKE THAT LEE HYUKJAE!'
'Hyung! Why did you have to push me in to the water and then cross the finishing line?' Eunhyuk Hyung whined
'That's what you get for messing with the Special Leader of Super Junior!' He said standing up and walking towards the door
I followed with Eunhyuk Hyung to the recording studio. I sat down and saw the girls all outside waiting to be called in. I saw _______ glaring at me. I just looked away. The show continued as normal we went through all the girls and _______ was last.
'So Choi ______ is it true that you are Minho's cousin?' Leeteuk Hyung asked
'Hmm yes that is true' She replied
'Do you like Super Junior or MBLAQ better?' Eunhyuk Hyung asked
'Super Junior for the win!' She said fist pumping the air
'What about MBLAQ?' I asked her
'Because I'm from the States only major KPOP idols are known' She said smirking at me 'And Super Junior are one of those major groups!'
'Ah ok' Leeteuk  Hyung said 'Minho did say something about not knowing many groups'
The discussion continued as normal and it finished as normal. We had finished and before ______ could leave, I grabbed her wrist and pulled her into the hallway and pushed her against the wall and trapped her in-between my arms.
'What the hell was that for?' She hissed
'What is your problem?' I asked
'You!' She said 'Now that you're done let me go'
She pulled away from my arms but I grabbed her wrist again and slammed her against the wall.
'WHAT THE…'
I cut her off by crashing my lips against hers. Her eyes were wide open and she pushed me away.
'You asshole' She yelled and ran off
I leaned against the wall and slid down until I hit the floor.
'Idiot!' Idiot! Idiot!' I said
Leeteuk's POV:
We saw Joon drag _____ from the studio so I and Eunhyuk decided to follow them. He kissed her and we were both shocked.
'Hyung what do we do?' Eunhyuk asked
'We can leave them' I said 'Come on time for another round of Mario Cart'
'This time I'm definitely going to win' Eunhyuk exclaimed running towards the dressing room
Your POV:
I pushed Joon away and ran to the elevator and pushed the button.
'Stupid idiot!' I hissed 'Why do I always keep thinking of Joonie?'
The doors opened and Seungho was waiting for me downstairs.
'Panda why are you here?' I asked
'Come to pick you up' He said 'I'm not letting you walk back by yourself'
'OK let's go' I said
I sat down in his car and sighed.
'I hate you Lee Chang Sun for ditching me' I muttered under my breath 'And I hate you Lee Joon for kissing me'
-------------------------------------------------------------------------------------------------------------------------------------------------------------------------------------------------------------------
hey everyone I'M BA~CK!!!
I'm sort on and off -ish!
But im back!
so please enjoy this chapter and keep reading and watch the story bloom!
Also anyone watched Heatrstrings? My friend keeps telling me to watch it is it good?
^ Back to Top