You've Got To Be Kidding, The Devil Has A Heart?
by -hyun-ae-
Tags comedy donghae korean kpop kyuhyun superjunior laugh | Report Content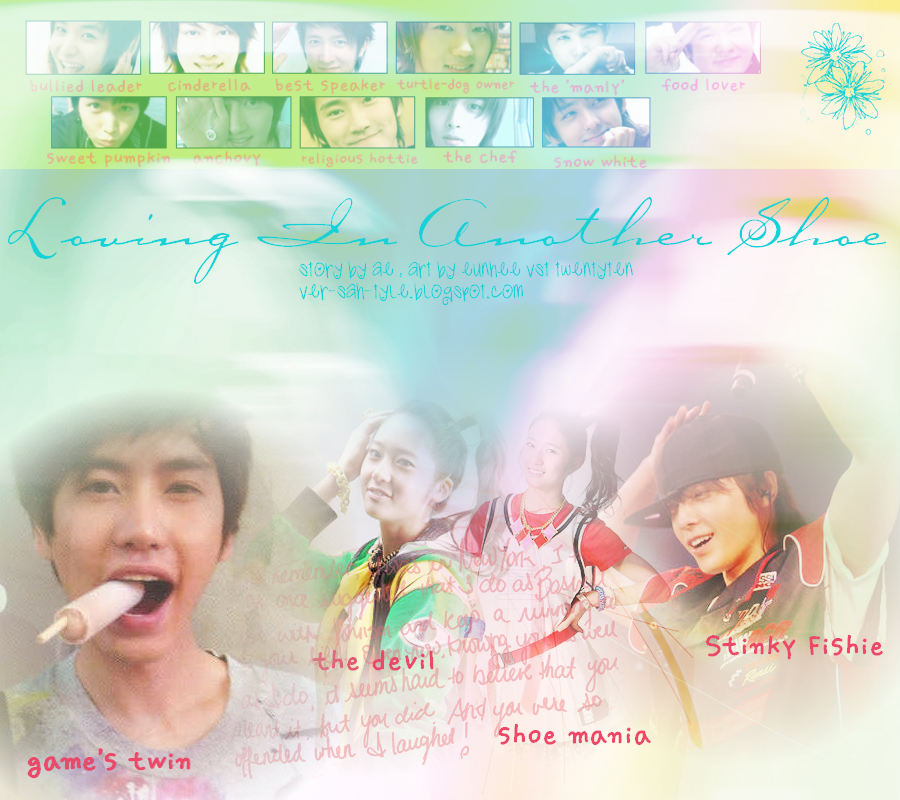 -이 특.EE TEUK-
Wait a second.
Where is it? Where the hell is that thing?
Kangin must be hiding it for his own good! Aisy, this Kangin! I'm going to give him an earful of lectures on responsibilities of being a dad to a group of 13 members. That is, if I'm able to finish my lecture before Kangin murders me with a hammer.
I rush towards his room.
"Kangin! Kangin ah! Wake up! Where did you hide that book?! I need it now!" I try to wake Kangin up by shaking him, but as you can already guess, who in the world can wake Kangin up? That's why I need the book!
"Aisy. So noisy. Teukie hyung, I'm being surrounded by beautiful models while tanning at the beach here, so can you get out of my dream before I personally throw you out the window and make you my breakfast?" Kangin mumbles, half-awake, half-asleep.
Wow. He sure knows how to threat people while still being sleepy.
Well, I have to wake him up. No, scratch that. I have to wake the whole group up! We promised to go to the gym today.
Okay, okay. We still have like 2 more hours before it's really time, but geez, just to wake up these guys will take one and a half hours.
"Kangin ah! I have to wake everyone up! Give me the book! You know, the book we scribble on, when we have ideas on how to wake up these kids. Come Kangin, wake up!" I'm still trying in vain to wake up this lazy bum.
I know that he threatens to throw me out the window and make me his breakfast, and I know that he's not kidding, but if I don't get that book, then I'll be the manager's breakfast when we arrive late at the gym.
Yup. You guessed it. The book. The golden book on how to wake people up. A compilation of extreme and powerful ideas from the omma and appa of Super Junior, me and Kangin!
The sleeping monster is showing signs of movement. Wait, let me rephrase the sentence. If Kangin hears me calling him a monster, all my underwear will be pieces of clothes lying on the road. So, should I say, the sleeping 'beauty' is showing signs of movement?
"Aisy. You noisy hyung. It's in the first drawer. Even if you're getting old, do you have to forget about where we place the book too?! Aisy." Kangin answered while his eyes are still shut tightly.
"Kangin ah. Because I'm still young that I remember the book is kept there. But I checked the drawer already. Only pictures of female artists and your torn underwear are in there!" I said.
"Whatever, hyung. Maybe the book got scared living in the drawer full of beautiful underwear and pictures of ladies and ran away. You should call 911. Or maybe a ghost took it, to use it as a manual to wake his friends from the dead. I don't know. Or maybe someone threw the book into the sea, and a fish found it. Aisy, hyung. Let me continue my sleep here. Go disturb the others." Kangin still manages to let out many words even if he's still half-asleep.
Well, what can you say; words just wouldn't stay still in Kangin's mouth.
And he has quite an imagination too when he's sleepy.
The book got scared and ran away?
A ghost took it?
A fish found it in the sea???
Urgh. I need to wake up the members! I'll just think of other tactics to wake up the members then, since I don't have the book to refer to get ideas from.
Aisy. Curse who took the precious book.
===========================================================
-동 해.DONG HAE-
"Uhuk. Uhuk uhuk. Urgh." I choke on my own saliva.
Weird. Feels like someone is cursing me. Hey, what did an innocent fish did to get cursed? Suddenly the image of Eeteuk's and Kangin's Academy of Waking Up People Golden Book that's in my bag now appears in my head.
Whatever. Back to the story here.
"Yah! What did you do?!" Hae Rin suddenly shouted.
Uh, oh. Red alert! Red alert! Escape now, escape now!
Yup. Hae Rin saw what we did with her blanket after she turns on the light. I know you guys can guess it. Some part of her blanket is wet, and not to mention her teddy bear's head is wet with water too!
I'm confused. Should I be happy or should I swim away for my life now?
Smack.
Right. I should swim away for my life now.
But my feet won't move. Come on, come on. Feet, why aren't you moving?
Oh, I forgot. There's no feet, only fins here. Okay, come on fins! Move it! Still, my body just won't swim away.
My eyes are still on Hae Rin who is checking on her teddy bear. And just in case you guys are wondering, NO. She is NOT naked or half-naked or whatever your mind is thinking about a girl who just comes out from the bathroom.
Surprisingly, after Hyuk let go of his hands from my eyes, and as I did the same, I could see that Hae Rin is still in her pyjamas, but her hair looks tidy and her face looks fresh. She must have just finished washing her face and brushing her teeth in the bathroom, instead of taking a shower early in the morning.
Smack.
Duh. Who takes a shower early in the morning at the beginning of the year?!
"Hae ah. Aren't we supposed to run? Or are you really planning on suicide?" Hyuk suddenly asks.
Well, I want to run away, before Hae Rin slaughters me for spitting water on her teddy bear. But I don't know why my brain isn't giving orders to my feet to make a run for it.
It's just, she looks, different. She looks like, urgh, I don't know. There's nothing different actually, probably just my silly heart playing tricks with me. I feel like this Hae Rin I'm looking at, is someone that I haven't seen for a while. Suddenly I feel like I want to hug her tight.
You just met her yesterday, Hae!
Right. I think I need more seawater to breathe in to think straight.
Urgh. Must be because I'm in her house, so it feels like old times. Maybe.
"Yah! Do you guys want to die?" Hae Rin asked. Now, now. What would be the best answer to that question. Yes?
Hold it. Wait a minute.
"Yah, devil. Why is your voice back to normal? Your voice sounds like how it did before you got into the accident you told me about?!" I voiced my curiosity.
Yup. Her voice sounds like, erm, normal, as before she got into the accident she told me about.
Hey, even if fishes don't have ears, you bet I can still detect differences in voices.
"Oh, that…"
===========================================================
-해 린.HAE RIN-
Shoots.
First, I get a heart attack, knowing that Hae and Hyuk are in my house, early in the morning.
Now, he detects the difference between my voice and Ha Young's? Boy, should I be glad that Donghae is such a great friend now that he detects the difference? I think the timing is a bit off here.
Okay, okay. You guys are probably wondering how I get to meet Donghae here, in my room, when I'm supposed to stay away from him and the other members, right?
Well, here's what happened.
Once upon a time, there was a girl who's name was Hae Rin. She…
Urgh. Let's just cut the cliché part and fast forward to the real point here.
So, after Ha Young left my room, to attend her friend's funeral, I sat on my bed for a while, thinking about how it would be if one of my friends passed away. Ha Young must be really sad. I hope that bodyguard of hers would comfort her. I would go to the funeral with her, but I can't go out, being seen with her. Well, actually I can't even leave the house, no matter with whom, thanks to the killer. But I was going to be myself again today, meeting the guys at the dorm, since Ha Young can't do it.
I was on my way to the bathroom, answering to nature's call, when Ha Young suddenly burst into my room again. Yeah, I know. It was odd. She was supposed to be on her way to the funeral, right?
But the look on her face, there was much more despair, compared to when she told me about the death of her friend. Something seemed to bug her.
"Huh? Ha Young? Why aren't you at the funeral? Did something happen? Are you okay?" I asked. She looked pale, I swear! The colour of her face is paler than the colour of my face when I saw my shoes being tortured by Donghae.
"Erm, Hae Rin ah. I'm really sorry that I'm troubling you again. But I need your help. I'm really sorry, Hae Rin ah." Ha Young said, apologetically.
"What's wrong, Ha Young ah? You look a bit pale. Don't worry. You never trouble me. What do you need me to do?" I asked again.
Ha Young apologized again before continuing her sentence. I reassured her that I would do anything to help her. She risked her life to replace me for god's sake! Why wouldn't I help her?
"Err…Thank you so much Hae Rin ah. The problem here,… I don't know how to say it. Erm. Junho says I cannot go to the funeral, and you can't go to the dorm either. They said they saw the killer lurking around the dorm, so you can't be there. It's dangerous. So I told Junho that you would go to the funeral, representing me, and I would go to the dorm to visit the guys as usual so that you won't be in danger." Ha Young said in her sad, slow voice.
At that time, both of us were crushed. Why the hell can't Ha Young go to her friend's funeral?! I mean, I didn't mind representing her there, but, it's like, the last time she could see her friend! Was the agency that stupid to stop her from doing that? I was thinking of having a word with the president!
And, this would mean that I can't go meet the guys too, right? Sigh.
I guess, I could never do so, until that annoying killer was caught.
"Ha Young, I'm really sorry about this. I, I don't know what to do." Yes, both of us were feeling so down at the moment.
But Ha Young looked rather calm. Wow. I was beyond impressed. You could see the sadness on her face, but she still appeared calm.
"Hae Rin ah. I already know how to solve this. But you're going to be in danger again, Hae Rin. I'm sorry. You don't have to do this if you don't want to. I don't mind." Ha Yound said.
She had an idea? No wonder she looked calm.
"Just tell me. We're like sisters already."
"Well, I might sound selfish here, but I really need to go to the funeral. She's like, my best friend ever since I'm a kid. But…do you mind if, if, if I still go to the funeral, and you be yourself again, and visit the guys at the dorm, without the agency knowing?" Ha Young suggested.
Oh my god, I could see a light here. Oh, it's so bright. Yup, it's the light of hope.
Well, Ha Young's a genius. And I was proud to have the same face as hers. With her idea, she could go to the funeral, and I was far than glad that she could. Plus, I get to meet the guys again. Hae. Urgh. I miss the stinky fish.
I hugged her tightly.
"Err, Hae Rin ah. Does that mean you're okay with it? I mean, I know you miss the guys a lot, but it's also dangerous. You don't have to do it if you don't want to." Ha Young said while still in my hug.
I let go of her.
"Ha Young ah. We'll do it. This way, you can go to the funeral, and pay your last respect to your friend. Plus, I can see the guys too." I answered.
"So, I have to get going now. Or I won't have a chance to see my friend. Thank you, Hae Rin ah!" Now Ha Young was the one who hugged me.
Suddenly something crossed my mind.
"Err, Ha Young ah. Don't you think Junho will notice? I mean, he spent a lot of time with you in a day. I'm sure he can spot who's who. He's expecting me to go with him to the funeral, right?" I asked Ha Young.
Ha Young looked a bit shocked, but she quickly calmed herself down.
"Leave it to me, Hae Rin. I'll deal with him. You just, have your time with Donghae and the others. Thanks a lot Hae Rin. I owe you. I'll get going now. Don't want to be late." Ha Young said while leaving my room in a rush, before I could say anything else.
The despaired look on her face was lessening a bit when I agreed to go with her idea, so that she could go to the funeral.
I was the one who owed you a lot, Ha Young. Not the other way around.
Well, I hoped that she could settle things down with Junho too. I wondered what she would do with him? I was pretty sure Ha Young could pull it off.
Go, Ha Young!
So, when Ha Young left, I went to the bathroom.
When I was in the bathroom, I could hear footsteps coming into my room. At first, I thought it's the maids. Then I remembered that we never hired a male maid, because I could hear sounds of guys whispering to each other.
Only one thing was in mind – thieves. But how stupid were those thieves? Breaking into a house at early in the morning? I wanted to get out of the bathroom and smack the thieves' head for a) breaking into my house, and b) being so stupid to break into a house at early in the morning. But since I could hear there were more than one of them there, the chances of me making it out alive were small.
So I just stayed still in the bathroom, hoping that the thieves would just take whatever they're looking for and get the hell out of my house.
As I waited…
"Hyuk, I think she's still asleep. Look." Wait. I know that voice.
That's not a thief!!!
That's a fish lost in the sea and found himself in my house and apparently he decided to bring his anchovy friend along!
What the hell is he doing here?!
I listened to their whispers and their little arguing.
They're trying to wake me up?! Haha. It's great that I made it a habit of mine to cover my teddy bears with my blanket to fool the maids. Seems like they're having fun trying to wake up my teddy bears instead of me.
Well, I guess the teddy bears would wake up someday, when trees start to lay eggs.
Oh, boy. Hearing them make fools out of themselves was making me to almost die out of amusement. The whole time I'm in the bathroom I tried to restrain my laughter while rolling from wall to wall. God. I missed these dorks.
I'm supposed to visit them today, but Hae and Hyuk came instead? What a nice surpise.
Then suddenly,
"TEEEEEEEEEEEEEEEEEEEEEEEEEEEEEEEEEEEEEEEEEEEEEEEEEEEEEEEEEEEEEEEEEEEEEEEEEEEEEEEEEEEEEEEEEEEEEEEEETTTTTTTTTTTTTTTT!!!"
What the…
Were they trying wake me up or were they trying to make everyone in the city including the dead deaf? What the hell was that sound? That's it. I'm coming out.
So, that's how I end up being in my room, after brushing my teeth and combing my hair, stuck with two idiots holding torch lights and looking at me who's holding my soaked teddy bear.
Right. MY SOAKED TEDDY BEAR - The first thing I see after turning on the lights in the dark room.
"Yah! Do you guys want to die?" I threaten them. Gosh. I seriously feel like hugging the fish now even if he spit water on my teddy. I miss them like hell!
He still has his innocent smile. Urgh.
"Yah, devil. Why is your voice back to normal? Your voice sounds like how it did before you got into the accident you told me about?!" Donghae suddenly asked.
Yup. Now we're back to where Donghae notices the difference in my voice. When Ha Young was replacing me, I said that I got into a minor accident and my throat hit the steering wheel, that's why my voice changed slightly, as in, into Ha Young's voice now.
But then again, I'm myself now, the real Hae Rin. And I guess both Ha Young and I forgot about the slight difference in our voices. Seriously, I didn't think that anyone would notice.
Think fast, Hae Rin. Think.
Do your magic, head. Think. Think.
Ting! Yup, you can practically see a chandelier above my head now. Not just a light bulb, but a chandelier!
"It's just temporary. The doctor said my voice might change alternately until my throat fully recovers." Yeah!!! Who knew you're capable in thinking of a great, false excuse, Hae Rin! Yeah. I'm sure Donghae will fall for it.
Cute fish.
Smack. Urgh.
I really need to act like I've always been hanging out with him, instead of acting like I finally met him today, after god-knows-how-long I haven't seen him.
"You guys are so going to pay for this! YEAHH!!!" I shout and run towards the two idiots with a pillow in my hands.
Pillow fight!
"Argh! What?! Hyuk, take care of yourself! Run while you still can! Don't wait for me! Let me die alone in this war! Go save yourself, my love!" I can hear Donghae shouts to Hyuk.
Smack.
That's from Hyuk to Hae.
"Stop being such a drama fish. You're not going to have all this fun alone. YEAH!!!" Hyuk said with a pillow in his hands, ready to attack.
"YEAHH!!! PILLOW FIGHT!!!" Donghae screams loudly to the air.
I swear that I'm a masochist. I mean, my whole body is being hit with pillows by these two idiots, and yet, I'm enjoying every moment of this. I must be crazy from missing them too much.
"Hey, hey. Don't hit the muscles. They are hard to get, you know!" Hae screamed.
"Yah! Muscles are supposed to be hard, so that we can hit them harder. ATTACK!!!" I shouted while Hyuk joins me in hitting the innocent fish.
"AHAHAHAHAHAHAHAHAHAHA. YOUR HAIR LOOKS LIKE EINSTEIN'S!!! AHAHAHAHA"
"AHAHAHAHAHAHAHAHAHAHA. YOUR HAIR IS WORSE THAN MINE!!! AHAHAHAHA. OUCH! THAT HURTS, YOU STINKY FISH!"
"AHAHAHAHAHAHAHAHAHAHA. SERVES YOU RIGHT!!! AHAHAHAHA! OUCH. YAH HYUK! THAT HURTS! HOW CAN YOU BETRAY ME!!!"
===========================================================
-하 영.HA YOUNG-
Please, please let a miracle appear in my life.
Please, please let Junho to not notice anything different with 'Hae Rin', the one who he expects to go to the funeral with.
I'm still wearing the same outfit, not wanting to waste anytime to change clothes. I know that Junho will think that 'Hae Rin' changed into the clothes that Ha Young wore before. So, no need to explain to him about that.
I'll just keep my mouth shut so that he doesn't notice the voice difference.
Besides, he's not even close to Hae Rin to know her well, so I don't think he'll notice that this 'Hae Rin' is actually Ha Young.
Okay, even I, myself is getting confused with all this Hae Rin and me confusion. Ergh. Pain in my brain.
Junho is already in the car, waiting for 'Hae Rin' to go to the funeral.
Take a deep breath, Ha Young. Okay, let's go.
I entered the car, and sit besides Junho at the passenger's seat. He smiled politely at me and I smiled back at him. Ceh. How can he be so polite with 'Hae Rin', but not with me?! I'll get you back for this later, psycho.
Whatever. At least he doesn't notice that I'm actually Ha Young, and not Hae Rin.
I hand him a piece of paper with the address of the venue of the funeral written on it. Junho takes it and starts to drive to our destination.
Sooyoung ah, I'm sorry that I can't always be there for you. I'm sorry that I wasn't there for you when you took your last breath. I'm just…sorry. I…
"We're here." Junho suddenly breaks the silence as we reach the church.
I was about to open the car's door when Junho stops me.
"Ha Young."
Freeze. What the…?
Did he just say…
"Ha Young." Junho said again.
Yup, I'm positive that's him. I turn my head towards him, being shocked and perplexed at the same time.
"How did you?..."
"Just remember that you owe me this time. Now, let's go. We don't want to be late." Junho said before I could finish my question.
Stupid me. Why did I even think that I can fool this psycho who has spent almost everyday protecting me?
Well, I guess we can have the chitchat later. Now, I need to go to Sooyoung.
Junho and I hurriedly step out of the car and pace into the small church. Yes, this is where my father told me that the funeral is going to be held.
Sadness envelopes the whole atmosphere. Some people are already leaving the church. My heart is beating faster and faster as I walk more and more into the church. I don't know if I can hold my tears from falling.
Be strong, Ha Young. You're not going to cry. You're not going to show that you're weak in front of everyone here. You're not going to.
And there it is. The coffin.
I don't dare to step nearer to see the body. I just can't. I halt my steps.
Junho notices my action. He turns towards me, gives me a slight push from the back, and nods his head, signalling that I should go see Sooyoung.
I guess he's right. I have to do this. I have to accept that she's gone.
I walk slowly towards the coffin, and finally, I could see her.
There she is. Lying in the coffin. She looks so…calm. There's no sign to show that she was involved in an accident. No scars on her face. She just looks…beautiful, as I remembered her to be.
Is she just sleeping? Did they diagnosed her wrong? Maybe her heart is still beating! Maybe she's not dead at all!
Stop it, Ha Young. Take a look around. You're in the reality here. Just accept the truth.
Suddenly someone taps my shoulder. I thought it's Junho, but I'm wrong.
Changmin.
I turn to face him. His hair, neat. His clothes, dark-coloured and tidy. Everything looks normal with him, except…except for, his visage. His red, swollen eyes, filled with so much sadness. His expression, I don't know how to describe it. It's like, it is contorted in despair.
I can understand why he is like this. Although he acts cool when hanging out with Sooyoung and I, but I know he likes being friends with us. And I know he still think of Sooyoung as one of his closest friend, even if we don't keep in contact so often now.
We were great friends.
We were so close with each other.
"Junho told me that you're here, without the agency knowing. I knew you would come." Changmin said in his low, sad voice.
Well, I guess, Junho understands how we feel now. I can spot him sitting on one of the benches.
"Changmin ah. I…I can't believe this." I said slowly.
The tears are almost falling down my cheeks now. I lift my head up. Trying to hold the tears inside my eyes, not letting it to fall down. And I succeed in doing that.
"You're still like before. Just cry, pabo." Changmin said while patting my head.
I shake my head, saying that I refuse to cry in front of these people. Just hold it in, Ha Young.
Both of us stay silent while looking at Sooyoung's body in the coffin. Neither of us knows what to say.
"Youngie. I…I have to go back to Japan now. My manager called. I have to catch my flight. Will you be okay?" Changmin suddenly said.
He's leaving? Now? In the midst of all this? I know I can't blame him because of his work, but, he's leaving me alone, now? To whom am I supposed to let out all my feelings after the funeral? Why does he have to go now? Can't he wait until I can fully accept that Sooyoung is gone?
"Arasso. Don't worry about me. I'll be fine. Just go." I lied. Yes. I'm not going to show to him too that I'm weak.
"Mianhae, Youngie ah. There's nothing I can do to persuade the manager so that I can stay here. I tried. I'm really sorry." Changmin apologized again.
If I say another word, my tears are going to fall. So, I just nod. Changmin seems to understand that I'll be fine, and walks out of the church after giving me a last pat on my head.
"I'll call you as soon as I can."
You better call me, Changmin. I don't know to whom am I going to cry to.
After Changmin leaves, I'm still standing in front of Sooyoung's coffin. People who come to see her look at me weirdly, as if asking why I've been standing here for so long.
My chest feels so heavy. Feels like something is crushing me. My head is hurting like hell. Too many strong emotions in my mind now.
Then Sooyoung's parents meet me, and Junho also comes to stand beside me. Her parents look calm, as if they have already accepted this grim truth.
"I'm sorry." That's all I can say to them.
"Don't be, dear. It's not any of your fault, nor is it ours. It's just fate. You're a good friend, Ha Young ah. You are. Sooyoung…Sooyoung is so lucky to have you as a friend, who still remembers her." Sooyoung's mom said and immediately hugs me.
She starts to cry on my shoulders and I just let her be. I'm trying hard to control my expression here.
"She was the best friend I ever had too. I'll never forget her." I whispered to her ears.
Our hug finally breaks and Junho and I bow to Sooyoung's parents. I think I need to go now. I can't bear watching Sooyoung being buried later. I don't think I can be strong enough at that time. Especially with Changmin's absence.
Goodbye, Sooyoung. I'll always remember you. Always. Don't forget that.
Hold your tears, Ha Young! Control your expression.
As I'm walking towards the exit, suddenly Junho elbows me. I halt my steps and turn my gaze towards him. What does he want by elbowing me?
Junho's eyes moves towards one of the benches. I follow his gaze. And that's when I thought I'm dreaming.
Kyuhyun.
What is HE doing here?!
Okay, okay. Relax, Ha Young. It could be that he just coincidentally visits this church today. It's not like he's stalking or suspecting you.
Relax, relax.
"You?" Ergh. I don't think I have enough strength to handle Sooyoung's death and his presence at the same time now. I'm almost collapsing, for god's sake!
"Erk, yeah. Me?" He answered awkwardly. Seems like he's surprised too.
I look towards Junho with a big question mark on my face. What am I going to tell Kyuhyun?
"I'm sorry. I'm not stalking you devil. I just happen to be in the area. Changmin told me about you and asked me to see how you're doing." He explained.
Changmin?
Aisy, that kid. He can't stay to console me, because he has to go to Japan, but yet, he still manages to find this empty head strolling around on the streets and ask HIM to console ME?! That Changmin has either lost his mind or he's just dying to let me murder him.
"Urm."
"So, I guess I should go now. See you later, devil." Kyuhyun said while standing up from his seat.
I should just let him go right? I shouldn't stop him, right?
"Well, you don't have to go if you want to stay with us for a while." Okay, I can guarantee a hundred and thirteen percent that I didn't say that.
Yup. It's Junho.
If we aren't in the church now, I swear I would have already murdered this psycho. What is he thinking, stopping Kyuhyun from leaving?! Aisy.
But hey, who doesn't know the empty head? No matter what Junho says, he's going to leave anyway. He's just here because it's a coincidence and Changmin asks him to. Knowing the arrogant empty head he is, he'll just leave when he knows there's nothing for him to do here.
"Well, okay. I guess I can stay for a while." He said.
WHAT??!!! I'm positive the wires in my ears are all twisted wrongly. Did I hear him right?!
"Great then. Ha…Hae Rin sshi haven't have her breakfast yet. I guess we can go have breakfast, then?" Junho suggested. He almost called me Ha Young! That psycho.
Breakfast?! What is he thinking? I need some time alone now, not some food down my throat!
"I'll go get my car then. I'll wait for you guys at the car park." Kyuhyun said.
WOW. He's not even one bit annoying today. Well, maybe because Changmin told him that I'm already in a sad mood or something.
Kyuhyun walks ahead of us, towards his car while Junho and I walk towards our car. Finally, I can give Junho a piece of my mind now!
"YAH PSYCHO! What was that for? Why did you ask that empty head to stay? Don't you know how bad our relationship is?!" Take that you psycho.
"Yah. You owe me, remember? Besides, I'm hungry. And it's good to have one more person to join us. Think of him as replacing Changmin for a while." He answered.
Replacing Changmin? Is Junho and Changmin complotting against me or something? That empty head can't console me! He doesn't even know who Sooyoung is! Argh. I don't have enough strength for this. I'll just ignore Kyuhyun.
Junho drives for a few minutes, with Kyuhyun following us in his car and finally Junho stops at an old restaurant. The restaurant looks nice, with not many people there, and there's a garden at the back of the restaurant.
I guess Junho is right. I'm kind of hungry here. Let's just eat and go back home to get some rest.
The three of us walk into the restaurant and take our seats at a table. Junho sits beside me, while Kyuhyun is sitting opposite of me. Why does the situation in a restaurant with Kyuhyun seems so familiar all of a sudden?
Urgh. The pain of acting as the empty head's girlfriend. And the kiss…
Smack.
Why did I even bring up about that?!
Ergh. Sooyoung. I wonder if she liked any of the guys at the foster home back then? Did she even have a kiss with anyone there? I miss you already, Sooyoung.
After the waiter takes our orders, I excuse myself to the restroom. Well, I'm not going to the restroom actually, but instead, I'm heading towards the small garden at the back of the restaurant. I think no one is going to be there.
I need my alone time. I need it, now! I don't think I can hold my sadness anymore. Too much of memories with Sooyoung are filling my head.
As I reach the small garden, I know this is the perfect place for me to let all my sadness out. There's no one here. There're many trees and plants to cover me here.
I wonder if Changmin has already boarded his plane. Stupid Changmin! How dare he leave me alone here? During this kind of time?
Sooyoung has already left me. The only girl I was friend with when I was a child. My only friend to rely on, other than Changmin.
"Sooyoung ah! Why did you go?! You said we would always be together! You said that it doesn't matter how long we're separated, we would always meet again one day! Sooyoung ah…" I said the words out loud.
I could feel some heat running down my cheeks. Tears.
Stupid tears. Why did you fall down?!
Well, if the tears are for Sooyoung, who cares. No one is here to see me cry. No one is going to think that I'm weak.
The tears flow more and more rapidly.
I guess these are all the tears that I have kept in me since I heard the news of Sooyoung's death. Sooyoung ah…
And more and more tears keep falling. There's no way to stop them. Even I can't control these tears anymore. Once I'm alone, I let it all out.
"Uhuk..Uhuk…" My voice is stuck in my throat because of too much crying. I can't even say anything now. The tears just keep falling. Sooyoung ah. Please be happy up there.
===========================================================
-규 현.KYU HYUN-
Ergh. Nature calls. Got to go.
"Excuse me." I said to Hae Rin's driver. Well, I think he is Hae Rin's driver, right?
Got to go. Got to go.
After I have done all my business in the restroom, I head out as fast as I can, thinking that my breakfast is waiting for me already.
Seriously, all this curiosity about Hae Rin is making me hungry. And yeah, again, I blame the devil.
The only reason I followed Hae Rin and her driver to this restaurant is because I'm a polite guy (obviously), so I thought maybe keeping Hae Rin company is a good act.
See, told you I'm a great guy!
"Uhuk…uhuk.." I can hear someone coughing. Nooo. I don't think that's the sound of a person coughing. Sounds more like a person who is trying to say something but is unable to, because of too much crying. I think it's from the back garden, since this restroom is near to it.
Urgh. Just ignore it.
My stomach is already producing sounds that can be made into music, with all the growling. I'm coming, breakfast!
So I make my way back to the table with an urge to eat my breakfast controlling over me.
Walking. Walking. Looking hot at the same time. Walking.
OOPSS.
What the hell?
What is wrong with you, legs?!
Stupid legs! Suddenly making a u-turn towards the direction of the sound that I heard before! The sound of someone crying at the back of the restaurant. Aisy. I swear these legs aren't mine!
I don't even know why I suddenly walk towards the back garden now. Hey, don't blame me. Like I said, blame the stupid legs.
Might as well just fill my curiosity then.
I step into the small garden, and the sound of a person crying is getting clearer. What kind of person cries alone at a small garden at the back of a restaurant? Can't that person find a better place to cry in, like maybe, in his or her own room? People these days.
Wait a minute.
I can see someone sitting on a bench now. It's a 'she'.
I walk closer to have a better look.
Hae Rin?
I don't think she notices me, hiding behind this bush.
She's the one who's crying so sadly? The way she cries, it's so sad to hear. Sounds like someone important to her just died or something.
SMACK.
Yah, Cho Kyu Hyun. Are you having amnesia or something? Her friend just passed away this morning, remember?
Oh, right. I guess I do deserve a smack by myself.
Smack again then.
But it still strikes me as odd. She looked so relaxed and calm at the church. That's why I thought maybe she wasn't that close with the person who passed away. Well, you can't blame me there. She didn't even let out a tear when I saw her at the funeral! I thought the devil didn't have a heart!
And now, it seems like her tears are never ending.
"Uhuk..Uhuk.." Looks like she's trying to say something to herself again, but her constant crying is hindering her words.
I guess Changmin was right then. She is down. She looks so fragile, so, in despair. I feel like I need to hug her. But I didn't know she really has a friend other than us. I swear!
Urgh. What to do? What to do?
And since when do I feel like an idiot, trying hard to think of a way to console her? Why do I even bother? She's a devil for all I know.
….
So should I just let her cry by herself? I mean, I don't think she even wants me here. I guess the best thing to do is just leave her to cry alone. Is that the right thing to do?
Even a genius like me gets confused.
===========================================================
-하 영.HA YOUNG-
How many minutes have it been since I cried by myself while reminiscing my memories with Sooyoung?
I think I should go back to Junho and the empty head now.
But, the tears just won't stop anymore. Why did I even cry in the first place?!
Stupid tears.
"Morning!" Huh? Who's that? Sounds like a guy's voice.
Who the hell suddenly says good morning happily to a person who's crying?! Aisy.
I look up and see a teenager standing in front of me with his headphones hanging on his neck, resting on his shoulders.
"Er. Morning, too?" I managed to reply, with a hoarse voice of course – a result of too much crying.
What is this kid doing here anyway?
"You're a beautiful noona! But you look so sad. Why don't you wipe your tears so that you don't look like a crying clown now?"
Did that kid just called me, a crying clown?!
I don't know why, but I laugh at his statement. This kid is cute.
"You called me a crying clown?" I asked.
Wait. Did my tears just suddenly stop after talking to this kid? Is this kid an angel or what?
"Not me. A hyung called you that." That kid explained.
A hyung? You mean a guy saw me crying just now? Who? The chef? The waiter?
"What? So you're here because that 'hyung' asked you to?" I demanded an explanation from him.
"Hey, I'm already 18. I don't do something just because a stranger asks me to. Of course that hyung paid me. Hehe. He said a devil is crying! But I think that hyung's eyes are damaged. I mean, you're a pretty noona. Do you date younger guys?" That kid gives his cutest smile ever.
He's already 18? But he still is cute though.
The hyung he is referring to must be Junho!
But, wait. Junho never calls me 'devil'. And it can't be Donghae. That fish is probably still sleeping in the sea.
Suddenly the kid's phone rings.
"Oh, that hyung is calling. Here, why don't you pick it up?" The kid hands his cellphone to me.
I press the green button and put the phone to my ear. I keep my mouth shut, so that the 'hyung' doesn't know who is answering.
"YAH! WHAT IS TAKING YOU SO LONG? DID YOU GIVE THAT THING TO HER ALREADY?!"
It can't be…
Kyuhyun? He's the hyung this kid was referring to?
What does he want from me?
"PALLI! OR ELSE I WON'T GIVE YOU THE VIDEO GAME!"
And he hangs up.
Empty head? He is paying this kid with one of his video games? Has he lost his mind, or is he just plain stupid?
I hand the phone back to the kid.
"Here you go, er…what's your name?" I asked.
"You can call me Hyungjoon! Or might as well just call me baby!" Seriously, this kid is too cute to be true.
"So, do you know the hyung that just called?" Hyungjoon asked.
"Maybe. How did you know him anyway?"
"I was walking by this restaurant while hearing some music and suddenly someone pulls me. I thought I was being robbed! Hehe. It was the hyung actually. He asked me to do a favour for him. Oh, right. Here you go. He's been stressing to me for several times to give it to you. Here." That kid explained and hands me a candy.
It's a type of a hard candy – small-shaped, wrapped. But the shape is quite interesting.
A cube-shaped candy.
"A candy? What for?" I'm still confused.
This empty head is really driving me nuts here. He's acting weird, what with all this asking-a-cute-teenager-to-give-a-candy-to-a-crying-girl.
"Erm. He said the candy is… Wait, wait. His sentence is too long. Let me remember it first. Ergh. What was it? What was it? It's something that has got to do with the candy's shape. Let me think. Let me think. Erm. Ah, forget it. Let me just ask the hyung again." The kid takes out his phone and starts to call Kyuhyun.
Where is his current position anyways?
===========================================================
-규 현.KYU HYUN-
"Yah! Who's in there? Are you constipating or what?! How long are you going to be in there?!" After several more knockings, the owner of the voice finally goes out from the restroom.
Yup. I have no other place to be at than in one of the cubicle in the restroom.
What? I can't be at the small garden. What if Hae Rin starts to get suspicious with the kid and starts looking around the small garden and finds me?
So, yeah, the restroom is the safest hiding place.
After much thinking, I've decided that I would at least comfort the devil. Do I have to say it again, or do you guys already know that I'm such a great guy? But I'm not going to do it directly, of course! That'll be embarrassing. That's where that kid comes in handy.
Ring. Ring.
The kid is calling. Is he done comforting the devil? Has the devil stopped crying? Aisy. Why did I even bother in the first place?
"Yoboseyyo, hyung! Mianhaeyo, hyung. I forgot the line that I'm supposed to say. Can you repeat it again. This time, repeat it slowly, so I don't miss a thing." The kid said through the phone.
Aisy. This kid is a pain in the butt too.
I guess I have to repeat myself again now.
===========================================================
-하 영.HA YOUNG-
"Just say it like this to her. You have to say the exact words, okay? Just change the name 'Hae Rin' to 'noona'." I can hear Kyuhyun's voice through the phone as the kid hands me his cellphone again.
What is he going to say to me? Something to insult me? Something to make me feel bad, more than what I'm already feeling now?
Kyuhyun then continues his words, without realizing it's me again who's on the other line, instead of the kid.
"Hae Rin. Remember kid, change the name to noona. Don't call her by her name too! I'm calling her by her name so that it's easier to explain to you. And remember to keep my identity a secret too! So, Hae Rin, that cube-shaped candy, I give it because there's nothing else that's cube-shaped to be found around here. Besides, it's cheap! Someone told me, that life is like a cube. Even if many people say that life is round, I think the best comparison for life is a cube, instead of a round shape." Kyuhyun said, being so calm at the same time.
When was the last time I hear his voice so calming like this?
Wait a minute. Life is like a cube? Not round instead? That sounds oddly familiar.
"Try putting the cube candy on your palm. It doesn't move right? It's stable. But what if you put a round-shaped candy on your palm? It'll roll around, right? Because it's not stable. The cube is stable because it has edges to support it, making it stable, whereas a round shape doesn't have edges, so it'll be unstable. Just like in life, think of challenges as the edges of the cube, it'll make your life more stable. It'll make you stronger. Whatever that you're feeling sad about now, just think of it as a challenge that'll make you stronger in the future. Whoah! You hear that kid? I sound like a total genius here! Okay, make sure you say the exact words to her!" Kyuhyun finally finishes his sentence. And the part where he brags about himself makes me want to smack him on the head.
"Oh, wait! Make sure you also tell her to cry as many as she wants, and after that, tell her not to cry anymore. Give me a report after you're finished, kid!" Kyuhyun added and hangs up.
One last drop of tears fall from my right eye upon hearing him.
I pass the phone back to the kid.
The cube theory? Isn't that what my father at the foster home told me? Urgh. I forgot about that. I should be strong. Life is a cube.
But how did Kyuhyun know about this? It can't be that my father told him when the Super Junior guys visited the foster home, right? I mean, he didn't even tell Changmin about this cube theory, and yet, he tells it to Kyuhyun? It doesn't make sense.
But how does he know about it?
I only told the theory to one of the kids at the foster home.
Wait.
Could it be? Nah, there can't be a coincidence where Kyuhyun talks to the same boy that I talked to at the foster home? What's the chance of THAT happening? 0.00000000000001 %?
Don't tell me it's fate or any stuffs like that.
But, could it be?
Ergh.
But at least his words comforted me a bit. I'm accepting that Sooyoung is gone now. I'm finally feeling my chest is lighter than before. Did that empty head just put a spell on me?
Urgh.
Why is my heart feeling all glad now?
Come on, Ha Young. Stop thinking about him now.
I turn my gaze towards the cube candy in my hand now. Should I be happy that he's there to comfort me? Or should I feel guilty that I'm happy that he's there for me?
I mean, I'm not even the real Hae Rin, and this guy wastes his time trying to console me.
"So, noona. What did the hyung say to you? You seem pretty calm now. Unlike before. So, are you going to answer my question? Do you date younger guys? I'm available, you know!" That kid suddenly wakes me up from my thoughts.
Have I say it like a thousand times already? This kid is CUTE!
"Thanks, kid. See you around." I call him kid, but still, he's only a few years younger. I'm sure a lot of cute girls are after him. Well, since my tears are all dried up, I guess I can go have my breakfast now.
"Oh, well. I guess I can always call the hyung whenever I want to talk to you! Bye, noona!"
I wear my sunglasses and heads to the table where we were sitting.
No sign of Kyuhyun there.
I take my seat.
"Where's Kyuhyun?" I asked, but still sounding uninterested.
"You mean the guy you kissed? He's…OUCH!!!!" Before Junho could finish his sentence, I throw a spoon on his forehead.
"Yah, psycho. Do you really want to die in pain?"
"Okay, okay. But, ouch! You're abusing me! I'm going to report this to the police!" Junho said.
"Yeah, right. What are you going to say? A girl abused you with spoon?"
Junho looks at me weirdly.
"You seem, normal. You don't seem to be that sad anymore? Did you find any chef to console you while you were at the restroom?" Junho asked.
Well, it's definitely not a chef. That empty head can't even cook ramen.
"Whatever. So, where's the empty head?" I asked again.
"Hah. You're already missing me, devil? I know, who can resist my charm? Well, let's eat." Kyuhyun suddenly appears out of nowhere and takes his seat.
He seems to sct like nothing has happened.
Maybe he still thinks I don't know the identity of the 'hyung' that the kid talked about. Well, let's just let him be like that, then.
"Err, guys." Junho suddenly said.
"I think we might need to order more food. I kind of, accidentally ate your food, since you guys were gone for so long. I got lonely and hungry!" He continued.
"What?!"
"Accidentally?! Whoah, you're one cool driver. You even dare to eat your master's food?" Kyuhyun said.
"Driver?!" Junho seems shocked.
"Yeah. He's an impudent worker. Plus, I think he has mental problems too. Just let him be." I covered for Junho.
I stared at Junho, and he seems to understand.
"Oh, right. Yeah, a driver." Junho said slowly.
"Waiter!" Kyuhyun called. Did he just say that in Chinese? Okay, I may not know a lot of Chinese, but I'm sure he called the waiter in Chinese.
Where does he think he is? Shanghai?! It's not even a Chinese restaurant!
I wonder how we're going to act with each other after this. Why do I feel good that he's here? I swear my hormones are unbalanced! I swear!
Hae Rin. I suddenly remembered about her! I wonder if she has already gone to the dorm.
I know, I know. I'm selfish for asking her to be herself again, but I know that she missed the guys like hell, especially the stinky fish.
And of course I'm aware of the danger I've put her in, but I think she'll be safe with the guys. I have to trust the other agents.
God. I hope she'll be fine! Please let her be safe!
Suddenly a pair of chopsticks lands on my head.
"Yah, devil. What do you want to eat?" Of course, that empty head is back to his annoying self. I guess he already knows I'm feeling much better now.
I guess I should thank him one day. Maybe.
===========================================================
A/N : I'M SORRY AGAIN!!! I know I'm a bit late this week for the updates! *bows* I'm really sorry. I'm getting extremely busy here. Here's the update. Apologies if it's not good enough. I tried my best while using the time I can find here.
Please continue reading! *blinking eyes* And leave a comment so that I know you guys are still there. A constructive criticism is always fine with me if it can help to improve the story!!
Anyways, to those who are reading, please leave a word okay, so that I know you're reading!!!
And, I'll try harder to make the story better!
^ Back to Top