Anything Is Possible In Hell.
by -hyun-ae-
Tags comedy donghae korean kpop kyuhyun superjunior laugh | Report Content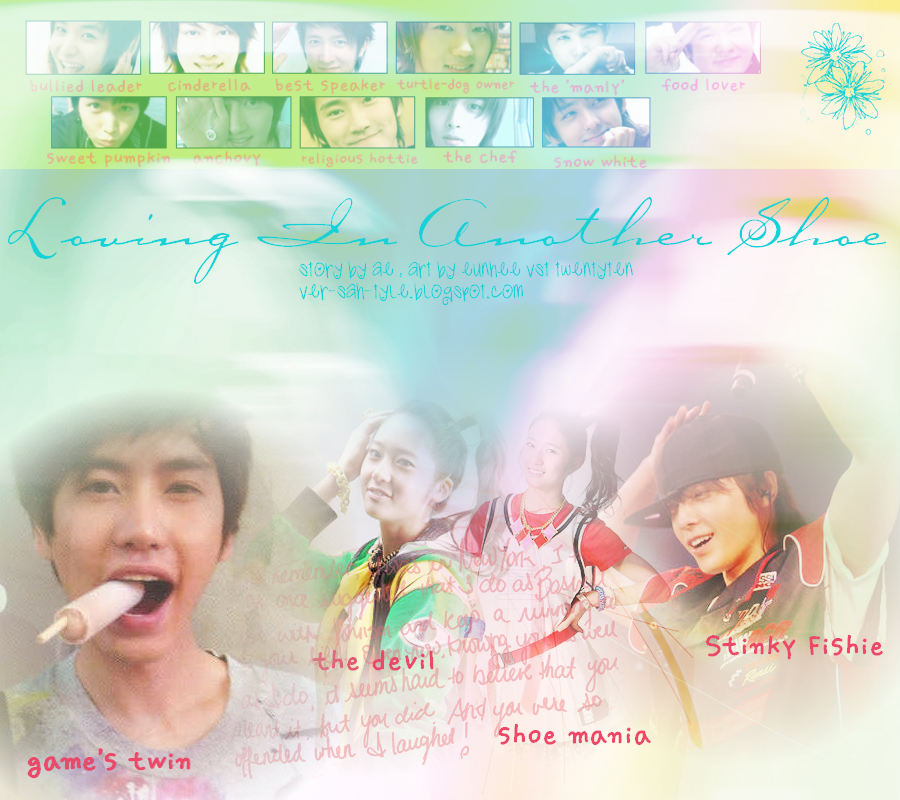 -동 해.DONG HAE-
"Hyung! Put me down! The fish needs to feel the floor! Hyung!" I continued screaming while Kangin hyung, Yesung hyung, Hyukjae and Kibum are carrying me into my room.
"Yah Hyukjae! Let me down! Kibum ah!" I didn't stop the screaming until we are in my room.
Finally, the members put me down.
Oh, sweet floor! I miss stepping on you so much! And I didn't mean it in a bad way.
"Hae yah! Why are you so heavy? I doesn't look like your fish body has a lot of fat in there." Kangin hyung mumbles while massaging his hands.
"It's called muscles, hyung. The one you get when you go to the gym?" Haha. Of course I'm proud of my body! It's all my hardwork's outcome.
"Really? They give you free muscles if you go to the gym? I want one too!" Yesung hyung screamed like a kid. Aisy, this Yesung hyung.
Just then, I remembered what Teukie hyung said.
Kyuhyun and Hae Rin are going to learn to talk nicely to each other? NOOO! It's better if they don't talk to each other!
I'm not going to let my friend there fall for that evil magnae. And I'm not going to let that evil magnae even start to develop any good feeling with that short-legged devil.
Geez. That's a lot of work for a fish you know.
I just care for both my friend(even if our relationship is mainly based on tormenting) and also my dongsaeng(even if that kid has an evil genius mind).
I'm nothing near jealous! I swear!
Really?
Argh. After checking in the mental institution later, I'll go enter a class to help you find your 'true self and feelings'. I think that's what they said on the flyers.
So I run as fast as I can to the door, to stop whatever the other members are trying to do with the other two people who got carried.
Unfortunately, a fish like me forgot to take proper swimming lessons to help me swim faster.
"Where do you think you're going?" Kangin hyung said while holding my hands.
"Hyung, we can't use Hae Rin as the fake girlfriend!" I pleaded while trying to release myself from him.
Push. Pull. Move violently.
Urgh, nothing can let me go from Kangin hyung's strong grip.
"Aisy, this fish can't stay still. Get that chair from the study table Kibum ah! Yesung hyung, do you think you can find any cable? Yah, Hyukjae! Who told you that you can sleep?!"Kangin hyung starts to order the other members up.
"Since Teukie hyung gave permission, let's tie you up! Haha. I've always wanted to do this to the members." Kangin hyung put me on the chair and Yesung hyung ties me up with a long cable of a phone charger. He is too creative I tell you.
"Hyung, what are you guys doing anyway? Why are you kidnapping us in our own dorm, and tying me up with a cable?" Well, you've got to admit it's a bit weird to be kidnapped by your own band members and tied up in your own room with your own phone charger, right?
"Heechul hyung said that it's possible that you, Kyuhyun and Hae Rin won't still agree, so we had to make a plan to make you guys agree. So, now, we just have to force you to agree." Kibum explained.
"What are you guys going to do anyways? Blackmail me or something? Haha." It's quite amusing to know they came up with this kind of plan. Although, it is cute.
"Well, actually, we haven't thought about it yet. But since you suggested blackmailing, we'll just do that. Let's get you to agree fast. Because if this Kyu problem isn't settled fast, then all of us are going to be annoyed with that crazy girl who'll keep harassing Kyu." Hyukjae said as he yawns a few time. Probably still tired from his schedules.
"Like I said, just use Sungmin's girlfriend. Or find any other girl." Just for your curiosity, yes, I'm still on the chair, tied with a cable. If any of my fans sees this, they'll be running up the dorm in just a matter of seconds.
Smack.
Kangin hyung hit my head pretty hard.
"Yah! Like you don't know Sungmin's girlfriend. She's way too innocent and kind. Putting her with Kyu? I pity that girl's mental condition then." Well, you can always rely on Kangin to be kind to the girls, except for Hae Rin, of course.
"Finding another girl? Yah! We don't want to waste money hiring another girl." And of course, you could always rely on Hyukjae in terms of saving money.
Suddenly, a picture of me drooling in my sleep is shown in front of me. And the drools can be clearly seen. Yaiks.
"When did you snap this picture?!" I asked Hyukjae, who is, of course, the most possible suspect!
"Hehe. I took the picture, hyung. You were too cute at the time." Kibum confessed while laughing his innocent laughs.
Aisy. There's no one you can trust in this world after all. Am I the only person who still is being virtuous in this dark, cruel world?
"So, you're going to agree to Hae Rin being Kyu's fake girl or do you want the pictures on the internet?" Kangin hyung said while moving the picture back and forth in front of me.
Hah. This is too easy. Where did they get their blackmailing skills anyways? From Hae Rin? Hahaha.
"Err, guys. I think you forgot that your humiliating pictures are in my camera? I can post them up anytime too, you know?" Well, two can play in the game.
"Sorry, hyung. We already took the memory chip. So, you don't have the possession of our pictures now." Kibum said. Well, that kid is also smart too.
"Well, just post it then. The fans are going to love my cuteness when I sleep!" Hey, what do you know? My fish brain works after all!
"Actually, he does have a point there." Hyukjae said to the other members.
"Aisy. Then, what do we do?" Yesung asked.
"Yah, Donghae ah! Just let Hae Rin be the fake girlfriend! Don't interrupt the plan. Then we can all get this over with and get back to our lives." Hyukjae starts to plead.
"Yah! Do you guys really want Kyu to be injured by Hae Rin? I'm just caring for our dongsaeng here." You can say that's partly true.
"Donghae ah, don't you care too much for Kyu? Or is it because.." Yesung hyung didn't get to finish his sentence.
"Don't tell me you're jealous!!!" Kangin hyung interrupted while screaming his words out loud.
"Yeah! You're actually jealous, aren't you?!" Hyukjae then joins in.
"Hyung! You're actually jealous of Hae Rin being with Kyuhyun? Come on, it's only one day. It's fake anyway! Ahahahahaha." Kibum laughed after finishing his sentence.
Me? Jealous?
"Yeah, right! Why would I be jealous? She's just my friend anyway!" I defended myself. Of course I'm not jealous, right?
"Reallyyyyyyy? Just your friend???" Kangin asked again.
"Of course! Why would I be jealous???" I answered back.
"If you're not jealous, then just let Hae Rin be the fake girlfriend then." Hyukjae said.
Shoots. I got trapped.
Now what am I going to say?
"Attack!" Yesung hyung suddenly shouted!
"Yah! Yah! Yah! Stop it! I..argh..s...st..yah!" I can't continue my words.
All four of them are tickling me. Argh. Why, oh why do I have to be born in this world and be ticklish?
"Guys..st...ah.." The tickling hasn't stop yet.
"Guys..I'm..g..going t..to..p..pee..in...m..my..p..pants..if..y..you..don't..s..ss..stop!" I really mean that. If they don't stop tickling me I'm going to pee in my pants from all this tickling.
"We'll stop if you agree!" Kangin hyung said.
Now, I would do everything to stop the tickling, even if they ask me to go be friends with sharks.
"O..Okay!..I..ag..agree!" I had to raise the white flag. No other options is possible.
"Promise in the names of your fellow mates in the sea?" Yesung hyung asked.
"What? Ah..o..okay..I..pr..promise! Now..ss..stop!" And then, they finally stop.
Huh.
You don't know what kind of hell I just went through. I swear being in the marines at the sea is better!
Argh. I just have to let it be then.
Stupid, ticklish fish body!
"WOOOHOOO! YEAH!!! MISSION ACCOMPLISHED!" Kangin hyung, Yesung hyung, Hyukjae and Kibum jump in joy while giving each other high-fives.
"And you promised in the names of your fellow mates in the sea, Donghae! So, no breaking the promise." Hyukjae said while making his way out of the room.
Actually, all of them are making their way out of the room. In case you forgot, I'm still being tied with the chair here.
"Ehemm. A fish tied with a chair here!" Hello! Did they forget about me or what?
"We'll let you go once they're done with Kyu and Hae Rin too. Just in case you decide to interrupt the process."
"Yah!"
===========================================================
-하 영.HA YOUNG-
Now, we are in Sungmin's room.
"Guys! Put me down!" And finally, they did.
But of course, my reflex system is just too awesome. As soon as I meet the floor, my body tries to make it's way to get out of the room. I am not going to help them by being that stupid gamer's girlfriend. Even if it's fake! If he just acted nice earlier, I would have helped. But now, I don't think so.
Before my hands could reach the door knob, Hankyung grabs my hand in his tight grip, again. How can he be so fast? Just the, Kangin, Yesung, Hyukjae and Kibum entered the room.
"She's trying to run too? Just like Donghae." Kangin said while closing the door behind him.
"Where is he anyway?" Heechul asked.
"Still tied to the chair. We thought he would interrupt whatever you guys are doing here, so we'll let him go later. We couldn't find a rope, so I thought a phone charger's cable would work. Hehe." Yesung said by being proud of himself.
He's tied to a chair?
Did I say these guys are crazy too many times already? Well, apparently, they are maniacs.
"Let's tie her down then, that'll make everything easier." Heechul suggested.
"If you guys tie me up, I am going to report to the whole nation about this!" How can they tie a girl up? Unfortunately, the guys don't treat me like a girl.
"Why don't we tie Kyu up too? So that we can get through this easily and fast." Shindong suggested.
"What? Me? No, hyung! You know I'm an angel! I'll just sit still here!" Kyuhyun tries to get away with all the tying up thing.
"Not a chance. And the word 'angel' is the last option of words in the world we would use to describe you, magnae." Eeteuk said.
Then all of them starts to tie us up to 2 chairs.
"Great! Now it's all because of you that we're tied here!" Kyuhyun is blaming me? Urgh. This guy is just going to make all my nerve cells commit suicide.
"Me?! What do I have to do with it?!" Of course I have to fight for my right. I'm innocent here!
Then the fighting went on.
"If you didn't try to run, we wouldn't be tied up like this. Why did you run anyway? The hyungs aren't going to eat you up! I don't even think you taste good. Probably they'll just force us to agree!" Well, he seems like he knows his hyungs well. That's why he didn't try to run. But hey, I'm not losing to this stupid game addict.
"Yah! If it weren't for your crazy girlfriend problem, we wouldn't even get into this mess!"
"Yah! Are you blaming god then for giving me my perfection that any girl can't resist?!"
"What?! I think you meant to say, that any CRAZY and BLIND girl can't resist!"
"OUCCHHH!" The both of us suddenly scream in pain.
Kyuhyun got smacked on the head from Sungmin. I got smacked on the head from Hankyung.
Ouch.
"Thank you, Sungmin, Hankyung." Eeteuk said.
"She's too loud." Hankyung said, giving a reason for the smacking.
"So is he." Sungmin also gives his reason for smacking Kyuhyun's head.
"That's why we need you guys to be nice to each other, or else who's going believe you guys are a couple?" Eeteuk said loudly then.
"Hyung! If we can't use Sungmin hyung's girlfriend, then let's just find another girl!" Kyuhyun suggested.
"You know what? I agree with this empty head here! Find another girl!" I am not going to stand the words coming out of his mouth.
"Empty head?! You're the one without a head!"
"What?! Then I suppose you don't even know what is attached on top of my neck then!"
"I know exactly what it is. A devil's head!"
"Well at least it's still a head!"
It's so weird that we are suddenly enemies when we had nothing to do with each other before. Well, he started it. If he didn't say anything before, by this time we would be just fine with each other. Now look at us, held hostage in the room while being tied with phone charger's cable and screaming at each other's face.
"Aisy. No time to find another one! We have to settle the problem with the crazy girl as fast as we can so we can continue our work peacefully." Heechul said.
"So, Hae Rin. Listen. You're just going to pretend to be the girlfriend. Just go with him and meet the girl. You guys don't have to act all romantic with each other. Just don't try to murder each other. And then all of this will end. Deal?" Sungmin asked me.
"Kyu ah. This is your problem and we are helping. Why don't you just give in, go with Hae Rin and then after you settle the problem with the crazy girl, you guys can chop each other into hundred pieces and we won't stop you. Deal?" Eeteuk asked Kyuhyun.
"I don't understand why they suddenly are trying to murder each other. Before this, Kyu didn't even talk to Hae Rin." I can hear Hyukjae talking to Siwon.
"Hyung, didn't you see before? Kyu's words are just fatal. You can't just be quiet when hearing words like that being thrown at you. I get how Hae Rin feels." Siwon replied to Hyukjae.
"Kyu must really dislike Hae Rin then until he is being so stubborn on not wanting Hae Rin to be the girlfriend, even if it's fake." Yesung added.
Geez. This guys know how to gossip?
"NO!!!" Kyuhyun and I still object to the idea.
Just then, Ryeowook comes in with a pair of shoe in his hands. A lady's shoe.
"Where did you find it, Ryeowook ah?" Shindong asked.
"Under Donghae hyung's bed. Since he is tied up, he can't do anything. But this is the only pair there." Ryeowook answered.
Ah. So that's where Donghae hides Hae Rin's shoes. But Ryeowook said it's the only pair. He must hide the shoes in different places. He is too smart for a fish, I tell you.
"Hae Rin ah. Do you really want this shoe to suffer because of you?" Kangin said while waving the shoe in front of me.
Well, I wouldn't mind if the shoe is being given to alligators as food. But since Hae Rin will instantly turn into a ghost who gets mental stress after knowing the fate that her shoe is going to face, I don't dare to risk the shoe's life.
"Kyu yah. Do you really want us to ask the manager to take all of the video games and take away your laptop for half of the year? Because we really don't want to unless you agree to do this." Heechul said, but he still looked hesitant when he said it. I guess they all really know how much the games meant to the empty-headed creature here.
Kyuhyun looks like he is still thinking deeply. Maybe the manager really has the power to take away his games. Serves him right.
But I have to do the same too. Since Hae Rin's shoe is on the line here. Hey, who would've thought that my life gets decided by a shoe?
Guess I have to do it then. And it's only for a day, How bad could that be?
"Fine."
"Fine." Kyuhyun agreed too.
"But only if I can murder her after all this is settled!" He just won't let it go, will he? Fine. Then I'm not losing to him either.
"Just promise you guys won't disturb me later when I give his body parts for the lions to eat."
"Woohooo!!! Yeah!!!They agree!!!" The whole room applauded and give high-five to each other.
"Can you let us go now?" This position is really, really not comfortable.
"Nope. You guys are going to calm down and be nice, or at least, try to pretend to be nice to each other so that the crazy girl will actually believe it. Start practicing." Eeteuk ordered.
Then Siwon comes to move my chair so that I face Kyuhyun and Kibum also does the same with Kyuhyun's chair.
Then Yesung and Hyukjae puts a small table between us.
Great.
"Now my eyes are getting tortured!" Kyuhyun shouted.
Smack.
Sungmin smacks his head. Then I could notice Hankyung standing besides me. I guess he'll be the one to smack me if I say something stupid then.
"Let's try that nicely, Kyu yah." Eeteuk said.
"How pleasant. Now my eyes are getting tortured." Kyuhyun said in a calm voice, while giving a smirk.
"That's a good start! Now Hae Rin, your turn." Heechul asked me to say something nice.
Well, of course I'm not going to say something nice to Kyuhyun after what he said to me. I'll just say something bad in a nice way then.
"How nice. My eyes are already committing suicide." I said calmly, with a devilish grin, of course.
"Good!" The whole room clapped.
"Now let's change the words to a better one!" Shindong suggested.
"Your clothes look great, unlike the person who's wearing it." Kyuhyun complimented what I'm wearing, but say I look hideous instead?!
Smack. Another one from Sungmin to his head.
Haha. Serves him right!
"Might as well separate the head from the body. That'll make your work easier, Sungmin." Oopss. Wrong sentence.
Smack. There's one from Hankyung for my head.
Then I could hear Kyuhyun laughing.
Urgh.
This is tough.
"Let's just move to how you'll treat each other at the restaurant when meeting the crazy girl. Bring it in, Ryeowook ah!" Kangin ordered.
Then Ryeowook comes in with two plate of chips.
"Sorry, this is the only food left after dinner." Ryeowook apologized and put it on the table between us.
Shindong comes to us and untie the phone charger's cable.
I think the members already know that we cannot run, since the two 'bodyguards' are standing next to us. Geez. It really looks like we have to go through this until they're satisfied.
Kyuhyun and I look at the plates of chip in front of us. Maybe it's for us, you know, since we're tired screaming and shouting before.
So both of us dig into the plates of chips, stuffing it in our mouth. What? The chips looks tempting.
Smack. Smack.
"OWWWW!" Yup. We both got smacks on our head.
These guys are really using violence! I'm sure to report this later to any ministry related to this kind of abusive stuff.
"Yah! You guys are going to be acting as a couple! You have to give each other the food, and not think of yourself!" Well, Sungmin sure knows how this couple thing works, since he has a girlfriend and all.
"But.." Kyuhyun was about to say something but he then realizes Sungmin's hand which is already in it's standby position.
"Here." Kyuhyun takes a piece of chip in his hand, and directed that hand towards me, trying to feed me.
I can see he mouths the words 'Eat this fast you devil'.
So, I move forward and eat the chips out of his hand. I think I just ate a poison from a monster's hand.
"Ouch." He winced. Did I forget to tell you I bit his finger? Just a little something to get back at him. I know, I'm still a genius. Stop complimenting. I guess Hankyung didn't notice I bit his finger since there's no smacking on my head.
Then I pick up some chips and try to feed him with it.
He opens his mouth, and tries to eat it.
"Oww." And why didn't I think that he also has teeth and could bite my finger too? Sungmin also didn't notice it, as Kyuhyun didn't get any smacking either.
Urgh.
This is another hell in hell, I tell you. This Kyuhyun guy just knows how to get on my nerves.
"Now, the last one!" Hyukjae said.
Sungmin holds Kyuhyun's right hand, putting it on the table. Just then, Hankyung takes my left hand and put in on the table.
Don't tell me I have to hold hands with him??!!! He looks just as shocked.
Kyuhyun and I turn our irritated gaze towards the members.
Sungmin and Hankyung seems to know that we are unwilling to do it. Of course!!! Who in their right minds would think I would ruin my hands by touching a monster's hand?
"Hyung, no!!!"
"Hankyung, you better don't!"
Both of our hands are practically pulled towards each other by the force of martial artistt, Hankyung and Sungmin. Both of us try to pull back our hands with all the energy we still have in our body.
"Hyung..don't!"
"Yah, I don't want my hands to be ruined!" Our hands are getting closer.
Then I hear someone slams the door hard. Everyone is shocked and turns their attention to whom slammed the door.
"It was Donghae. He released himself from the cable a while ago. He was here, but he went out again." Hyukjae answered.
Donghae was here?
Kyuhyun and I got our hands free form the 'bodyguards'' grip when their attention was on the door earlier. I keep my hands in the pocket, not risking any chance anymore. So did Kyuhyun.
"Fine, then. But you guys have to deal with it when you meet the crazy girl later by yourselves." Eeteuk said.
"Hae Rin ah, I think you should go back home. It's late." Oww. Although Siwon is involved in all this, he is still caring. All hail Siwon!
"Just be here tomorrow morning, Hae Rin ah. You guys are seing the girl tomorrow. I already sent the message to her using Kyuhyun's phone. It's better if we can get this over as fast as we can." Heechul informed us.
"WHAT???!!!" Kyuhyun is in shock.
"TOMORROW???!!!" I said while in shock too.
===========================================================
A/N: Sorry again it's late than usual. I have some problems. Okay, just ignore my excuses. Anyways, sorry again.
Well, I hope you still enjoy reading it. I wrote it for hours.
I'm thankful you guys are still reading! Thanks!!!
^ Back to Top