What's Next?
by -hyun-ae-
Tags comedy donghae korean kpop kyuhyun superjunior laugh | Report Content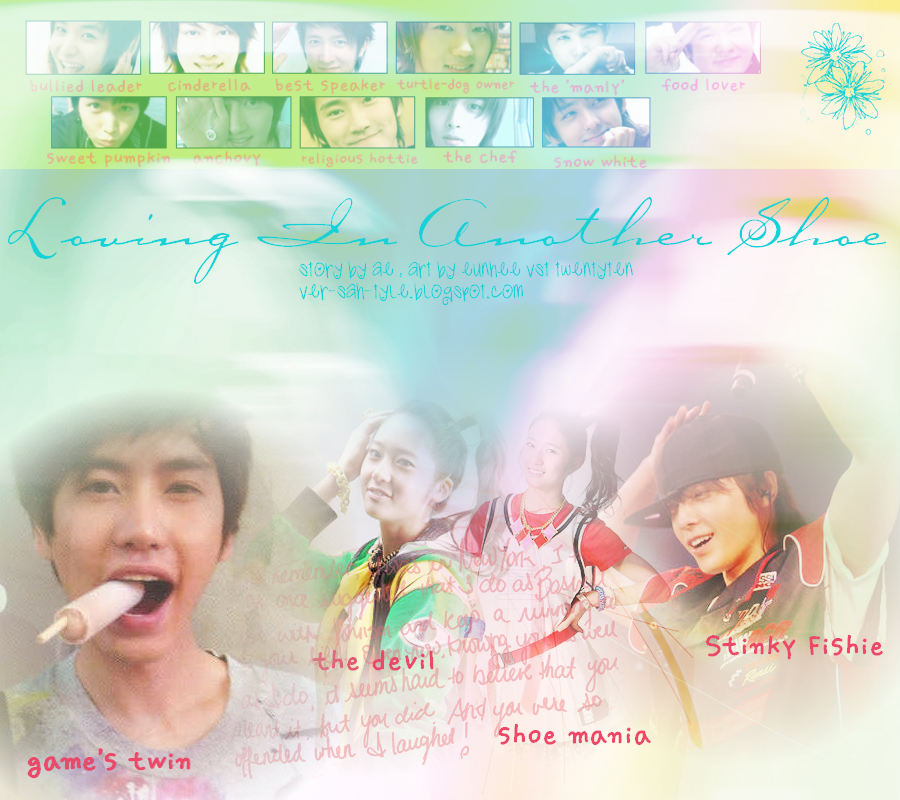 -하 영.HA YOUNG-
"I'll be picking you up in 2 hours, so you better pack fast." The man who 'kidnapped' me for a few hours dropped me at my apartment.
"Arasso, Junho sshi." Oh yeah, after being trapped in that office of his for a few hours, it's impossible not to know his name.
We discussed a lot over the matters of my life for the job I'm going to do. Discussing with him would mean he talks non-stop for hours while I feed myself with coffee he got me to prevent me from falling asleep.
I know what you're thinking, he should at least feed me some food, like some sort of atonement for taking me away from my ramen. There goes my hope of finding a gentleman in this world.
I got myself into my apartment and one would know the first thing I looked for.
My cold ramen, being alone on the small dining table, with the eggs in it calling out my name to come closer, to take a bite.
Although as dramatic as that sounds, my ramen was anything but edible. Ants were crowded on around the bowl and some enjoyed diving into the soup. What a nice day for you ants to have a picnic on my ramen, huh.
There goes my ramen for the month.
If you're wondering, yes, I am poor.
My parents died when I was little and my uncle sent me to a foster home. He also died a few years later, that's what the staff there told me.
Unfortunately, my uncle obviously didn't check the foster home's background. It was a foster home for boys only. People who wanted to send a girl to this foster home would be told to send it to another foster home that took girls only.
Don't mind asking me, I also didn't know the reason for that.
Since my uncle just left me at the doorsteps, the staff couldn't do anything but to accept me as the other foster home was too far. Besides, at that time the girls' foster home was too full to accept any more children.
That's how I was stuck being friends with guys throughout my chilhood. However, there was a girl I was close to, Soo Young. She was one of the staff's daughter, about a year older than me. She would always follow when her mom came to work and accompany me. She was also my source of information on girls stuff.
You don't expect me to obtain those kind of knowledge from boys, do you?
Well, now I have to start packing. Let's see if I can find a manual on How to Pack to Move to A Different Life.
Nope. Can't find it in any of my books collections. Well, I guess I just have to pack on my own. Should I pack Soo Young with me in my luggages? Nah, her long legs would stick out from my luggage.
And Junho sshi had already made his warning permanent in my brain after repeating it for a zillion time.
"You cannot tell anyone about this. If anyone asks, just say you're going to a vacation and doesn't want to be disturbed."
I grabbed Soo Young's picture, and Changmin's as well.
Changmin, my best friend there and probably my first crush.
Stop it guys. It's only a crush when I was like four or something. I lost contact with him years ago when he was adopted. Gotta love that guy. Sweet and probably the only gentleman I knew.
Although I sound comfortable now, I'm actually trying to calm myself down.
Tonight I'm going to Lee Hae Rin sshi's house to meet up with her.
I don't know how she'll look like. Wait, that's a lie.
She looks like me, what am I thinking?
I meant what's her personality like. From what I saw in the picture, she's really chic. Great fashion sense. And the guy next to her in the picture, doesn't seem like her brother. They don't look alike.
I'm not going to judge people before I meet them. So I guess I'll just have to wait.
She must hate me for taking her life for a while.
Well, maybe my curiosity would be filled later.
HONK!HONK!
Seriously, this guy need to learn manners other than apologizing.
First, he knocked hard on my door this afternoon when he could use the pretty little doorbell.
Now, he honked in front of my apartment building when he could just call me and say he's here! He already has my number for god's sake!
I'm sure at least the agency would cover his phone bills if it's for work purposes.
That guy is gonna have an earful of my lectures when I get into his car.
===========================================================
-해 린.HAE RIN-
It has been hours since I stepped into the police station.
The cop that was at the alley explained everything to me. He said my life could be in danger since the killer had a good look at my face. He said the killer would try to murder me somehow to prevent me from testifying to the court during the hearing.
What he said surely got into my mind but what's disturbing me is the fact that he said I can't go out and meet anyone anymore.
"What?! This cannot be happening. How am I supposed to live my life when I can't even meet my friends?" This is not what I wanted.
And what about my shopping?
"Miss, I'm sorry but there's nothing we can do now. Your situation has already been conveyed to the upper officers hours ago, and in a while we'll know what the following orders will be." The cop reassured.
Suddenly the phone rang.
The cop picked it up, talked on the phone for an extremely long time and finally ended the conversation.
"Here's how it's going to be," he said.
===========================================================
-동 해.DONG HAE-
This is way too much.
She's not even calling to explain or apologize. I was expecting a cake or something that she bought for me.
There goes my hope again.
Incoming message.
'Hae, I'm sorry. I bumped onto a car on the street and guess what? I forgot to wear my seatbelt. So my throat hit the steering. Don't worry, I went to the doctors but they said I was fine, just my voice changed a tiny bit. Don't bother calling me, my throat is still sore.'
That was the message from Hae Rin. I was about to reply when another message from her came.
'If my shoe is not in the form of how my brain remembered it used to be, I swear you and the other members are going to have sleepless nights having nightmares about me!'
I laughed my heart out reading her second message. I punched on the keyboard, texting the reply.
'Too late. What're you gonna do? Appear in our dreams with your new voice? Plus, serves you right for not wearing your seatbelt.'
SEND.
I might just add some salt to her pain now.
Hey, why not. That's what friends are for.
"Guys! Today's a double treat!" I yelled in the living room with another pair of Hae Rin's shoe in my hands.
"Hyung, what's the special occasion? Two pairs in a night?" Siwon asked with his face twisted with curiosity.
I gave a smirk and left them with the shoes.
"All hail Donghae!" Yesung's voice was then heard.
"Time to release stress guys!" Eeteuk was lifting everyone's spirit on the second pair of shoe that night.
"YEAH!" All the members went crazy with that pair of shoe.
^ Back to Top