Our Minds Are Lost.
by -hyun-ae-
Tags comedy donghae korean kpop kyuhyun superjunior laugh | Report Content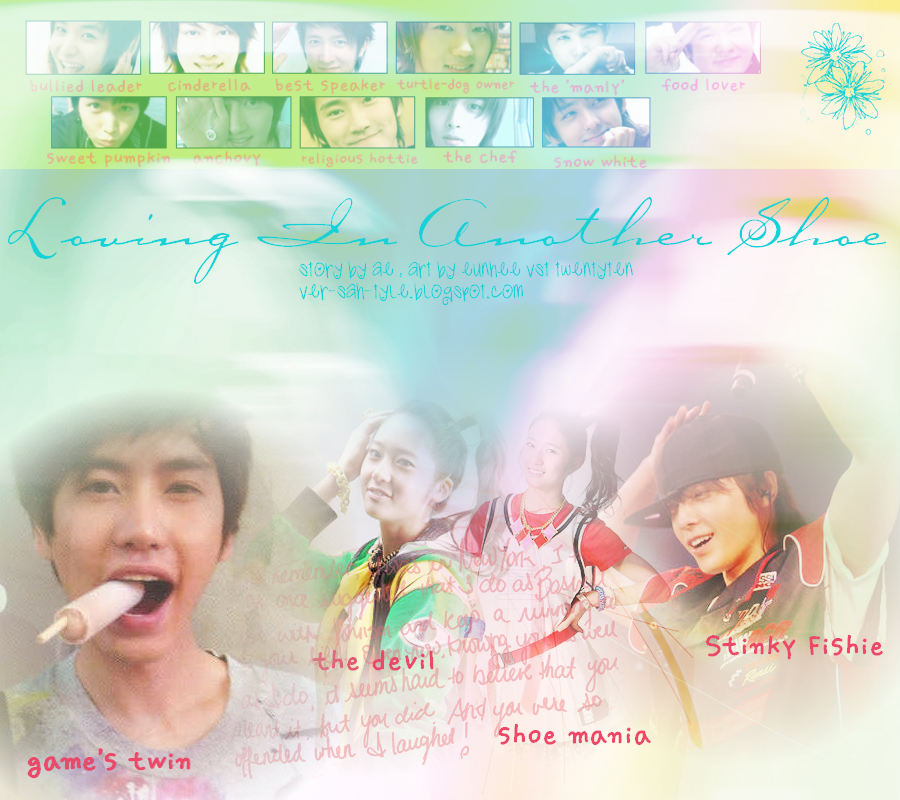 -하 영.HA YOUNG-
"Junho sshi?" I looked again at the psycho standing in front of me.
Junho rubbed his ears a few times after hearing my scream. Well, who wouldn't scream if someone out of nowhere grabs your hand without saying a word? Who knows? There could be a crazy rapist lingering around the streets.
I scan Junho's appearance today. Not scanning in a bad way, of course.
He looks different.
He's wearing a cap and shades. And seing him in a plain t-shirt with jeans, I guess he already threw away his collection of black and white suits. Seriously, who does he think he is? He's working in the Korean Government Secret Agency, not in Men In Black.
"So, you finally get rid of your collection of suits, huh? It's about time you realize you're not in Men In Black, psycho." He looks at me and grins.
"Yah, don't you think I have a life? Besides, why would I need to wear suits all the time to guard you?" He pushes me to the other side of the door, the passenger's seat.
"Your body is so hot. Did you sleep in a sauna or something? I didn't know they can have sauna in dorms." He said after getting into the driver's seat and closed the door.
"YAH, PSYCHO! Are you going to kidnap me again? I'm really not in the mood for kidnapping you know. I'm kind of, in the brink of death now?." Seriously, I need to go home and get some sleep.
"You sure have a unique way to say thank you. You're welcomed then." He starts the engine.
"Thank you? For what? Your second attempt in kidnapping me? Yeah, thanks a lot." Now, I don't even care where he's taking me. I just want to sleep.
"Look at the rear mirror. You see that guy with a cap, hiding behind the black car? That's the killer Miss Hae Rin saw." I take a look at the rear mirror.
I can't see clearly, but there's definitely someone hiding behind a black car, I can see a shadow.
Junho continued, "He tried to get to you when you were alone, but I hurried to you, faster than him. Seeing you with a tough guy like me, I guess he backed away."
Here's where my genius hand makes its way to Junho's head.
Smack.
"Yah! What's that for? I'm driving!" He said while using one hand to rub his head.
"One, you should just catch him first, instead of hurrying to me. Is your thinking skills dropped on the road or something? Two, you are not that tough, so stop adoring yourself. Three, you should stop trying to kidnap me at every chance you get." Yep, I have perfect reasons to smack him. Sue me if you want, Junho, I'm sure the court will support my reasons.
"One, my job is to protect you, not catch the killer. There's an army of other agents already in pursuit to catch him after we leave the car park earlier. Two, I'm trained for already several years and I can assure you my body IS tough. Three, I never tried to kidnap you, so stop being so paranoid." He sure knows how to answer back, doesn't he?
I looked out the windows, thinking about the hell I went through at Super Junior's dorm.
Then I remembered Kyuhyun's game controller. When I was on my way out, I realized he had found his game controller, just right where I put it.
But of course, I know he's a genius too, so I know he figured out that I took it and placed it back. Huh. No way I'm going to admit that to him. He's going to think I'm not the real Hae Rin.
When he noticed I was on my way out, he turned to me as if he wanted to say something. Noo..I won't stand anymore of his 'Yah you devil' and 'I know you took it'. So I hurried my way out, trying to avoid him from saying anything like that to me.
Well, hope he finds his peace again with his games. But he's not going to experience that much fun with the high fever and sore throat he's having. Haha. Serves you right, Kyuhyun.
I didn't realize when I went to dreamworld, but the next thing I know is Junho's face being right in front of me. I'm too shocked that I lunged forward, and that's when our foreheads slammed each other.
"AHHH! Yah, are you trying to rape me or what?" Okay, Ha Young, enough of your paranoia of someone trying to rape you. You're not all that you know.
"ARGHHH! I was trying to see if you're dead or something, since you didn't move a bit when I woke you up! Argghh, my head!" Junho compained then.
What's he complaining about? I thought he's a 'tough guy'. My head already has cracks in it because of those Super Junior guys, and now, adding this forehead slamming to it. Ouch. My skull is going to break open soon.
I'm sorry head. I've been giving you a lot of troubles lately. Please don't leave my body yet, I don't want to be a headless human. I promise to take better care of you in my next incarnation, okay?
"You're home. Get some rest and if you need anything, call me. Aisyyy." Junho is still rubbing his forehead.
He give me the keys and then, another black car came to pick him up. Wow, I guess there are many agents looking for my back after all.
When I entered the house, I decided to call Junho, just to eradicate the peacefulness of his life. Hey, why not?
"Yah you psycho!"
"What can I do for you Miss Ha Young?" Haha. I'm sure he has to be polite. There's another agent in the car with him. This is just fun!
"There are other agents in the car, aren't there?" I try to confirm with him.
"Yes, there is, miss," This is hilarious. He can't talk back to me.
"I need you to get something for me."
"And what would that be, miss?" I hold my laughter, hearing him being so polite.
"Bring a coffin tomorrow. It's for you, just some practice for grave life."
"WHAT?!!!" I hang up. I'm sure he knows I'm kidding. But that uncontrolled 'WHAT' of his, is sure going to make him embarrassed in front of the other agents.
Good job, Ha Young. Now, go get some sleep.
"Hae Rin ah, I'm back." I know Hae Rin can hear my voice even if I talk with a normal tone.
"HA YOUNGGGGGGGGGGG!!! WHERE HAVE YOU BEEN??!!! I MISSED YOU! IT'S BEEN ALMOST TWENTY-FOUR HOURS SINCE I LAST SAW YOU!" As expected, Hae Rin comes running down the stairs and hugs me until I swear both sides of my lungs meet each other. Right lungs, meet left lungs. Left lungs, meet right lungs.
"Hae.Rin.Can't.Breath.Gonna.Die." I practically got those words out of my mouth.
"What did you say again? Didn't get you." She's still hugging me to death here.
"CAN'T.BREATH.DYING.SOON.HELL.AWAITS." Huh, first with Super Junior, then with Junho, and now, Hae Rin. Seems like my life really loves to see me suffer.
"Owh, owh. Sorry, sorry. Your body is hot! Are you having a fever?! Let's get you cleaned." Hae Rin helps me to my room.
After I showered and changed my clothes, I lie on the bed. Ahh, my sweet bed. Did you miss me sweetheart? I know, I miss you too. We're going to have a long date here, since no one's going to disturb us. I close my eyes and make my way to dreamland.
Here I come.
Finally, some peace and quiet.
"Ha Young! What actually happened to you there? Tell me!" I should've have known. Peace really doesn't want its existence in my life, does it?
"Hae Rin ah, I'm going to use all my saliva until it dries up to tell you everything. But can I please have some rest first? I already took my meds, and its drowsiness effect is already taking place. So, can I j....." I guess you can say, 'Dreamland, here comes Ha Young'.
===========================================================
-해 린.HAE RIN-
I'm so glad Ha Young's back.
She's back at around 11 or something. Now she's sleeping in her room.
I thought the guys already killed her and flushed her down the toilet.
But her body is hot, she seems to be having a fever. And her voice is a bit hoarse too.
Well, when I was myself, as the real Hae Rin, the guys always treated me like this. Playing Twister, pillow-fighting, pranking each other. They seem to have fun and I didn't mind too.
I guess that's why I planned out strategies to get the boys back, just like I used to before. But planning with Ha Young is so much more fun. But now, I'm regretting it.
I mean, my body's immune system is fit, since I'm little, so whatever the guys do to me, or torture me, especially Donghae, I don't get sick easily. But Ha Young seems to have a weak immune system. She's already sick after meeting Super Junior in less than a week. I don't blame her.
Urghh. I feel so stupid. Why did I let her take all the risks?
Speaking about the boys, I'm starting to miss Donghae.
HAHAHAHAHAHAHAHAHAHAHAHAHAHA. You got yourself there Hae Rin. But really, it's been weeks since I've seen him and I'm starting to miss all the pranks and torture he did to me. Not to mention what he did to my shoe.
I must be crazy. Or at least a masochist. Why do I miss being tormented by him?
'Yah stinky fish. Break a fin on stage!'
SEND.
It's just something that I usually send to Donghae when he's out completing his busy schedule, something for him to laugh at. He never replies though because he's too busy at times, but I know he reads it.
I know they have a tight schedule today since I already know their schedules. The manager gave me their monthly schedule, so that I don't waste my time going to their dorm just to find out that they're not there.
It's almost 8 p.m now.
Wow, Ha Young sure had a bad day. She already slept for the whole evening.
I make my way to her room to check on her.
I'm glad she's awake, I thought she went to sleep forever.
Slap.
Watch your mouth, Hae Rin.
More like my mind actually. Since I'm doing all the talking in my mind.
"Hey, you're awake! Did you meet any prince in your dream?" I asked just to lighten up the mood.
Ha Young gets up and sits on the bed, facing towards me.
"Nope. Just a nightmare with 13 clowns who dropped their brains." She smiled to me.
"Ha Young ah, I'm really sorry you had to go through all this. I forgot how abusive the boys can be. What did they actually do to you?" I apologize to her.
"Nah, it's okay. My fever is gone anyway. It's nothing, really. The guys are just their usual self, like you always tell me.
Then Ha Young starts to talk about the execution of our plan to make them starve to death and all, and how she hid their valuable items. She tried blackmailing them but nothing works out until she blackmails with Donghae's camera.
Ha Young and I laugh like we never did. I can't imagine the boys' reactions when she was blackmailing them.
She really is living like me, her style of talking back to the boys,blackmailiing them and pranking them. I wonder if we're actually twins?
"But you know, you said you barely speaks to Kyuhyun through all this years you've spent with them." Ha Young starts to say something about Kyuhyun.
Kyuhyun? Yeah. He never even greets me when I came over. Donghae says Kyuhyun doesn't mind me coming there, and is actually glad that the members can have fun with me. I wanted to try to converse with him, but I just can't. He loves his games and I don't have any ideas on games. That's why I just don't know how to socialize with him.
"Kyuhyun? Why? What happened?" There must be something he did to Hae Rin, I mean, Ha Young.
"You see, I accidentally hid his game controller, because I wanted revenge on him. But I forgot that you didn't know anything about games or have anything to do with him. I'm really sorry, Hae Rin ah! But I managed to cover it well, so that the guys don't know I took it. Although I think Kyuhyun suspects me, but, all in all, the guys don't know I took the game controller." Ha Young explained while her face still feeling guilty for almost blowing her cover.
Ha Young starts to tell the story about her being held hostage in a bathroom, threatened with cold water and breaking her spine.
"It's okay, Ha Young ah. But that game co...whatever that is, is the cause of you being sick like this?" I'm really worried about Ha Young, since she got sick easily.
"Yeah, but don't worry, I'm fine now. Did I tell you he even talked back to me and threw porridge at my face? Well, that is after I spat the porridge at him." Ha Young starts to talk about her incidents with Kyuhyun again.
This Kyuhyun is weird. When I'm still myself, before Ha Young replaced me, he never has anything to do with me! I just hope he doesn't notice that Ha Young is actually replacing me.
"By the way, do you know Donghae likes you? He didn't say anything, though. But I can tell." What?! That question from Ha Young sure made my heart stop beating for a while.
Why am I being like this?
===========================================================
-동 해.DONG HAE-
Incoming message.
'Yah stinky fish. Break a fin on stage!'
I don't even need to see who's the sender. Even when she's sick she still sends me these.
I wonder what she's doing now. Can't be shoppping, because she's having a fever. Or could she?
"Super Junior, you guys are up!"
"Ne.."
Our cue now. Let's see if I can break any fin here.
===========================================================
A/N: This chapter is a bit short and nothing much interesting. Sorry, I just need a chapter to continue the previous one. I promise the next chaps are going to be more interesting. Please don't hate me yet!
Apologies for any grammar and typing error.
Be kind and leave comments ea? At least let me know you're reading! That's much appreciated and loved!
I'm off to threaten my brain to produce great ideas! Wish me luck!
^ Back to Top