3

The Race To His Heart

by yumyubin
3418 views | Updated | Created
Tags kimjongkook romance runningman troublemaker kimhyuna | Report Content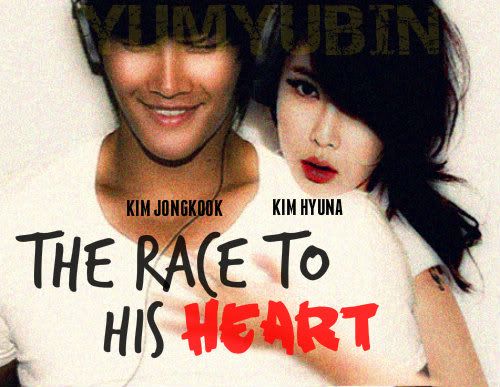 Characters
Kim Hyuna and Kim Jongkook
Description
A fanfiction on Kim Hyuna and Kim Jongkook, inspired by Running Man Episode 94's Wedding Race.
Even before making a guest appearance at Running Man, Hyuna had noticed how gorgeous the commander, Kim Jongkook is. She'd grown obsessed with his voice and his body. Once the race finished, everybody had gathered for a party and Jongkook has been uncharacteristically gallant towards her - paying more attention and giving her compliments every now and then. If she didn't know any better, Hyuna would think he's flirting with her.
Under the spirit of a few glasses of wine, more soju and one hot 'Troublemaker' number on stage, Hyuna woke up the next day, only to see the naked Kim Jongkook lying quite comfortably in her bed.
Foreword
"Did...did we j-just...?"
"What do you think, genius?" Jongkook muttered irritably as he tried his best to cover his very noticeable male anatomy away from my prying eyes. He gave out a groan. Perhaps he's also a bit hung over from last night's liquor-induced madness. "Can you throw me that towel? God, my head is killing me! Do you have an advil?"
Something inside me snapped and I started throwing to him everything my hands could get a hold of. "You, bastard! Jerk! Asshole! I hate you! I hate you!"
Jongkook tried his best to evade the series of pillows, shoes and books being thrown at him, ducking down every now and then, all the while still trying to cover his naked manhood. "Stop it, Hyuna! Hey! I said, stop!"
"I hate you! How dare you...d-do this to me and then...? F*ck! I really, really hate you!"
"Hyuna!" Jongkook growled out in annoyance before he lunged at me and reached for my wrists. With his steel grip around my hands, I couldn't move or pull away no matter how much I try to wiggle free. I've gone ballistic and desperate on freeing myself from his hold but Jongkook quickly wrapped his strong arms around me, trapping my hands between us, for once rendering me immobile.
"Let me go, you jerk!" I screamed at him, tears already spilling down my eyes. I stopped fighting him and lay my head on his shoulder, sobbing uncontrollably.
"Hyuna, I'm sorry. I wasn't suppose to act like a jerk but I did. I'm really, really sorry. My head is just hurting like hell and honestly, my mind is still fogged with sleep," was his long explanation, sounding really remorseful. His tight embrace slowly slackened around me until he's holding me against his body loose-limbed. "Don't cry, sweet Hyuna. I really am sorry."
*This work is licensed under a Creative Commons Attribution-NonCommercial-NoDerivs 3.0 Unported License.
Tweet
^ Back to Top