Emotions
by littlejinki
Tags angst contest hyonew romance shinee serious | Report Content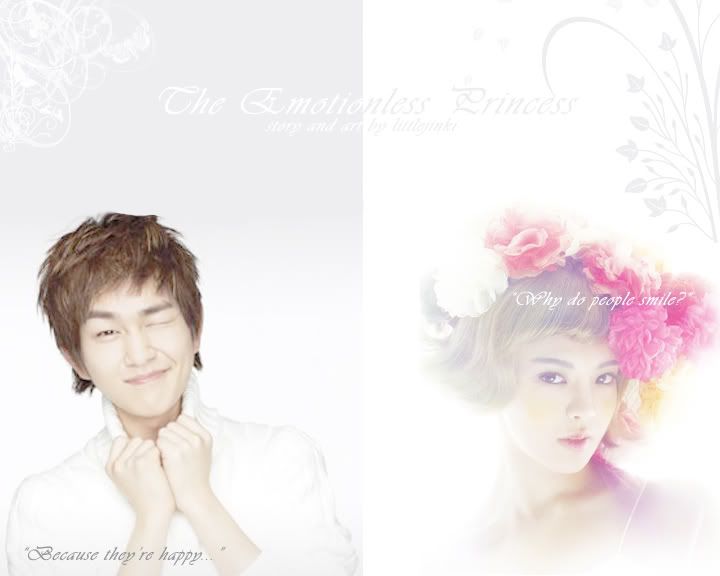 WARNING!
This chapter will be the most weird, horrible, boring, fail climax, weird chapter you will ever read. This chapter can lead to death due to boredomness, so if you want to read this I suggest you think about it since I will not be responsible for your death. Although I will attend your funeral.
That is all. >.<
---
"-Yomin! Wake up! Hyomin!" I could hear everybody's voice echo through my ear. I sat up and stared at them. It was only a dream?
"We thought you were sick or something!" Taemin blurted out. Onew slapped him on the arm.
"You weren't waking up and when Key touched your forehead..." I backed away from him when he reached out to touch my forehead. I'm getting my swirls again.
"Are you okay now?" He smiled, but it wasn't one of his usual smiles. He looked sad?
"I'm okay, sorry if I troubled you." I stood up and went to the bathroom. Why was my dream like that? I looked at the mirror and cupped my cheeks, why did I have that dream?
"We can't go to the park today. It's raining." Taemin pouted.
"Don't worry, it'll be over tomorrow. So in the mean time, what do you want to do?" Onew assured him and smiled. Now that I look at it, he is very handsome.
"I want to watch TV! But we can't." Taemin sat on the couch. I'll turn it on then. As soon as I pressed the button, I couldn't even explain the sound.
"Ah!" Key emerged from the kitchen, while covering his ears. I turned it off immediately.
"Sorry." I apologized.
"Wow! Noona you didn't even flinch! But it was so loud!" Taemin clapped his hands.
"I guess being emotionless has its advantages." Jonghyun laughed. I sat on the couch.
"So what are we going to do now?" Taemin pouted as he placed his head on my shoulder. He's adorable.
"Maybe we should rest for today." Key said as he picked up the snacks he brought earlier, he dropped it because of the TV. He looked at me, then at Onew then at me again.
"Chop chop, go to your rooms and do what you please. Go." He smiled at the rest of them. They just stared at him.
"Well?" They all scurried off and I followed until Key grabbed my arm.
"Do you want to talk about something?" He gladly asked. I shook my head. He sighed. "Just sit down." I did.
"So, do you like him?" He asked as he curled his hands and looked at his nails. Onew? I was heating up again.
"Hey, I didn't even say a name and you're there blushing." He laughed. "Don't worry, I know how you feel. But why did you lie about being emotionless?" He looked at me.
"I didn't."
"Then why are you crushing on Onew?" He chuckled.
"No, I'm not." I covered my face.
"Honey, stop lying. I know it when I see it." He grinned.
"I actually don't know what's happening to me." I sighed.
"So you don't know you're in love?" He said sarcastically.
"I'm not in love." I denied and placed my hand on my chest. "I'm just…-"
"In love, yeah I know." He interrupted. I sighed. Am I really in love? "You know, you should let your emotions… flow through you. If that even makes sense." He sat up. "Can I see you smile again?" He asked eagerly.
"I can't smile yet. I'm not happy yet." I replied, reflecting on what Onew said.
"What do you mean yet? If you're with the person you love, then you're probably happy!" He placed his hand on his hips.
"Well, I have some business to do, so stay there and think about it!" He patted my head and smiled.
--
It's been 3 days and more of the guards are searching for me. I had to be more careful when we go to the park and I kept thinking about what Key said to me that day. I should let my emotions flow through me. But how can I do that? Well, I dreamt about it but my dream is not even possible to happen. I buried my face in my hands. Also they're getting suspicious of me because I keep hiding. What do I do? I should tell them. But maybe they will do something bad. They won't, they're good people. Aren't they? Something wet started dripping again.
"Noona! Hurry we have to go! Why rain now?! It was such a nice weather!" Taemin grabbed my hand and I grabbed another person's hand. The rain was getting harder and harder and it was difficult to see. We ran to the house and I noticed whose hand I was holding on to. I quickly let go and went inside.
"My favorite jacket is ruined!" Key yelled as he took off the wet jacket. "I'm going to get changed!" Key barged in to his room.
"I'll calm him down." Jonghyun followed.
"Well, bye!" Taemin waved and entered his room.
"I guess I should leave too." Minho followed Taemin.
For a few minutes, we were just standing there and staring at each other. I was still wet but I didn't mind.
"What are you children doing?!" Key emerged from his room. Why does he keep emerging?
"I was…uhm…" Key crossed his arms.
"Yes you were uhm. You have to get changed Hyomin, you might catch a cold." He grabbed her hand and I saw her blush. I held my heart. "You too Mr. Lee!" He said as he guided Hyomin to her room. Maybe she likes him.
I got changed and sat on the couch. I wonder if we really should tell her our secret. Will she be scared? Why did we even have to hide it in the beginning? And how long will we keep this up? I closed my eyes. Maybe she doesn't like me. Maybe she likes Key more. I don't know really. Should I confess, so I feel less burdened? What if she rejects me? After all, she is emotionless? Why did I even fall in love with her?
"Hyung!" Taemin stopped me from my thoughts and jumped on the couch. "Hi!" He smiled; I couldn't help but smile back.
"Are you sure we shouldn't tell her?" I asked out of the blue.
"Tell noona what?" He calmed down and sat.
"We're bad people." Taemin was confused.
"Bad people?! We're not bad! Hyungs are good people!" I ruffled his hair. That's what you think.
"I'm going to cook dinner now! Hurry up and set up the table slow pokes!" Key complained as he entered the kitchen carrying who knows what. "And Jonghyun help me out here!" He continued. Jonghyun groaned but did as he was told. Taemin, Minho and I set up the table while Hyomin was fixing the TV. I took a glance at her from time to time. How come she reads old books? Are her parents that strict? She's quite amazing. I couldn't help but smilea little widely.
"What are you smiling widely for?" Minho asked as he waved his hands in front of my face. I shook my head. He took a peak at Hyomin. "I see now!" He smiled back.
"That's not it!" I denied.
"You're just on denial state hyung!" I'm not in denial state; I'm really in love with her.
Taemin, Minho and I decided to tell Hyomin the truth. Since now that maybe she'll be living with us, she might as well learn how things go here. I'm scared and relieved. Scared that she might leave, but relieved that it will lessen my burdens. But there's this one burden that won't just go away. I will have to confess soon. Key and Jonghyun won't care.
"H-hyomin noona, we're gathered here because we wanted to t-tell you the truth." Taemin stuttered as he fiddled with his fingers. She sat up straight and nodded. We all exchanged glances.
"We're not really normal commoners..." Minho started, looking away from Hyomin.
"We're actually a bunch of bad people who robs houses and steal people's money and our recent target is…" I stopped.
"The princess-"
Everything was now in slow motion as I saw Hyomin shed a perfect tear. I couldn't hear a thing. Minho was still blabbering, but I was focused on her. She cried. She was crying. I was hurt, she was crying because we told her the truth and because of me. This was my entire fault. Suddenly everything stopped as she ran outside to the heavy rain and sprinted.
"Dinner's ready guys!" Key emerged from the kitchen and noticed. "Where's Hyomin?" He asked immediately. I was unable to answer; I was just sitting there frozen.
"She ran away..." Taemin looked guilty. Key slammed the glassware on the table.
"You idiots!  You shouldn't have! Don't you know?! She's our target! She's the one we wanted to kill! Hyoyeon is the princess! I wanted her to stay" He ruffled his hair. "Because I didn't want her to get killed!" He mumbled at the end.
"It's my fault." I was confused; I didn't know what to do. I fell in love with her and she was the one we wanted to kill. Key grabbed my collar and dragged me outside.
"We have to find her! Before they do! She doesn't want to go back Onew! And she loves you!" Key shouted as the rain kept pouring down on us. Was he crying or is it just the rain?
"Go…" I was still hesitating. I couldn't believe Key's words. She loves me? Me?
"Go!" Key pushed me and I ran as fast as I can. I didn't care anymore. I needed to find her. I needed her. I don't care about anything. I just have to say those words I've wanted to say.
Just those 3 words.
--
"Hyoyeon! Hyoyeon, where are you?!" I shouted as I ran. I kept running and running. I suddenly had an idea; I ran to the park at my fastest speed. I saw her, at the bench, crying. I walked over to her.
"Hyoyeon… I need to tell you somethi-"
"Please leave." She said coldly. I was hurt, really hurt.
"I need to explain-"And that's when she stood up.
"I already heard everything, if you want my money, take it." She took out something from her pockets, it was money. Did she have it all along? 
I don't need your money.
"Just… please… don't kill me."I couldn't speak. Hyoyeon, don't cry or I'm going to cry too. That's when it was decided. I'm going to do it.
She was going to run again but before she could, I grabbed her wrist and pulled her in.
And I kissed her. Ever so passionately, letting all my emotions pour in it hoping she'll finally understand.
For a while we stayed like that.
The rain was stopping and the plain sky was coming back. I was finally able let go.
"I love you, Hyoyeon." She looked at me with her wet eyes, filled with mixed emotions. I held her close.
"I love you, I love you, I love you." I kept repeating those 3 words. I even sang it.
This was the impossible solution. This was just like in my dream. This was when I understood everything.
He kept reciting those 3 words that made me calmer every time I heard it. I looked up at him, still letting my tears flow.
"I'll always love you." I replied as I hugged him tighter.
"Isn't that the princess?" I heard one of the people say. Wait a minute. Those are my palace guards.
"Run!" I warned Onew.
We ran as fast as we can, hands locked.
"Come back!" The guards shouted.
We ran and ran but in the end I was caught. I had to let his hands go, his tight grip didn't last too long either. I was, awfully, sad.
What is going to happen?
--
I arrived at the palace and entered the big doors. Umma and appa ran and hugged me. I didn't know how much I wanted to be in my umma and appa's arms, realizing they have so much affection for me.
"Where have you been Hyoyeon?" Umma cried, as I ran to her and wiped all of her tears with my thumb.
"I'm sorry." I apologized.
"It's okay honey." Umma hugged me tightly and cried some more. I hugged her back.
"Why did you run away?" Her lips quivered as she said it. It was obvious she didn't want to ask. I just looked at her. And it was obvious I didn't want to answer.
"I..." I looked at her, hesitant. "I didn't want to be here." I heavily sighed. Judging by her widened eyes, she was taken aback.
"W-why wouldn't you want to be here? This is your home-"
"It was because I wasn't happy..." I interrupted and looked at her apologetically. "I'm... so sorry." There was a long silence, only filled with loud cries.
Appa went over to my umma's side and carressed us both.
"I'm glad you're back." He let a tear flow and hugged us tighter.
Moments passed and he let go of the hug. I should've known they were this worried...
"Come on. Let's get you dressed and ready for dinner." Umma wiped her tears and ordered the maids to guide me to my room. Her tears were still falling though.
I looked back outside, not knowing what I should do. It was still raining. 
Onew, where could you be?
Letting go of her hand was the last thing I wanted to do, but I had to.
Because I had an idea; I ran to our house and barged in. I was once again soaking wet.
"Back so early? What happened? Why are you wet?" Key was the first to ask as I saw dried tears streaks on his cheeks. He quickly wiped it off when he saw I noticed.
"Hyoyeon's back in the castle, and I… want her back." I looked down and continued. "And I need your help." I slowly looked up and found them all in front of me.
"We'll help you hyung." Minho smiled. Taemin nodded and reached out his hand, followed by Minho.
"You can count me in." Jonghyun joined in too. I looked at Key. He looked hesitant.
"Okay..." He smiled softly as he placed his hand on top of the others. I was happy, really happy. So I smiled. We huddled together and thought of a plan.
This time, there's no need kill the princess.
"So where are we going again Mr. Know-it -all?" Key sarcastically asked as we arrived in the palace. They followed me as I went into the small door and to Hyoyeon's room. There were the maids again and it was all like déjà vu.
"Hey!" The same girl looked out from the window. "Who are you?" She shouted pointing the same broom at us. This time, I asked the questions.
"Well you're really tall for a girl." I looked at Jonghyun and shook my head.
"What do you want?" The girl replied.
"Is Hyoyeon there?" I asked, looking at her straight in the eye.
"How did you... No she isn't." She said firmly. Suddenly I heard Hyoyeon's voice.
"What's going on in... there?" She stared at me with wide eyes.
"You two know each other?" The girl asked in confusion as Hyoyeon jumped out off her window and hugged me.
"You shouldn't be here." She hugged me tighter.
"I don't care." I hugged her back. The maids looked at us, confused. And the ringleader had to ring the bell.
I hugged him really tight. I don't want to be separated anymore. If appa or umma see this-
"Get your hands off her!" I could recognize that voice anywhere.
"Let me explain-" Onew was cutted off.
"Appa-" I tried.
"There's nothing to explain! Guards take him away!"  Appa ran to me and held my hands. I was horrified. I ran to Onew but he stopped me. "Stop it! You can only marry a prince!" He shouted back as he held my hand tighter.
"Appa, you don't understand! I love him!" I shouted. I tried to break free, but it was no use.
"Let go..." I was losing strength. Onew... Don't go. I looked at him; he had a confused reaction as I cried on the floor.
"Are you sure?" Umma suddenly appeared from nowhere. She sat beside me and held both my hands, causing me to look at her.
"What?" I said, confused. She was crying but I saw she tried her best to smile.
"Are you sure you love him?" I nodded furiously. She wiped my tears away as I wiped hers. "Release him, will you please?" She ordered the guards. They immediately released him.
"But Hyojeong-"
"Not a word Yojin." He sighed. I ran towards Onew and hugged him.
"I don't ever want to lose you again." I mumbled.
"Me neither." He closed his eyes and placed his chin on my head.
"You, young boy." Umma came this way. "Tell me- Was this your doing?" She pointed at me as she smiled. Onew had a blank face for a second but quickly returned to his normal one. He laughed and nodded happily. "Promise me…" She leaned over to Onew's ear and whispered. Huh?
"I'll make sure." Onew smiled as she headed to appa and by the looks of it... She's scolding him. I nudged him.
"What did she say?" I whispered.
"Secret." He stuck his tongue out. This ungrateful boy, I crossed my arms.
"Suit yourself." I flicked my hair and turned away from him. He let out a small chuckle and hugged me from the back.
"I'll tell you…When it's the right time." I sighed.
"Whatever you say…" I paused as Key whispered in my ear. "Mr. Know-it-all."
--
"Hey, everyone!" Hyoyeon shouted as she came down stairs.
The others and I have only stayed here for a day and boy, was she hyper. Although I haven't seen her do the thing I wanted her to do. But for now we're gathered at the table to eat breakfast. It's Wednesday.
"I have a surprise for you!" I continued as Sooyoung rushed to me.
"You're supposed to be in your gown dummy!" She playfully slapped my arm. "It's your celebration!"
"Let me do my surprise first." I argued.                    
"No. Now go and hey... I'm sorry for ringing the bell." Sooyoung pushed me upstairs. It's okay.
Her celebration? I turned to Key, "What celebration?"
"Uhh… Duh, didn't anyone tell you?" Key shrugged. I frowned. "It's for her coming back to the palace again. They were so over-joyed when she did... They're going to announce it tomorrow for the people too..." Key's voice traled off as I sat there thinking.
"I don't really have a gift." I murmmered to myself.
Suddenly I thought of an idea.
"Hey Key, help me out?" I nudged him.
In the end everybody helped, we were at the balcony.
While the others we're hiding behind the curtains trying to peek at our private conversation.
"I've got a surprise for you!" Her eyes brightened with glee. Just her eyes. "Here." I straightened myself.
"My present." I smiled. She tilted her head to the side.
"I-it's me." I stuttered. Then the curtains suddenly went flying down.
That's when I was surprised. Not her but me… and the people behind the curtains.
"Surprise."
I finally smiled.
---
ASDFGJKL. I finally finished it! *wipes sweat off forehead* I know it's weird XD Thanks for sticking with me til' the end :) I LOVE YOU SO MUCH <3 Also~ Did you get why she smiled? Yes? No? It was because of Onew obviously XD Anyways, guise be honest okay? :3
Yes I know, the choices are dumb :< BUT if you can't choose... Just comment! >< Please? I really obviously need what's on your mind. 0w0 Thaaaaaanks a ton~ And omg tomorrow is my deadline if I didn't post this today I would be disquialified. OH NOOES! >< But phew. I didn't. Also, sorry for making you wait for this fail chapter ^^;; Hope you like it! Saranghae! ♥
05.02.12
Please comment, they're all loved! <3
Please subscribe, I love you! :>
^ Back to Top