girlsofsorrow
Nov 14 / Female
Brunei Darussalam
Joined on May 5, 2011
Last login on Feb 23, 2013
702 karma pts

"Busy with school preparations & works. - misStacy"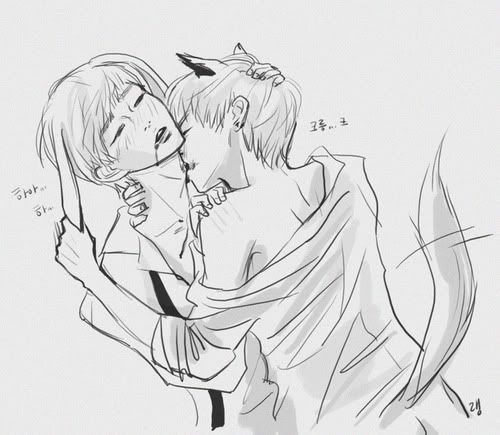 Personal Message
Hello :) we are the GIRLS OF SORROW!!
The Diva: Face of Love, Heart of Pain.
The Novel-Lover: Live with Fantasy, Die with Reality.
The DarkSide: Don't See Someone As A Soul-Mate.
The SorrowVanilla: Maybe Sweet, But It Kills.
GIRLS OF SORROW! 
We Matched The Words With Our Character Names XD
About Me
4 Authours Of : girlsofsorrow
1. MisStacy - Writes smut and rated fanfic; 1993, a dancer.  (Tracie & Stacy are twins) - STACY !
2. Tracivie - Writes yaoi but not good in smut; 1993, novel lover. Older 11 minutes than misStacy. (the eldest author) - TRACIE !
3. Warnnations - Writessupernatural/darkfantasy fanfics; 1994, a dancer & mall-lover. - WARN !
4. Sorrotasy - An angst & death character writer; 1994, a dancer & ghost-lover.  (the youngest author) - SORRO !
All the FF are made based to our imagination only! There are four of us and we mixed ideas in producing a fanfic. We work together and work hard to form a better fanfic. Please enjoy! Thank you! Much Love From Us GIRLSOFSORROW!
SHINee supporters (also all the other Kpop)
THE FOUNDER:
misStacy & Sorrotasy, on 14 Dec 2010. 
GirlsOfSorrowHeart is the original name, but it was changed into girlsofsorrow.
THE CREATER:
Sorrotasy
Story Teller:
GIRLSOFSORROW
EDITOR:
Warnnations
Kindly take note about this.. English is not our first language. Really sorry for the mistakes especially the grammar and spellings. Please, NO BASHING LIKE LITTLE KIDS! Let's Play Nice XD
Thank you :) Enjoy our fanfic !
^ Back to Top