선생님, 사랑해요 ( Teacher, I love you)
Description
"제의 선생님. 당신은 왜 너무 아름다운워요? 제발, 좀 내가 봐 주세요. 알아요? 저는 사랑해요. 정말. 어떻게 말 했어? 어떻게 너의 옆에서 하다? 좋아해....사랑해. 선생님, 사랑해." - So Heunji 소흔지
My new tutor, Onew. He's a wonderful package, sweet, funny and what comes along are more than just better grades and a more pleasant test score. But he is my tutor, my teacher. He's 26, and I'm 21. It's a whopping 5 year age gap. And needless to say, I already have a boyfriend who just won't give me his time of the day. 
And what if I'm starting to like him?
I wrote that part for the korean, how do you all think about it?ㅋ
She thought he was perfect. But someone else was there to change it for her.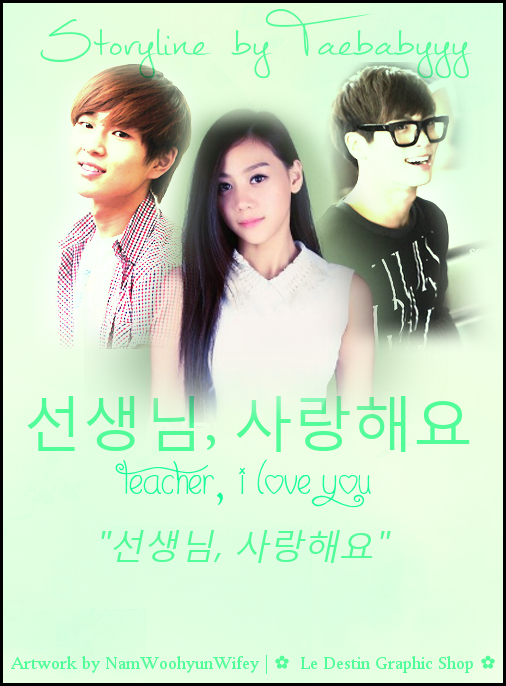 Cr : Le Destin Graphic Shop
NamWoohyunWifey
thanks for the graphic poster!
Foreword
And this, is heunji's story.

(Using the look of SKARF's tasha)
I'm 21, attached and I absolutely hate english. My name is So Heunji and I absolutely hate tuition. I mean, It's a waste of my time. I'm attached to this flirt, he is handsome, rich and sophiscated, but I'm not sure if he really loves me. But whatever, I have plenty of my own suitors, and he's rich and so charming, I cannot stay mad at him. I guess I really love him. That man is 

Kim Jonghyun.
I live with my older brother, whom I call
Key
and my two younger annoying and crazy step brothers, 
Luhan and Sehun. 
My parents decided to hire an English tutor for me. He is called 
Onew
 and he is absolutely gorgeous as well.
Onew, he's 26 and he's absolutely gorgeous isn't it? A warm smile, a killer glance and he makes my heart race whenever we're having lessons. His voice, it's my guilty pleasure. Singing is his hidden talent. Unlike my flirty boyfriend, he gives me a sense of security, be it an elder, or an older brother. From fashion to ideals, we're so alike. And best thing ever, he pulls up my grades. Maybe...just maybe I'm into him. But he is my TEACHER! This is so wrong, and he's much older than me. And for the very first time, I look forward to tuition lessons. I wonder what does he think about me, am I only a kid to him?
This, is Heunji's boyfriend, Kim jonghyun. He's 24 and Rich, handsome and a competent businessman. His ideals of love is much different from Heunji's. He believe that true love comes from exterior beauty. As long he keeps his woman happy, he can do anything, including fooling around with others. His way's are famous, but his charm is too attractive to be resisted. He can keep any girl in the palm of his hand. But perhaps Heunji is an exception. 
Other characters
Lee Taemin, 21. Same age as heunji. Onew's younger brother. Becomes good friends with heunji later on. He's a nice and sweet guy, but more "rebellious" and much more of a "cool cat" than the elegant and handsome Onew. His older brother can sing, but this guy here can dance.
Key, 24 . Eunji's biological older brother. A loving and caring brother. Well known for his humor and charm. Protects Eunji like no other girl. Their brother and sister relationship is really strong, and he's sure to be always there for his baby sister.
Sehun and Luhan, 18. The two happy kids of heunji's family. They are the step brothers of Key and heunji, but they bring laughter and smile to the family. Extremely close and cute. Key and heunji loves them dearly and they bring joy to the family. They will always be there to protect their big sister from baddies. ( minor characters.) They love to have fun.
Choi Minho, 24. He's Jonghyun's best friend. Heir to another large company which is affiliated to Jonghyun's. Childhood friends (minor character)
안녕하세요, 그 팬픽션을 , 샤이니 하고 엑소 팬픽. 여로분 좀 봐 주세요~ 기다리세요!^^ 그리고, 좋아하 그 스토리세요 ^^ 사랑해 ♥ 소 흔이 Do comment and suscribe! ^^ ♥