Moments with HIM 1
One More Chance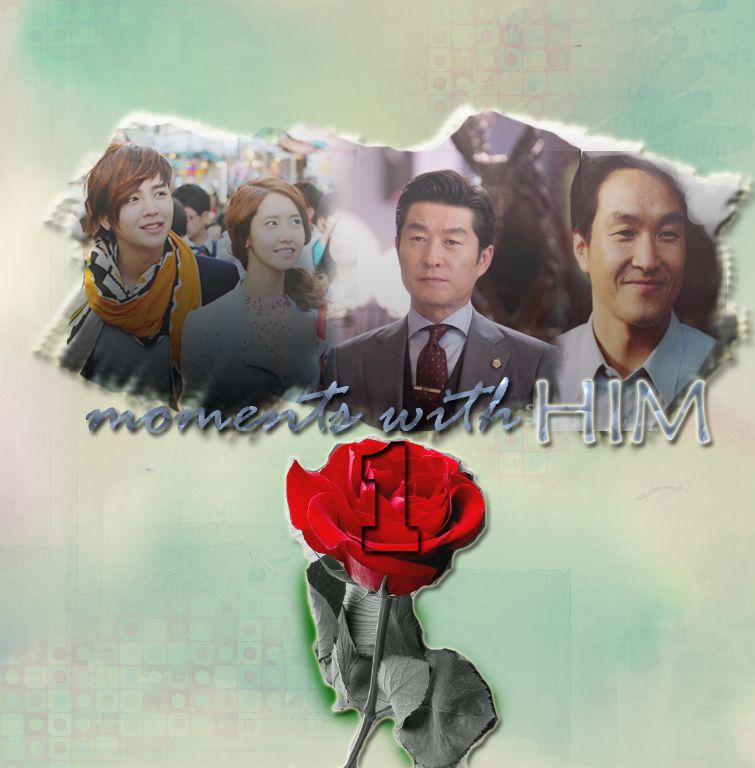 Yoona was watching her favorite variety show ; Running Man Episode 124. It was hilarious to watch and it helped her to forget about last night's fight. Actually, she didn't want to burden her mind with all sort of things. She would let her appa decided everything because to she knew her appa would accept him slowly.  Suddenly, her handphone vibrated. A message from Nae namja ; Kim Il Jun.
                        +Hey, Yoonaya. What are you doing?
                        - I'm watching tv. You?
                        +I'm here, In front of your house. Why don't you come downstairs. :)
Yoona's eyes opened wide. She opened the balcony's sliding door and… Yeah! She could see him. She opened the gates with the remote of automatic gates and ran quickly to see him. It just.. She was afraid her appa would notice him and the next fight might happen. But, things just won't go the way she planned it to. The sound of the gate, made someone noticed something. It's Sang Joong! He looked onto the CCTV and it's Yoona who opened the gate with a man in front of her. The man's face looked familiar to him.
"That guy!" he thought. He just realized that man was the same man inside the photo. He watched them through CCTV. What a huge mistake had yoona done!
"Il Jun ssi. What are you doing here?" she looked scared. Sweat formed on her forehead.
"I- I just passed by. Why do you look scare? Did something happen?" he asked with a bit hesitant at first. Yoona shook her head, denying his question.
"No, It's just that you should not come here, Il Jun ssi. There might be threats everywhere, right." she instantly looked at the CCTV. Quickly she brought Il Jun to a safe place. 
"Why?" he asked. Yoona showed the CCTV with her pointed finger.
"Oh.. sorry."
"No no. It's ok."
"Well, do you have any free time?"
"I – I do!"
"How about now?" he suggested.
"I'm watching running man."
"Oh., so you are telling me that watching running man is much more interesting than hanging out with me. Fine! I'm sulking now!"
"Aigooo! You looked so cute, Il Jun ssi." She pinched his cheek with a smile on her face. They both laughed.
"Ok! I will record it. Give me 10 minutes. I need to change my clothes first, right?." He shooked his head and showed his five fingers which actually said he will only give 5 minutes!
"ok! 5 minutes! Done!" she ran and quickly changed her clothes. She didn't knew his hidden agenda. It might be a surprise, who knew. Now, the only thing that she thought was her appa. She was not ready to see him after last night's fight. She bit her lip and hold both of her hands tightly. She went downstairs slowly with toe dance just like a ballet dancer. To her surprise, Sang Joong was at the main living room with a newspaper in his hands. The living room was right in front of the door. She faced palm herself.
While for Sang Joong, the smell of his daughter's perfume made him realized her presence. She was not too far from him, just a few steps away. He put the newspaper on the table and took off his spectacles. His eyes was aimed directly to Yoona. But, Yoona was trying to avoid the eye contact with her appa.
"Can we talk for a while, Yoonaya?"
"I'm in a rush appa."
"I know you're still mad at me. And I am so sorry.! But.. Just a a few minutes."
"Alright."She agreed.
"Invite Il Jun to our house tonight. I just want to know more about my future son-in-law."
"Oh ok." She walked away and…. quickly turned back.
"WHAAAAAATTTTT!!!????" . "Did I heard that right?" She thought.
"Did you mean…" sang joong smiled and nodded his head. Yoona couldn't hide her feelings, she jumped for joy and hugged her appa with non-stop thanking him. She was excited.
"Ne!" 
Il Jun was waiting for her outside.
"Il Jun ssi. Come in. Appa wants to talk with you for a while." His face changed. It all happened too sudden.
"Come on."
"Oh. Kim Il Jun!" said Sang Joong.
"Annyeonghaseyo. I'm Kim Il Jun." he bowed 90 degree.
"Ne. Nice to meet you. oh! You look tough and healthy.."
"Kamsahamnida, hwaejangnim."
"Let's have dinner together, Il Jun-a. I believe, there must be a lot of things to discuss, right?" he asked with his eyebrow raised. 
"Appa. I want to take a walk with him."
"Ooo. Sure! Take care of my daughter, Il Jun-a."
"Ne, Hwaejangnim!" they both bowed and leaved. Il Jun felt uncomfortable. The real fight will soon begin. He needed to be ready and prepared mentally. The thing is he needed to be careful with his choice of words. Wrong answer? Then, it's time to say goodbye to your dream. You are finished!
"Il Jun ssi. Are you listening to me?" Yoonas voice shook him back into reality. All the imagination was just gone.
"O. Mianhae Yoonaya."
"Is there something you hiding from me?" she asked curiously.
"Nothing. I just thought that…." Such a perfect time! He saw a taxi.
"Riding a taxi... Do you mind?" He continued. Yoona just nodded her head. It was her first time ride a taxi. Even though It was quite uncomfortable, yet to her thought ; It was Il Jun's life and she needs to learn from it.
"Where are we heading to?"
"My father's house."
----------------------------------
They both got out from the taxi. And there's a house. From her observation, Il Jun was definitely living  such a poor life. His house looked narrow and.. small?  Compared to her house, it was completely different!
"So this is the house where he grew up?" she thought.
Han Suk Kyu as Kim Suk Kyu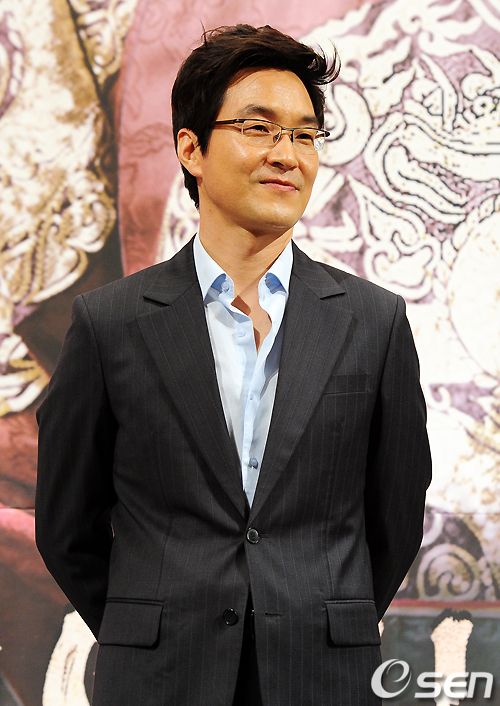 Finally, I've found someone to become Il Jun's father.
I don't know why I Choose Han Suk Kyu O.o
Maybe because I'm a fan of his historical drama ; Deep-Rooted Tree who made me impressed with his
charismatic role. haha. 
Anyhow, I hope you like it :)
"Yoonaya. Come in." he welcomed her into his house. Not to forget, Kim Suk Kyu ; His Abuji. He called out his abuji and it's looked like suk kyu was just awake . Il Jun already informed him about today's 'special' guest, but he might accidently fall asleep. Yoona looked at an old man with a lot of wrinkles on his face in front of her. He seemed too old compared to his actual age.
"Oh. Il Jun-a.. and??"
"Annyeonghaseyo, abunim. I'm Kim Yoona. Nice to meet you." She bowed and smiled brightly. He also bowed.
"Annyeonghaseyo, Kim Yoona ssi." He pleased her to take a seat.
"So, this is your yeoja chinggu, il jun-a?"
"Ne,abuji."
"Waaah. You are so pretty. Had Il Jun ever said that?"
"Erkk. Never, abunim."
"Aigoo Il Jun-a! I never thought your attitude with your girlfriends was just the same. How could you…" Il Jun cut his father words.
"Abuji."
"Hehe. I'm sorry. Yoona ssi, Il Jun was always being like that. I hope you can hold onto him. He may look cold but he is such a sweet han namja. Believe me! I'm his father. My personality was passed down to him, haha!" he joked which actually made the environment became more lively.
"Arayo. Abunim" She nodded her head, in agreement. She just remembered her first meeting with Il Jun. He looked totally cold. Yet, after several months of introduction, he was just the opposite.
"So, are you serious with Il Jun, yoona ssi? We are not from a rich family. You can look clearly here. We are poor." He tried to confirm Yoona's feeling.
"I'll take the meal, first." Il jun leaved his abuji and Yoona for a while. He just wanted them to have a conversation together.
"Ne,abunim. I am definitely serious with my feeling." she replied with full of confidence. No doubt!
"Abunim. You can just adress me informally. No need to be formal." He looked humble. It could be because of his and her different position. Il Jun told him that Yoona was a daughter of a powerful man in Korea. And him? His life is not on the same far to pay her.
"Oh. Alright.. Yoo..na.ya? hehe."
--------------------------
After for almost 3 hours, Sang Joong immediately called Yoona. He was actually worried about her. So, he asked his driver to pick up Yoona at Il Jun's house. Yoona just agreed. Even though she felt like wanting to spend more time there. Her driver came, 5 minutes later.
"Thanks, Yoonaya for spending your time to see my abuji."
"I would love to do so, Il Jun ssi. Don't forget to come for dinner tonight. I'll wait for you."
"Yes, sir." He saluted his 'girlfriend'. "Bye." He added and waved his hand.
"I hope you live happily, Il Jun-a." his father thought with a tears of joy. It seemed like his father knew nothing about his bad plans. 
"Tonight! This is one of my largest obstacles to go through. ; Kim Sang Joong Hwaejang. I knew nothing about him. What is he going to questions me? and how should I answer his question? Will he manage to find out about my plans? Hopefully , not. God! I'm sorry for being such a bad man. But the pains that I kept for the whole life was not easy to recover. You know me well, right? and you also know why, right? I hope you will help me, T.O.N.I.G.H.T. " He turned back and took a deep breath. 
---
I'm sorry for the late update.
I think I know what is the meaning by 'writer's block' since I wrote this chapter.
haha.
sorry for the lack of 'vocabulary' T^T
and no need to worry about next chapter. I've got a lot of ideas :P
Feel free to drop your

comments

, okay? ;)
don't forget to

subscribe

^^