Calling Naeyan!
☆Timeless Love ;) ╰ Graphic Request Shop ╮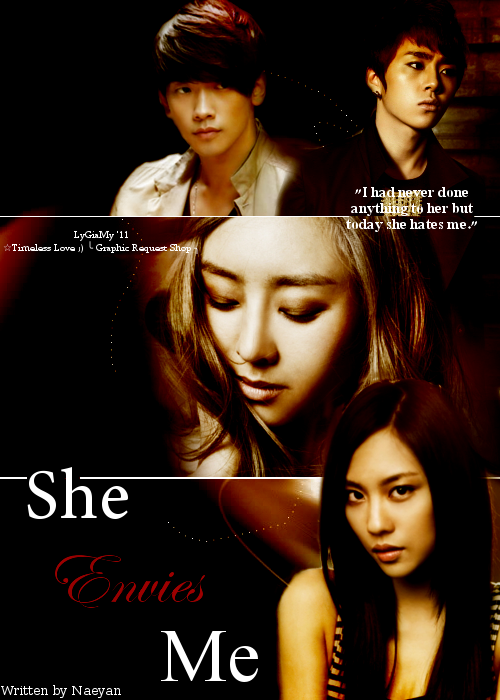 PLEASE UPLOAD TO YOUR OWN SERVER: http://i966.photobucket.com/albums/ae145/AlwaysAdmirer/SheEnivesMe.png
HEY! I really like this poster myself so what do you think? I asked Phebs(my great friend graphic designer aka aethia321) to comment and you managed to point out a flaw. Which I'm grateful she did. Or I would be in huge trouble. >.< I like grungy, sad posters most though, because I'm better at them? Anyway, sorry for those who have been waiting. School's coming up(AHHHHHHHHHHHHH!!!!!!!!!) and I might take longer to make the posters. Depends.
Here's what Phebs said,
"OMO!!! the poster is ABSOLUTELY GORGEOUS!! it's already perfect! The colors, the composition, everything is well-done."
Then, she pointed out a flaw. 
"oh, I realize a flaw there. Why is Rain's pic going over the line? But it isn't anything obvious so it's okay to ignore."
:D
Author: Naeyan

Type(Poster or CC?): Poster

Title of fic: She Envies Me

Story link: http://www.asianfanfics.com/story/view/19968/elle-m-envie-she-envies-me-one-shot-story-junhyung-missa-rainbi

Characters(to be put on the poster): G.Na, Fei (Miss A), Junhyung (Beast), Bi Rain, 

Pictures: 

G.Na: http://www.nautiljon.com/images/galerie/artistes/2/5/10652/4/8/g_na_427184.jpg

Fei: I only found this one that could fit for my story, If you ever found a better one. 
http://2.bp.blogspot.com/_TqYEKYF0wIc/TQRLW7CMVqI/AAAAAAAAAQE/OB5LSzqjEZo/s1600/115307_103358_444.jpg

Rain: I don't know which choose
http://i782.photobucket.com/albums/yy108/kaossxvictimizer/Loveleables/Bi%20Rain/bi-rain.jpg

http://www.nautiljon.com/images/galerie/artistes/2/1/512/2/7/bi_110172.jpg

http://www.nautiljon.com/images/galerie/artistes/2/1/512/3/1/bi_414113.jpg

Junhyung: If you can find a better one.
http://www.nautiljon.com/images/galerie/artistes/7/1/8717/7/6/yong_jun_hyung_beast_406067.jpg

Quotes:I had never done anything to her but today she hates me

Mood/Theme: Angst, Its a bittersweet one shot so something not too colorful will do.

Anything else: I don't have much to add now, I entrust the work to you now, thanks [SUYIN]