Calling OcsaBneaJ!
☆Timeless Love ;) ╰ Graphic Request Shop ╮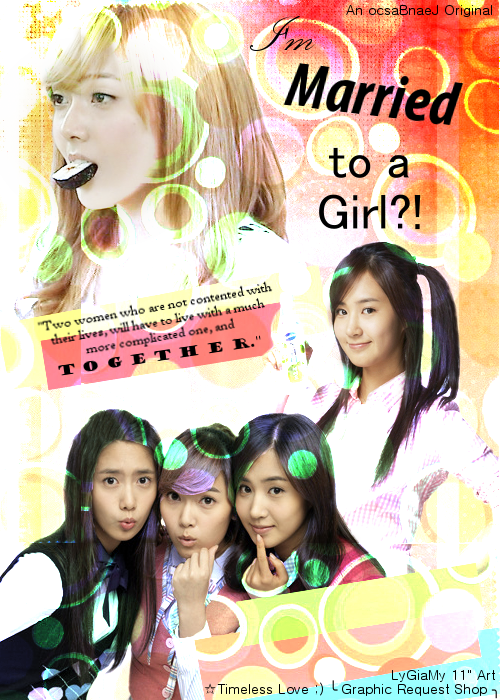 Image link: http://i966.photobucket.com/albums/ae145/AlwaysAdmirer/ImMarriedtoaGirl.png
Make sure you upload to your own server.
I'm so sorry for the late poster! I hope it's good though. If you don't think it looks nice, feel free to request somewhere, but tell me first please. :)
Sigh, so many people I've got to blacklist. >.<
Author: ocsaBnaeJ

Type(Poster or CC?): Poster

Title of fic: I'm Married to a Girl?!

Story link: http://www.asianfanfics.com/story/view/22298

Characters(to be put on the poster): Jessica, Yuri & Yoona 

Pictures: Yuri: http://img3.lln.crunchyroll.com/i/spire1/08042008/f/d/7/3/fd731b22916e80_full.jpg
Jessica: http://4.bp.blogspot.com/_BthcMIBMz80/TKU7i7sFLmI/AAAAAAAAACQ/UJFU5_WqsvE/s1600/SNSD+-+Jessica+14.jpg
Center pic: http://www.asianpopcorn.com/Themes/Images_other/201025185349.jpg

Quotes: Two Women who are not contented with their lives, will have to live with a much more complicated one, and TOGETHER 

Mood/Theme: comedy, humor type?

Anything else: [SUYIN] Can you edit the solo pic of Sica where she's looking at her right?(put her pic in the upperleft while Yuri is lower right)

Thanks so much!!!