Description
After living through a long year without parents, Hyemi has always wanted a boyfriend. Or at least fall in love with her dream guy who will care about her more than her parents did.
One of her best friend, who is a guy, introduces her to his 11 friends. And out of those 11 friends of his, she feels as if one of them is her dream boy. And he's unexpected. No one dares to be near him, nor fall in love with him. Probably because he's the coldest out of the 12. But what happens when Hyemi becomes close to him? What's his dream girl?
Foreword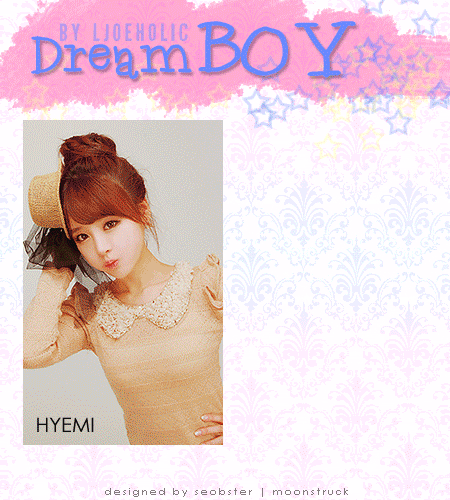 ---
---
▬you (kang hyemi); a loyal girl, whose parents left a year before her graduation. Highly educated until parents left. Only has one best friend, Chanyeol.
---
---
---
▬suho; A sweet, kind gentlemen.
▬kai; A child-like teen who loves video games.
▬chanyeol; Your best friend who's kind and smart and loves ramen.
▬baekhyun; Cold, mean towards others. Had a dog who is his "best friend"
▬tao; Very quiet, can be a gentlemen at times.
▬chen; A gentlemen, but flirty.
▬kris; Shy and funny, loves to be with his family.
▬do; Quiet, mysterious but flirty.
▬luhan; Cute, hyper,  can be flirty.
▬lay; Least talkitive. Loves to dance.
▬xiumin; A hamster like boy. Steals girls hearts with his dancing skills.
▬sehun; Uber tall to be a maknae, loves to dance and drinks tea. Says he can be a maknae "if" he wants to.
hyemi's list of her perfect dream boy;
♦001} Handsome
♦002} Caring, if he's cold-hearted, I want to change him in to the person who he should really be.
♦003} Smart
♦004} A gentlemen
♦005} Have a beautiful voice when he sings
♦006} Tells me that he loves me and will never leave me
---
Title: Dream Boy
Main characters: Kang Hyemi (OC), Baekhyun (EXO)
Minor characters: Rest of EXO members, fictional characters
Main song: Beast - Hateful Person
Credits:
Poster and background: Double D™
Character chart: ❝ ᴍᴏᴏɴsᴛʀᴜᴄᴋ ❞ ❊
Chapter banner: Chrissiishx3 @ ☆ALL-STARS☆ Creations
Started: 120330
Ended: 120421
Sequel: Perfect Man
Soundtrack
**Story was featured in Double D™. (124007 - 120607)