Description
Synopsis:
Main Paring: This story takes place after Zen's Route. Zen and MC are married. But Zen got transported to another universe similar to his original ones, except that his wife is not there and his body is not like his own. He and Jumin are practically just like cats and dog in the original universe, but in the other universe, he can't stop flirting with him. He's conflicted between his wife and his new found heart throb. (Starts: Chapter 1)
Side Pairing 1: Kim Jaejoong made a new friend but he accidentally revealed his secret to his new friend. A secret nobody should know: He is still in contact with Jung Yunho and are going out with him. Will his secret be a secret forever? Secrets are meant to be discovered anyways. For how long will Jaejoong feel guilty for keeping a secret from his family, friends and fans alike. However, he'd rather keep his secret to his grave than let it out and in turn hurts the people around him. (Starts: Chapter 3)
Side Pairing 2: Shim Changmin is a self-proclaimed food connoisseur. It doesn't matter whether its junk food, desert, or regular meals he must know it all. He can eat different food while travelling and thanks to his fans, he received a LOT of snacks from around the world. So, when there is a new and exclusive potato chip of course he got to know about it especially if it came from his home country South Korea. Much to his dismay, getting the chips even with his fans help is HARD. It's almost impossible to find. One day however he got a private message on his phone of an unknown number titled "I heard you want some Honey Buddha Chips 8D". (Starts: Chapter 5)
Mystic Messenger is a messenger-based game where YOU can chat through a private group chat. The character is of course in 2-D but thanks to cosplayers we can imagine what they'll look like in real life. Here we have Jumin and Zen: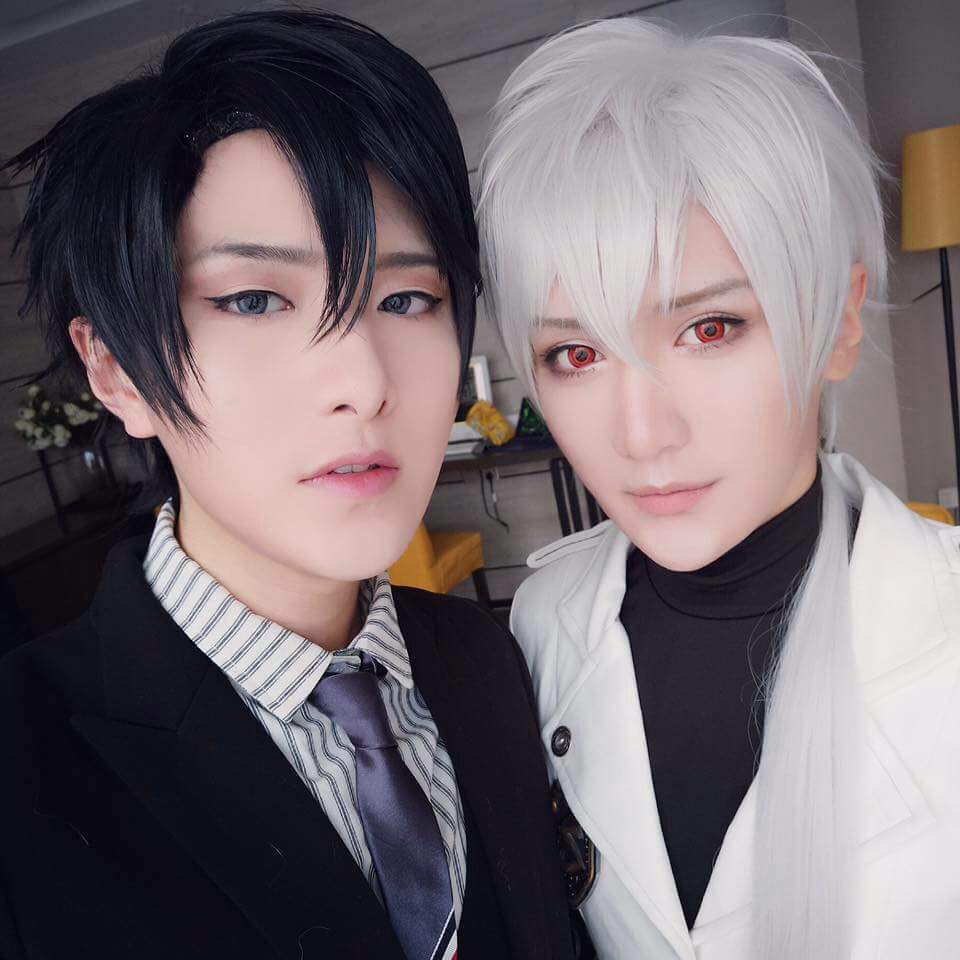 From the left Jumin Han (cosplayer : Baozi) and the right one is Zen (cosplayer : Hana). Check them out @ https://worldcosplay.net/member/24609
I'll post more picture of the characters (cosplayed) when they appear in real life throughout the story.
Characteristic:
 
Jumin Han.
Age: 27 Years Old.
Description: Heir to C&R International and has been the Executive DIrector for a couple years. 
Likes: His cat Elizabeth The 3rd.
Dislikes: People that likes him for his money.
Zen (Real Name: Hyun Ryu).
Age: 24 Years Old.
Description: Actor, Dancer & Singer (mostly Musicals)
Likes: Riding motorcycles and his own face.
Dislikes: Nothing in particular.
Other character:
Kim Jaejoong.
Age: 31 Years Old.
Description: Looks distant at first but are really warm to people who knows him. (Appearance: in Chapter 2).
Jung Yunho.
Age: 31 Years Old.
Description: A very charismatic and leader-like man. (Appearance: in Chapter 3).
Park Yoochun.
Age: 31 Years Old.
Description: A very emotional guy and a good friend. (Appearance: in Chapter 2).
Kim Junsu.
Age: 31 Years Old.
Description: Very passionate about his hobby. (Appearance: in Chapter 2).
Shim Changmin.
Age: 29 Years Old.
Description: Food monster. (Appearance: Chapter pending).
707 (Real Name: Luciel Choi/ Choi Saeyoung)
Age: 22 YEars Old.
Description: A genius computer hacker that hides his depressing self behind memes. (Appearance: in Chapter 4).
Kim Yoosung.
Age: 21 Years Old.
Description: Addicted to video gaming. (Appearance: Chapter pending).
Jaehee Kang.
Age: 26 Years Old.
Description: Addicted to coffee due to lack of sleep since her employer Jumin likes giving her extra work. (Appearance: Chapter pending).
Foreword
Heya~ this is my not-so-very-first-fanfic-ever-written. I have experieced (lol experience?) writing several fanfics in Asianfanfic.com. It's an old account which I am not gonna tell anyone about. I will have several K-pop artist cameo since Zen will be meeting them IRL (since he is an actor) hence, the reason I post this fanfic here.
In this universe MC does not exist because Zen is the MC, he's the main character. If you guys find this AU confusing don't worry, I AM TOO as I am typing this XDD but don't worry as I write this story, I'll try to explain what is happening and all that.
PS: Sorry I'm bad at descripting what the heck is this story even about. Also, for those who doesn't know. The cosplayer I used for my main character (Baozi an Hana) are a real life gay couple so... let me know if you know them too.