timefortea
About Me
Hi, I'm Tea.
kaisoo shipper, author and awkward british turtle.
i ship kaisoo/kadi to the ends of the earth and back again. this will never change. ever. 
I write (awful) fic while pretending I'm a normal human but I am a meSS OF KAISOO FEELS WHO SCREAMS IN HER AUTHORS NOTES AND FREAKS OUT ALL THE TIME.
you may also refer to me as mother tea i will willingly be your mother ok
My fellow kaisoo shippers and readers of my fics are my fam and my noodles and together we are an unbeatable skwad and everyone is welcome to join please and thank you. (im srs please want to be in my skwad please please be my friend please)
If you're reading this, I love you. 
COME HAVE A FOLLA AND A HOLLA:
TWITTER: @TEATOXIC (if you're here for a life of me frequently screaming over kaisoo twitter is for you)
TUMBLR: KAISOOCUPOFTEA (all i do is reblog kaisoo and cry tho) 
AO3: TIMEFORTEAAA (trying to work out how to work ao3 but proGRESS IS BEING MADE)
LIVEJOURNAL: TEATOX (no longer posting on livejournal but the masterlist is available!) 
(these are my only accounts so if you see my work being reposted anywhere PLEASE tell me. It won't have been done with my permission and I really don't like plagiarism.) 
Translation Policy: 
I am very much a believer in wanting people from all around the globe to be able to share kaisoo with me. For this reason, I do allow fic translations on certain conditions. 
If at all possible, the fic must be kept on asianfanfics. I am slightly lenient on this rule in certain circumstances, but it is preferred this way.
You must credit me as the author of the original fic and link back to the original story (linking to my profile as well would be nice but not necessary)
Please keep me updated on the progress of you translating my fic. This is in no way to rush you! You may take years to translate if you feel like it. You can pull out at any time and say you dont want to translate any more! It's just so I know how things are going as I have had several instances where there has been permission given for translation and then I have heard nothing since. 
You must send me a link to where you have posted my translated work. (this is for me to keep tabs on my work and also so i can publicise your translation for people who may want to read it!) 
I really don't feel these are difficult requirements to meet. If continued abuses of the right to translate occur, I will entirely revoke the rights to translations, and I really dont want to have to do that.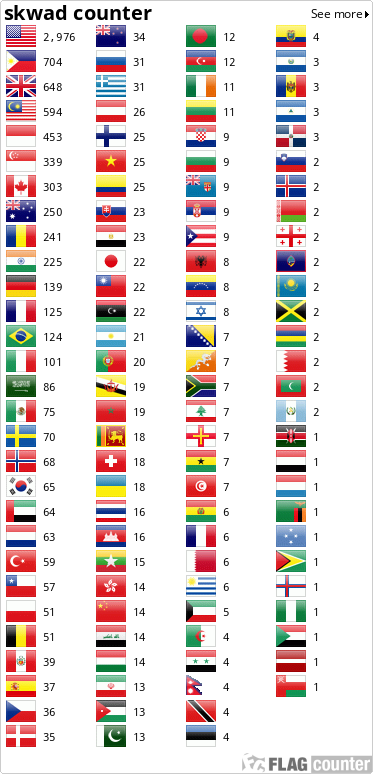 (skwad counter started 10th May 2016)