WhiteVixenn
Personal Message
So, it's new year!!.... Still lazy to update profile ((;
Here if ever you wanna follow. Thanks, bye!
---
Whoa. My profile's still all about EXO (OT12)... So much happened this year 2014 (it's December now so it's gonna be new year) and to EXO... My once super bias group, I haven't been that updated... and I never got to update this page. But whatever, I'm still not going to change it till I'm active in aff again so, those who are reading this, think whatever you want. You can add me or like what you want, can also talk to me like chat or something...uhh...ok bye that's all.
About Me

❝You're the one that makes me crazy.❞
▲name: CEN ▲age:15670 years young ▲height:im a midget okay




↻Because I am White Vixenn  




----------------------------------------------------------------------

☂ mood : missing you ☂ status : married ☂ eargasm : no more dream ☂ eyecandy : taehyung 

----------------------------------------------------------------------
---
—Hello peeps!
Daradiridaraduuu~ You better know me somewhere. But yeah, if you don't continue reading this part. So hi again, I was AmazingHeartFanatic before and I changed it to WhiteVixenn. Fandoms? Army, Starlight, EXO-L, BABY, forever S♥NE, Angel, BANA, Inspirit, Melody, Bestfriend and ELF.
BIAS: Ken, Jungkook, ChanBaek, Daehyun, Chunji, Gongchan, Woohyun, Minwoo, Donghae and Yoona ♥
That's all for now. You don't actually want to take your time reading all about me anyway. So yeah, if you want to keep scrolling down my profile maybe you'll know me more and we could be friends. I actually want to have more spazzmates, you know. Toodles~
---
❝My vision gets darker when you stare at me.❞
❝Sparks fly in my eyes as I look at you.❞
❝A dark shadow has woken up inside of me.❞
❝I want to hide you inside my embrace.❞
❝Let's erase everyone except us.❞
❝You smile at me, maybe you're attracted to me too.❞
---
It's pretty obvious now. They're my favorite OTPs. I mean the whole of them. And yeah, mainly a BaekYeol shipper. Hoho.
This is my life.
---
Aww. You came all the way down here to see all my stuff. Maybe you can click the "Add friend" over there.
You know, that button up there. We could do more talking and spazzing and we could read each others story also.  I'm a happy upvoter you know, if I love your story I'll not hesitate to vote! But I only upvote when I finished the story, unless you made me really love your fic and I'll do it right away.  
---
❝Stay still and look at me, I'll never let you see.❞
When BaekYeol needs a room...
When Baekhyun gets jealous...
When Suho is the biggest photobomb ever...
When Chen and Chanyeol are being the best troll buddies...
When Kyungsoo hits Baekhyun for kissing Kai...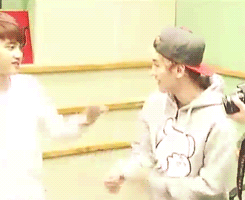 When I see no difference...
---
Hoho. You made it down here! Let's be friends already!
Everybody say awoo~
---
"It is really just me, who's more friendly anywhere in the net. You can't even see that I'm actually an anti-social in person, right?"