kairimikio
Personal Message
Okay, so I'm about to show you all my bias lists (Top 5 slots: Male and Female) :D I'm a fan of any group out there [there's nothing wrong with that], but these guys are the ones that barked their way up my list:
Male:
#1: Super Junior's Eunhyuk
#2: Super Junior's Donghae and Big Bang's G Dragon
#3: Teen Top's Ricky and Super Junior's Leeteuk
#4: Bangtan Boys' Jhope [Hoseok], Bangtan Boys' Suga,and B1A4's Baro
#5: B.A.P's Himchan, Block B's Zico and Show Luo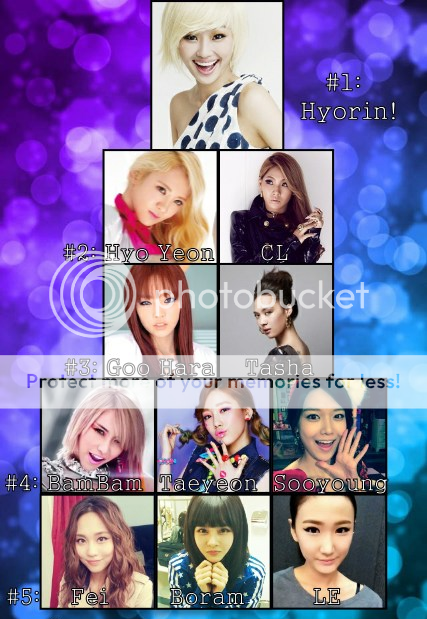 Female:
Sistar's Hyorin :#1
SNSD's Hyo Yeon and 2NE1's CL :#2
Kara's Goo Hara and Yoon Mi Rae (Tasha) :#3
Candy Mafia's BamBam, SNSD's Taeyeon, and SNSD's Sooyoung :#4
Miss A's Fei, T-ARA's Boram and EXID's LE :#5
---
**Notes**
Male Bias List:
If I added a slot #6, C-Clown's T.K, Monsta X's I.M, TOPPDOGG's A-Tom & Xero, iKON's Bobby and HISTORY's Kyungil would be on it.
Female Bias List:
If I added a slot #6, G.E.M Tang, Lip Service's BiPa, BESTie's Hyeyeon, MAMAMOO's Moonbyul, Nine Muses' Sera & Erin, and Ailee would be on it.
---
Like I said, I'm a fan of any group that has debuted from 2010 til now. There's nothing wrong with being a fan of multiple groups. There's nothing wrong with being in multiple fandoms neither, so please if you think that I'm unloyal to Super Junior or SISTAR, since they are my #1 groups, don't. It's not impossible/wrong to belong to multiple fandoms and still support Super Junior and SISTAR, I just like kpop. I don't want to limit myself to just one group, I like to have an open mind. We all have our likes and dislikes. While some people prefer to stick to one group, that's okay too, I like to branch out and find as much good music as I can. I need something to replace that ugly void that is American Music...