exopanda
About Me
It's the year 2017, and I'm still here. I stopped coming here for a few years -I stopped liking kpop so I found no use in reading stories I didn't feel attracted to. 
And I won't tell you which one is me muahahaha
/okay continue on/
The name is Nadia and is born on 31st December 1999. Young? Yes, but I'm old enough to say "I've experienced more than you" to my lil bro kekeke. Second child from three dorks. I have a sister older than Zelo by a day and a brother born in the year 2001. I love my parents, I wouldn't want to replace them even if I was given the chance to. I'm Malaysian, half-Sarawakkians quarter-Chinese quarter-Malay. But sadly, only my bro has the chinese looks. Meanwhile me and my sister got the more to Sarawakkians look. I'm still in high school, my third year, and still have another two more year. Last year I would say I'd rather have a knife in my heart rather piercing my ears. But I did it! I pierced my ears. Mom forced me to not cut my hair short, I'd my hair styled like dora my whole life. And she wanted a change. I love the colour green (or what I was made to believe). I actually love soft colour, colour that would make me calm. I'm a muslim, but that doesn't mean I'm a terrorist. Now before you get bored, which I think you already are. I'm moving on to the things you must know. 
My Bias List
Ahn Daniel/Niel from TEEN TOP
940816 / Teen Top is the second kpop group that I fell for. It was one of those days where I was waiting for Infinite to perform at MuBank, but then this 6 precious boys perform. Their debut stage. At first I was like wtf clap mad man? His voice is so enchanting. And because of him I want to learn how to skate the penny board. I would be lying if I said I did not fell for his lips, those lips mygosh. *drools*
Jung Daehyun/Daehyun from B.A.P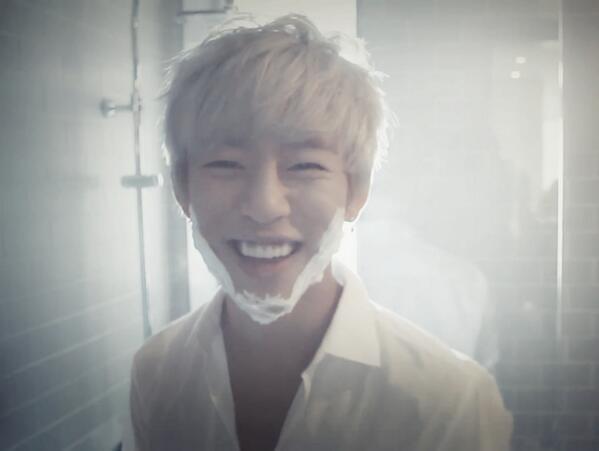 930628 / Look at that smile and tell me you don't love him! You can't? Hifive. I can't too. This guy is just so perfect it makes me want to strangle him. Kidding! But seriously, I'm so lucky to have him as my appa. Yeah, I'm the daughter of Daehyun & Baekhyun. And the sister of Taehyung :p boo you haters hahaha. I wish laa. I'm nothing near perfect -them *sighs*
Wu Yi Fan/Kris from EXO
901106 / The Duizhang that captured many hearts including mine with his mysterious eyes and charming face. This guy had me crawling up and down my EXO bias list for days months years! Who knew this guy had a hidden cute side of him? And who says you can't have a relationship with someone nine years older? They must haven't know Kris yet. I love you Wu Yi Fan. I thank you for being with us for almost 3 years. And I thank you for making me experiencing being your fan.
Jeon Jungkook/Jungkook from BTS
970901 / The closest age gap I ever get between my bias. He is the cutest qtp ever! I just love his smile and the innocent stare he always do. And do you know that he likes Linkin Park? SAME LIKE ME! Mygosh, I never thought that I would ever share the same interest with any idol. His body gosh, sooo purrfect. Where were you when I needed some eye candy?!
Kim Taehyung/V from BTS
951230 / His weird moment and alien moment is one of my favourite! I just love his teeth, aren't they perfect? And when he's not being cute, he's being weird, and when he's not being weird, he's being y. In simpler words, he is being V. Since we don't really know his trueself, Kim Taehyung. But it's okay, either way. I love him for whoever he is :)
Kim Myungsoo/L from INFINITE
920313 / Last but not least my twin! And I don't know why he is born seven years earlier hmm. INFINITE is the first kpop group I fell for, if you realised what I wrote at Niel's. He got those eyes that could make me stare into them for infinity. And I do must agree, blue suits him well hahaha. I love the photos that he took and I love his dimple too *ovaries explode*
I created a name with my bias intials and I just love it. But it got nothing to do with who I love the most and the least. Combine their intials for stage names and you will get {ndkjvl} and when I'm bored at school, I'll draw those alphabets on my fingers and wrist, {jv} are put into one since I ship taekook :p Anyways thankyou for taking the time to read about me, and I bet most of you didn't read my bio since it was boring, well I'm sorry for that kekeke. Thank you very much if you did read my bio *bows* To keep in contact with me, do add me and follow my tumblr and instagram. I also have a kpop shop, which is only for Malaysian buyers! (clickie on the pictures)
The End
exopanda signing off