Chicser fans, aminin niyo gwapo si Myungsoo ---> http://twitpic.com/cl5rec 
attached picture:
trans: admit it, chicser fans, Myungsoo is handsome
jung's face lmao "@PJYKD: Chicser fans: kpop eew, koreans r losers, kpop. Me : pic.twitter.com/R6XgnaCMgN"
attached pcture: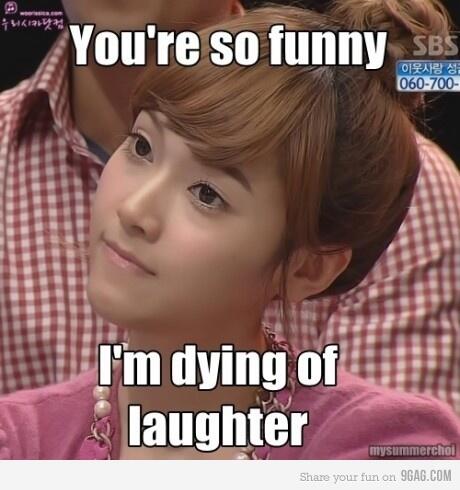 trans:
fan: @sweetjohnlapus do you have a crush on #chicser? Hahaha
John Lapus (a famous comedian): oh, who's that?
trans: three of the Chicser membes admitted to have not circumcised yet!
PS: i think this is a parody news. cos we don't a news channel with BV Patrol. we have TV Patrol. so yeah, but still, it's funny.XD and yeah, they're Chicser

Trans:
fan: pfft, i'm annoyed. i ran away from home. because my mom is mad at me and she said she won't give me money because like she said, i would only use it to buy Chicser album. eyy? i hate you, mom, you worthless, amputa (A/N: i dunno the trans, it's a curse word). give me money for me to buy a  chicser album. i would rather choose to run away from home than not receiving money to buy a Chicser album. i love you ranz, my husband.
one comment: wow, girl. you disowned your own mother just because she didn't give you money for that worthless album? why? don't you know where your mother get the money for you to eat meals everyday? she's your mother, they're just chicser. it's alright for you to idolize them. what's not right is what you did to your mother. think first.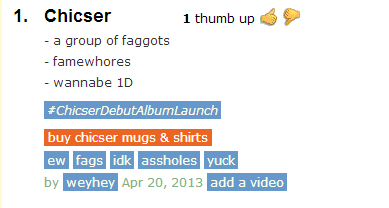 a/n: this is a bat harsh. :/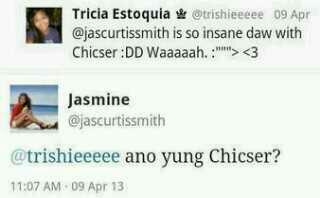 trans:
fan: @jascurtissmith is so insane with Chicser :DD waaa. :"""> <3 (A/N: basically, like obsessed or madly inlove)
Jasmine: @trisheeeee what's that Chicser? (A/N: Jasmin Smith is a Filipino model)
this is one's really funny!
attached picture: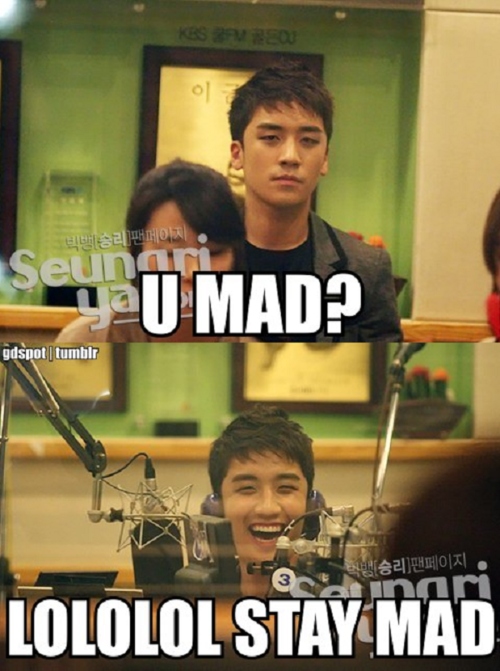 trans: Chicser, you only have 150php (4USD) worth of album? that's not even enough for my snacks.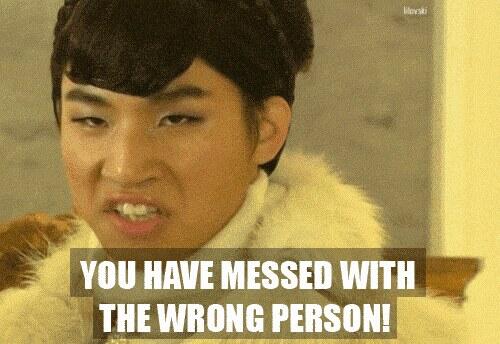 what dae says to the Chicser fans bashing on KPOP (and 1D)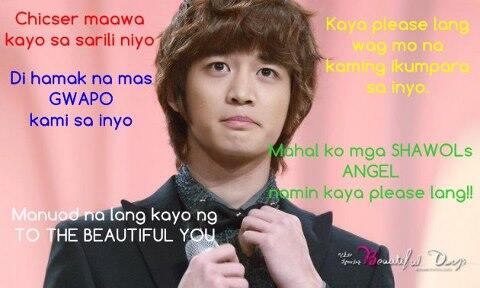 Trans:
red: Chicser, have pity on yourselves.
Blue: We're more handsome than you.
Yellow: So please, don't compare us to you.
Green: We love our SHAWOLs ANGEL so, just please!!
White: watch TO THE BEAUTIFUL YOU, instead.
Minho's reaction to SHINee being compared to CHICSER.
trans of hashtag (#MalingMali): Really wrong.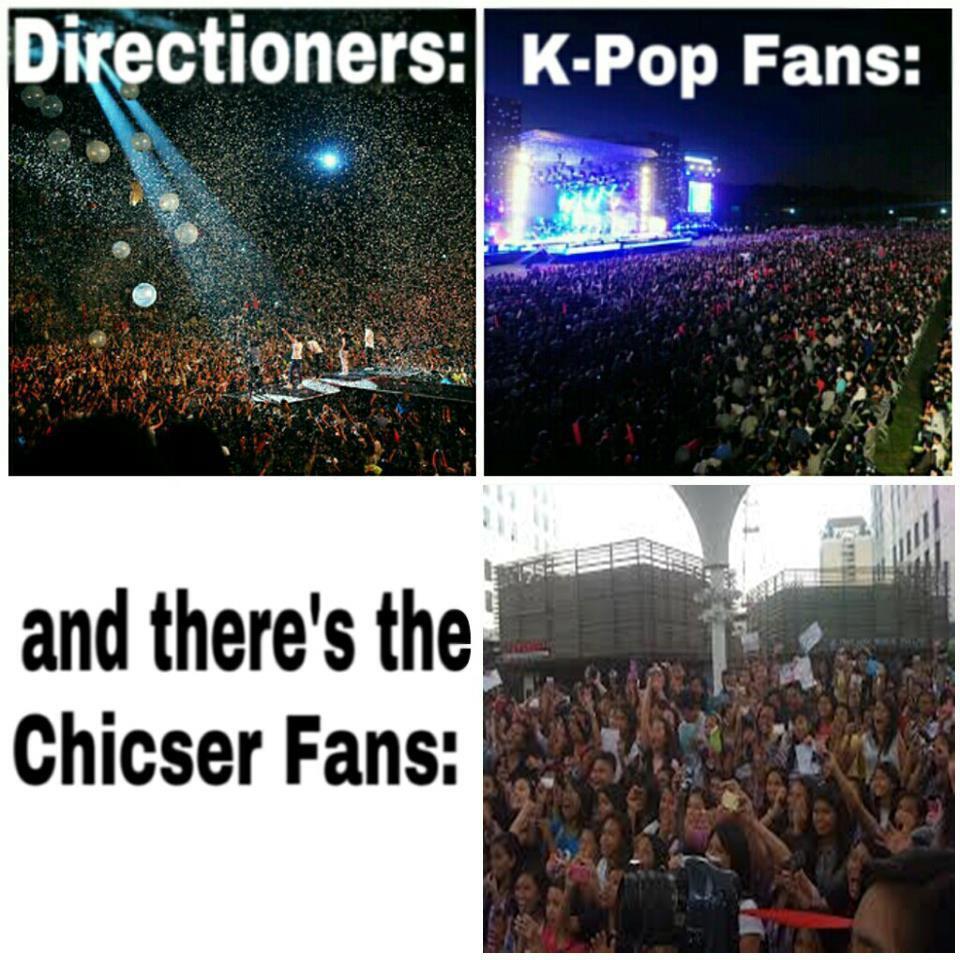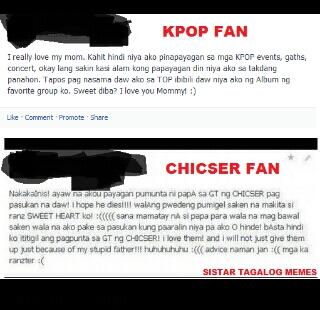 trans:
KPOP fan: i really love my mom, even though she did not give me permission to KPOP events, concert, it's alright because i know she'll just give me permission in the right time. and then she said, if i become one of the TOP students, she'll buy me an album of my favorite group. sweet right? i love you Mommy! :)
Chicser fan: It's so annoying! my dad won't let me go to the GT (i dunno what this is) of CHICSER when school starts! i hope he dies!!! no one can stop me from seeing my ranz, my sweet heart (i think ranz is a member) :(((( i hope my dad dies so that no one could stop me, i don't care if school starts, whether he will send me to school or not. i won't stop going to the GT of CHICSER. i love them! and i will not just them up just because of my stupid father!! huhuhuh :(( please give me an advice :((( my fellow ranzter
trans: blackjacks, come out now RT @RKVEOS: why, do your idols have talent? how about SANDARA PARK? she's just beautiful, without talent.
a/n: this was what i was talking about last night. grrr
trans: hahaha, Ranz is just laughing at you. Haters? LOL, POOR KPOPFANS.
a/n: basically, i think it all started here.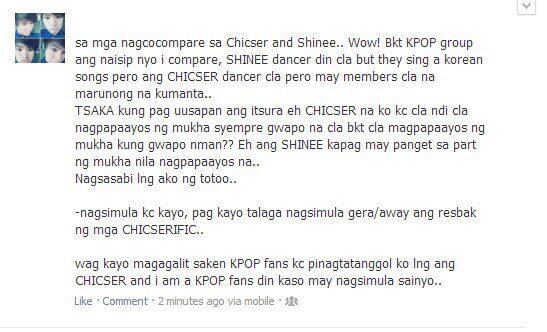 trans: to all those who compared Chicser and Shinee.. Wow! why is it a KPOP group that you thought of to compare with Chicser, SHINEE are dancers but they sing Korean song but CHICSER are dancers with some members who can also sing.. and also, f we talk about the face, of course, i'm in CHICSER's sde because they don't undergo plastic surgery becuase they're all handsome already. why would they undergo PS if they're already handsome? in SHINEE, if there's something wrong in their faces, they immediately undergo PS.. i'm just telling the truth.. you began it, if you do it, it's war for CHICSERIFIC.. don't get mad at me. i'm a KPOP fan too but i'm just protecting CHICSER and i am a KPOP fan too but you began it all.
-end-
PS: like i said, maybe this post isn't that convincing, but whatever. you might see us as immature, childish, and irrational kpop fans. you might see me now in a different light. but you don't me that well to judge me, this is just one post, you wouldn't know the real me just by this. so just...
but, if any one of, if there is a Chicser fan here, or a Filipino, who just got offended, i'm really sorry. i'm a Filipino too, if you haven't guessed it by now. (LOL)
after this, i won't post anything else about Chicser and get back to spazzing like crazy. i just wanted to show how KPOP fans united once someone else put fuel into the fire. and just to show you how dedicated kpop fans can be to kpop. i hope instead of looking for something to criticize, just appreciate it in a positive light.
anyway, i think it all started when KPOP fans and Directioners saw the similarities of Chicser with KPOP and 1D, so they called them copycats. it would have just ended there and then but these Chicser fans called KPOP fans poor and Plastic Surgery people, and everything else. basically, they were the ones who added fuel into the fire. that's why KPOP fans boasted and everything. it MIGHT be true that KPOP fans and 1D started it but they made it worse. but, this is just my theory cos i didn't find any proof that it was Chicser who started it.
AGAIN! I THINK THAT KPOP FANS & DIRECTIONERS STARTED IT ALL, BUT CHICSER FANS MADE IT WORSE BY ADDING FUEL INTO THE FIRE.