Chicser fan insulted SHINee ;_;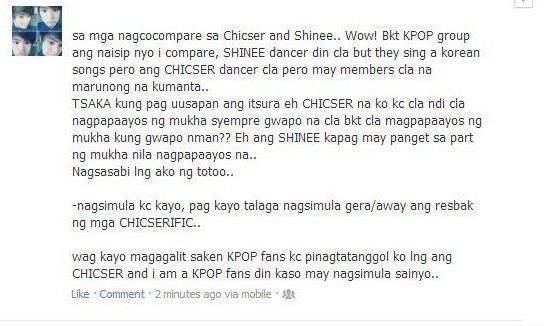 Trans: To the people who compare CHICSER and SHINee, wow! Why is it that you compare K-Pop groups to CHICSER? SHINee are dancers and they sing in Korean but CHICSER can dance and they have members who know hw to sing.
Also, if you talk about looks, I'm CHICSER all the way. Because they don't have plastic surgery. They're already handsome. Why would they have PS if they're already handsom? But SHINee, if they have an ugly part in their face, they fix it with plastic surgery. 
I'm just saying the truth
You started it first, if you start a war, we CHICSERIFIC will fight back.
Don't be mad at me K-Pop fans because I'm just defending CHICSER, and I'm a K-Pop fan too but you started it.
--
I literally RLAB when I saw CHICSERIFIC
Like dude, even Seventeen has a better fandom name than that, and they haven't debuted yet. 
You have upset one of the largest fandoms around the globe, CHICSER fan.
Shawols, you know what to do.
And we started it? Dude, we were just chilling and waiting for EXO's come back, but then you showed up.
No one asked for your opinion, no one asked for you to be born.
cr: facebook