Chicser fan insulted SHINee!!!!!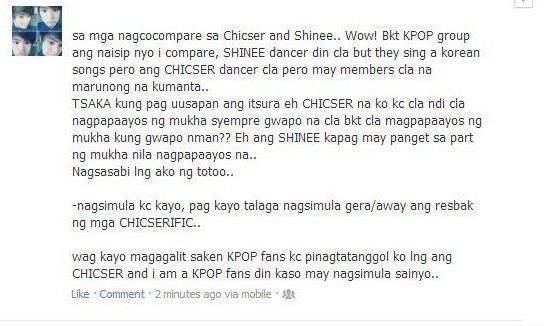 Okay First off all Chicser is a boy group that was formed in the Philippines just in case some of you guys dont know about it.
Translation of the post :
"For those who are comparing Chicser and SHINee... WOW! Why did you guys think of comparing a Kpop group to them, SHINee are dancers too but they sing in korean songs but CHICSER are dancers too but they have members who knows how to sing...AND if you were to talk about the looks then I go for CHICSER because they dont fix their faces because they're already good looking why would they need to fix their face is theyre already good looking?? meanwhile SHINEE fixes their face when they hav an ugly part on their face. Im just saying the truth...
-You guys started this, when you really start this war then CHICSERIFIC will fight back.
dont be angry at me kpop fans, im just fighting for CHICSER and i am a kpop fans too its just you guys started this."
*********************
So when I saw this of course I got annoyed because Im a shawol. But please, in all due respect, Chicser is only famous in the philippines and good for them! But SHINee is much bigger idol than them. I am a kind of a fan of chicser and I think theyre really cute but lets say the truth, SHINee is way beyond good looking, and this "they have members who knows how to sing" thing, does this mean SHINee cant sing? If they cant then they wont even be famous! And about the fixing their faces part, not all idols fix their faces, no one really knows that unless youre a hardcore stalker and if they do its their business, they can do whatever they want, and if youre really a kpop fan, you wont even say these stuff -_- im done ranting. So what do you shawols think of this? :/