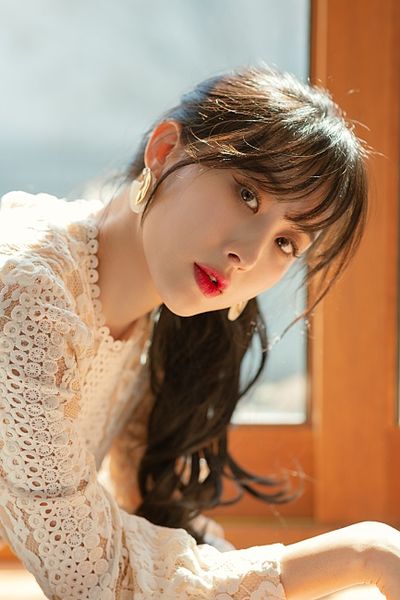 Personality traits. ESFP / Here
Personality. 
Cool auntie vibes
Background.
- Born and raised in Seoul, South Korea
- Her mother died when she was young and her father remarried
- Her step-mother was her number one supporter in anything she wanted to do, even when Hyojing came up with the idea that she wanted to become an idol when she was thirteen.
- Her step-mother helped Hyojin convince her father to let her go audition for companies.
- Hyojin evenutally made it through and was on her route to debut when the company went broke and she was forced to find another agency.
- Similar things kept happening until Hyojin reached the age of eighteen and realised that her dream of debuting was slipping out of her reach.
- It was at this time that Hyojin gave up and left the trainee life to attend university where she got a degree in international buisness
Likes.
Here / Here
Dislikes.
Here / Here
Habits.
Here / Here
Hobbies.
Here / Here
Trivia.
Hyojin was previously a trainee when she was younger and had multiple debut plans fall through.
She decided to open DAL Media to make a welcoming place for any and all trainees no matter their age, looks, size, uality, or anything.
Relationships. 
Step Mother / Lee Jungsook / 1954 / Stay at home wife / Personality
- Calls her mum as she is the only mum she has ever known
- Super close to her step mother since her mother died when dhe was young
- Her step mother is her number one supporter
- Is closer to her than she is to her father
- She practially raised Hyojin into the woman she is today.

Father / Moon Jongho / 1947 / Moon Enterprises CEO and Founder / Personality
Relationsip with character
Mother / Kang Insook / 1947 / Occupation / Personality
- Died when Hyojin was two
- She has no memory of her what so ever
- Her steop mother tries to keep her memory alive as she was hyojins nanny originally and knew her mother quite well
Brother / Moon Jehyeop / 1975 / Occupation / Personality
- The two were never really close die to their age gap.
- They're nice to one-another but Hyojin wouldn't really say that they were friends.
- Kinda realy dislikes the fact that he isn't much of a proper father to Jehyung but also knows it's probabaly because of how their dad was with them.
Nephew / Moon Jehyung / 1999 / DAL Media Trainee / Personality / FC: Jihoon
- Probably the member of her family she is closest to alongside her step mother
- Due to their small age gap, she feels as if they have more of a sibling relationship
- She really wants to support him when it comes to music as she knows his father isn't as supportive as he should be.
- Knows he can be a little but genuinely loves him with her whole heart.
- Enjoys teasing him here and there.
- Her biggest wish is to just give him a big ol' hug but she also knows hes not a big fan of people touching him so she normally settles for patting his back or shoulder or ruffling his hair, much to his dismay.
Close Friend / Song Somin / 1991 / Creative Director of DAL Media / Personality / FC: Pyo Hyemi
- Met when they were both trainees when they were younger
- Became friends fast
- always supported eachother and were close to eachother even after they stopped being trainees
- Lived together for a period of time after they gave up the trainee lifestyle
- After Hyojin created DAL Media, Somin was the first one she asked if she would like to join her on this adventure
Twilight / here
- Was DAL Media's first planned group
- As the members have been together since 2014, Hyojin has become close with them
Rose / here
Relationsip with character
Dal Media Trainees / here
Relationsip with character
Here / Here / Age / Occupation / Personality
Relationsip with character
Position. CEO and Founder of DAL Media.
DAL Media Life.
- Her father was initially against Hyojin opening an entertainment company as he thought it was a usenless endevor.
- Her step mother was the one to convince him that it was a good a profitable venture.
- Hyojin initially opened DAL Media as she saw a gap in the KPOP market for co-ed groups.
- Once opening, the first group she got to work on was Twilight but due to various reasons, it was decided that Rose would debut first.
Headlines.
Daughter of Moon Family to Open Entertainment Company/ 2013
Here
Here / Here
Here / Here
Here / Here
Li.

Comments. I don't know if I'm doing a story relating to the staff of DAL Media but I have been thinking about Moon Hyojin and as she is the CEO, I wanted to work on explanding her and I thought this might be a good way to!