Super Junior celebrate Siwon & Eunhyuk's birthday + trick Seulgi into signing contract for 'Super TV' guest appearance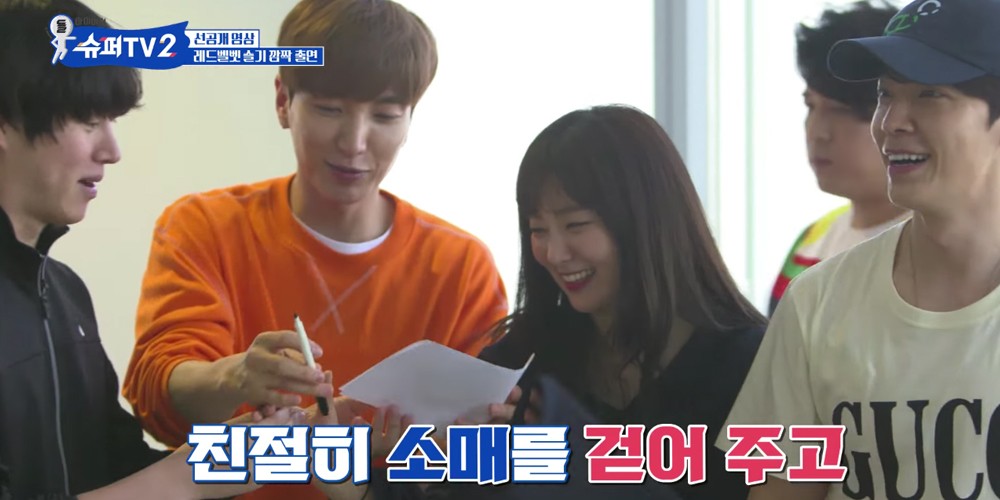 Super Junior's upcoming 'Super TV' season 2 has revealed another pre-release series ahead of its official TV premiere!
This time, the Super Junior members gathered in Dubai the day after their performance at 'SMTOWN Live World Tour VI in Dubai' and discussed how to improve 'Super TV' for season 2. The members briefly talked about the afterparty which took place after the concert, then reflected back on 'Super TV' season 1.
Later, Leeteuk pointed out that Siwon and Eunhyuk both celebrate April birthdays, and surprised the two members with a cake! A surprise guest appeared to congratulate Siwon on his birthday, wowing the members - the CEO of a large tourism company in Dubai!
Once the Dubai CEO left the scene, Heechul claimed he had a guest of his own to introduce and dragged Red Velvet's Seulgi in front of the camera. The members immediately jumped up to "receive" a signature and a thumb print from Seulgi; but after she completed both actions, the members argued that she had signed a contract guaranteeing an appearance on 'Super TV' season 2!
Check out episodes 1-3 of 'Super TV: The Beginning' above and below, while you wait for 'Super TV 2' to premiere on XtvN on June 7!