Miracle Happens
Completed!
by lollilove
| 534 views | Updated | Created
Tags ontoria | Report Content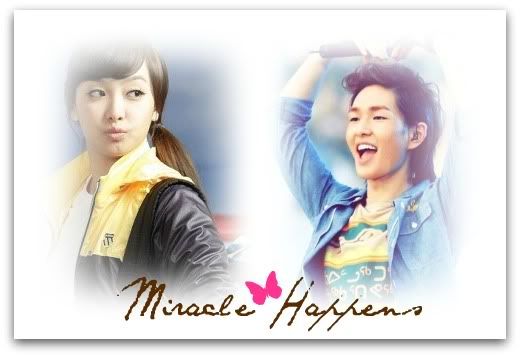 Characters
Onew Victoria Shineeffects
Description
Onew have always have something more than just a friends to Victoria, which is LOVE but it was vice versa too Victoria.
But his heart felt like broken into pieces when he found out that Victoria are gonna be paired with some other guy for a reality show.
He felt defeated at that moment but he never giving up .. because he always have faith in MIRACLE.
A/N : Well I'm kinda a newbie in AFF and I decided to start my days in AFF with ONTORIA's story which is my first one-shot. I'm sorry If it's not that good because I'm still new in short story. Sorry for any grammar errors. Feel free to leave your comments about this. I'm gonna post my first baby (fiction) that I've made few years ago in AFF soon but I'm sure some of you might have read those at other forum .. hehe
Foreword
He only love her and only her ..
That's why he's believing in MIRACLE ..

Her impression towards him totally change by the time he's confessing to her ..
She never thought he's gonna be the one that steal her heart with just a simple word that he said to her ..
' I LOVE YOU '
Tweet
^ Back to Top