A Song Calling For You
by dr_elf15
Tags jinki luna lunew onew shineeeffects onewluna romcomdrama | Report Content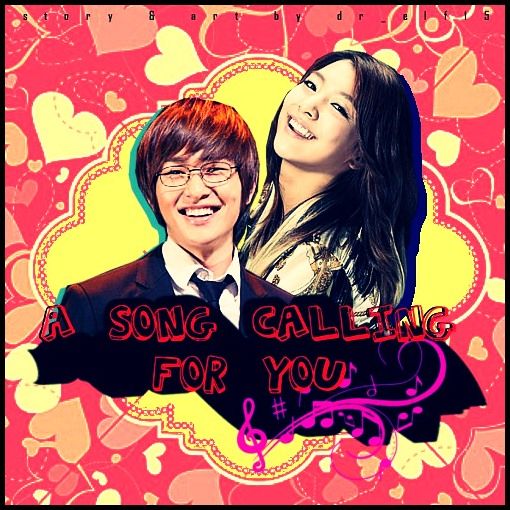 1 year 2 months later.
Jinki's POV
You wondering if i told her? Nope. I did not. You see, i kept waiting for the right time, and apparently right time doesn't come by often or easily. Okay, i know that was a lame excuse.
I'm a wimp. I admit. I just can't seem pick up some courage to tell the girl that i love that i love her. Go ahead and kill me. I deserve it.
Sunyoung's POV
More than a year has passed and he has become my good friend. We become closer than i imagined we would be. Never in my wildest dream i would have thought i'd become so attached to someone i've never met. I don't even know how he looks like. But he's become an important person to me, unknowingly. It feels like i've known him forever. He never fails to make me laugh although all we do is exchange our thoughts through MSN. And he still does song covers and i get a special privilege to request for any song that i want to hear. There is nothing more in the world i want at the moment than to see him. To see the owner of the voice that drew me so deep into him.
*****
"Sunyoung-ah, are you coming to Jonghyun's party tonight?" Jinki asked, reaching for a fried chicken drumstick.
"Yes, it's his birthday part. I wouldn't miss it for anything." i replied, reaching for a tissue. I wiped the corner of his mouth. "Seriously? What's with your obsession with chicken?"
"No time to explain." he said, devouring the poor piece of chicken.
I shook my head and let out a little laugh. He forgets everything when he with his favorite companion, Miss. Chicken. "You can at least try to eat without looking like a barbarian." i commented as i looked at his ketchup smudged face.
"Huh?" he said, looking up.
I reached for another piece of tissue and wiped the stain off his face. "You're such a kid."
He continued eating without saying anything.
"You're welcome." i said sarcastically. And he just ignored me. Again.
******
Jinki's POV
"Hey, is evrything okay?" Jonghyun asked.
I lifted my head and looked at him questioningly. "Yes. Why? Am i not supposed to be okay?"
"No, of course not. After all, it's not a big deal right? The girl you are in love with is at the edge of falling in love with you without knowing it's actually you! Not a problem at all." he responded, rolling his eyes. "God, your love story is so twisted."
"First of all she's not falling in love with me..i mean with him..you know what i mean..Second of all, I didn't plan for things to turn out this way. I didn't plan to hide the truth from her for so long. It's just that.."
"I know..i know. The right time never came. Right? Dude, you've been repeating that crappy line for the past one year. When on earth will you find the right time? After she has her first kid?" Jonghyun flipped.
I sighed. He's got a point. But what am i to do? I can't seem to open my mouth when it comes this matter. Drawing a determined breath i decided to do it.
"You know what, I'm going to tell her today. At your party. That's it, what ever the consequences are i'm ready for it."
Jonghyun looked at me with raised eyebrows. "I've heard that before."
"Dude, trust me." i assured. "This is time where you're supposed to encourage and support me."
"Whatever. Just don't ruin my party or i'll ruin you."
****
I waited nervously for her to come. This is it. I'm going to break the news to her today. Good or bad, i've got to do it. Be brave Jinki,you can do this.
"Hello." i heard Sunyoung greet from behind. I turned around and my jaw dropped.
She looked beautiful. She wore a sapphire blue, knee length dress and her wavy black hair dropped just below her shoulders.
"Hey." she said, smoothing her dress. "Am i overly dressed?" she asked, pressing her lips together. One thing i've noticed, she never wears lipstick or gloss. It looked perfect in my opinion. I couldn't help but to stare at her lips. I wonder if she has kissed before.
"Jinki, quit staring and answer me!" she exclaimed. I snapped back into reality.
"No, you look fine. You look..beautiful." i managed to say.
She smiled widely. "Thank you." she said, crinkling her nose.
Just as i was about to start talking, Jonghyun rushed to us. "I need your help." he said to me.
"Bad timing." i hissed.
"It's really important Jinki. Please." he pleaded.
I sighed. "Fine, what is it?"
"I left my camera in your room." he said, clasping his fingers. "I think it must have somehow dropped off my bag  when we were hanging out today. I need it. Can you please go get for me. I can't leave now. And my mom will flip if she knows there's no camera."
His puppy eyes didn't affect me but it did on Sunyoung. "Aww.. it's alright, Jinki will get it for you. Go take care of the guests alright. And stay calm." she assured, patting his shoulder.
"Okay. Thank you. Thank you so much."
"I never said i'll get it for him." i said to Sunyoung, after Jonghyun left.
"Oh, come on. He's your best friend. Don't be mean." she answered, smacking my head.
Sunyoung's POV
I followed Jinki to his house. His parents were out, so no one was at home. This was the my first visit to his house and i was excited.
I looked around the living room while Jinki went to the kitchen to get a drink of water. There were photo frames at nearly at every corner of the living room. I smiled as i took one of it that had Jinki's baby picture. He didn't change much. He still had his baby face and that adorable eye smile.
"Come on. My room is upstairs." Jinki said, as he came out of the kitchen. "Be careful of the 4th stair, it's shaky. Haven't got the time to fix it yet." he said as he led the way.
He opened the door of the 2nd room on the left and entered. "Welcome to paradise." he said, with a bow.
"Thank you very much." i said stepping in.
I looked around. "You call this a paradise?" i asked, looking at the mess the room was in.
"What? I'm still a teenager." he said.
"And that's your reason?" i questioned.
"Yes." he answered, as he looked for the camera.
"How in the world are you going to find the camera?" i asked. A pile of clothes, unwashed, i assumed was on the bed, books were strewn all over the floor. Papers were everywhere along with food wrappers and pizza boxes. "Are there any cockroaches in here?" i asked, tip-toeing past the books.
"I killed a few last week." he said,
"What?! Okay, i'm out if here." i said,heading to the door.
"Hey chill. I was just kidding." he said, snickering.
I rolled my eyes."Evil."
I looked around he room and spotted a guitar. i didn't know he played guitar and it looked familiar too. I picked it up and took a look at it. there was something written at the bottom of it, it was faded but i could read.
"Happy 12th birthday Onewtokki."
Onewtokki? I felt my world spin and my breath became shorter.
"Found it. Let's go." i heard him say. He froze when he saw me with the guitar.
*****
Jinki's POV
I froze as i saw her holding the guitar. No. No!
"What is this? Is that your name?" she asked pointing at the writing on the guitar.
I stood still.
"Jinki? I asked you a question." she said,her lips quivering. My silence angered her, i could tell.
"I..i was going to tell you. I'm sorry." i said, trembling.
"You lied to me all this time? How could you?" she said in a low voice.
"Sunyoung, i was going to tell you today. I swear."
"Like hell you did!" she snapped before walking out of the room.
"No, Sunyoung wait! Let me explain." i pleaded, grasping her wrist.
She shook my grip away, "Don't you dare touch me. And never ever speak to me again." 
I saw heat coming into her face, ready to explode. But she simply shook her head and let herself out of the house, leaving me helpless and guilty.
---
So how was the update? The next cahpter is the final one. Working on it now. Stay tuned~!!
dr_elf15
^ Back to Top