Not your brother?
by YmiNgo
Tags dbsk jaejoong kikwang korean kpop romance you | Report Content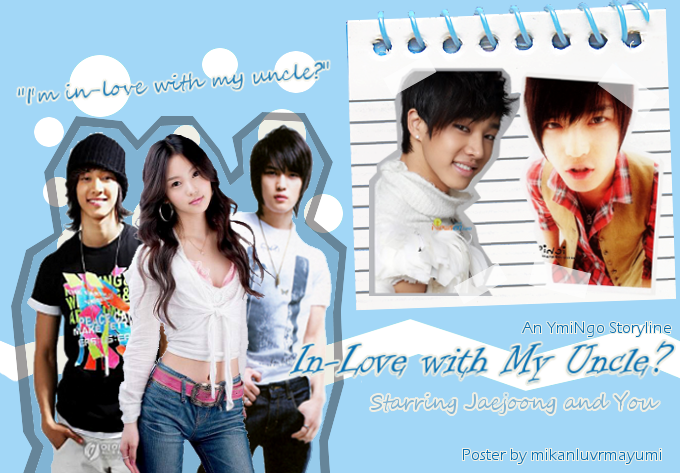 Your point of view
I met up with Donghae in front of the gift shop.
"Hey you -ah. Thanks for coming to help." He smiled.
"No problem, Oppa. So what kind of things does your mom like?"
"I have no idea. Which is why I'm asking you for help."
"You could buy her flowers or jewelry." I suggested.
"Let's go to the jewelry store then. But we can't buy anything too expensive. I'm not that rich." He said as he put his hood back up.
"Sure." I followed him.
We aprroached the shop and I noticed so many rings and necklaces. "Hey, does your mom like a certain color?"
"I think she likes purple." He replied.
I looked at the jewelry that had purple in it. I noticed a necklace that would look perfect on his mom.
"How about this one?" I asked Donghae. He looked at it and nodded. He paid for it and we exited out of the store.
"Thanks so much, you."
"No problem."
"Since you helped me, you deserve chocolate." He knew knew of my weakness. I love chocolate. I mean, what girl didn't?
"Okay." We went to the candy store and I saw a gigantic chocolate bar. It was as long as a ruler and wide as my hand. I tried not to drool at it and Donghae noticed.
"Do you want that?"
"Yes! I mean no! It's too big." I stared at it some more.
"I'll get it for you anyway." He took the chocolate bar and paid for it.
"Oppa! Isn't too expensive?" I asked him.
"It's okay." He said and handed me the bar.
"Kombawo." I thanked him.
"You're welcome."
I happily ate some of the chocolate. "Do you want some?" I asked to be polite.
"Sure." I handed him a chunk and we walked back outside.
--------------
Jaejoong's point of view
"So what's the matter, Eunhee Noona?" I asked her. Everyone else was outside also. They looked really suspicious.
"We're get straight to the point. To tell you the truth, you're not related to us."
I was appalled at what I was hearing. "Bwoh?! I'm not your brother? You must be joking."
All of my "sisters" shook their heads. This was the first time I've seen them so sad.
"We've been meaning to tell you, but you were adopted by our parents when you were 4." Sunhee Noona said.
"We thought now would be the right time to say so." Sooyoung Noona claimed.
"We heard from your biological mom a few days ago. If you want to contact her, here's her number." Yoosoon Noona handed it to me. I was so shocked. All this time, I thought I was truly their brother. I did wonder why I didn't look like Omma or Appa. Now I knew. I'm not related to any of them. That saddened me greatly. But it also meant that you could call me Oppa instead of Uncle.
"We have a condition though." Minkyung Noona warned me.
"Don't tell you any of this." Sookjim Noona told me.
"Why?" I asked the 8 of them.
"We don't want her to fall for you." Jinhee Noona pointed out.
I almost laughed. "Her? Fall for me? Impossible!"
"We're serious about it." Ahyoung Noona gave me a serious face.
"Fine. But you guys should have told me earlier. Can I still call you guys Noona?" I questioned.
"Of course! We're still your sisters no matter what." Mikyung Noona noogied my head.
"Yah! Stop!" I pouted.
"That's our Jaejoongie dongsaeng!" All my Noonas chimed.
I chuckled lightly. "Well let's go back inside. Don't you girls want anything?"
"Of course we do!" Most of them shouted. They dashed back inside and looked for clothes and what not.
I sighed. *I can't believe I'm not related to them. It would have been nice if you could call me Oppa. Now it's gonna be weird when she calls me Uncle. I'm not her real Uncle!* I looked at the number on the card. I decided to call her. My real mom.
^ Back to Top