Gone With Tears Review
by LadyComma
Tags apply oneshot request review you advertise reviewshop | Report Content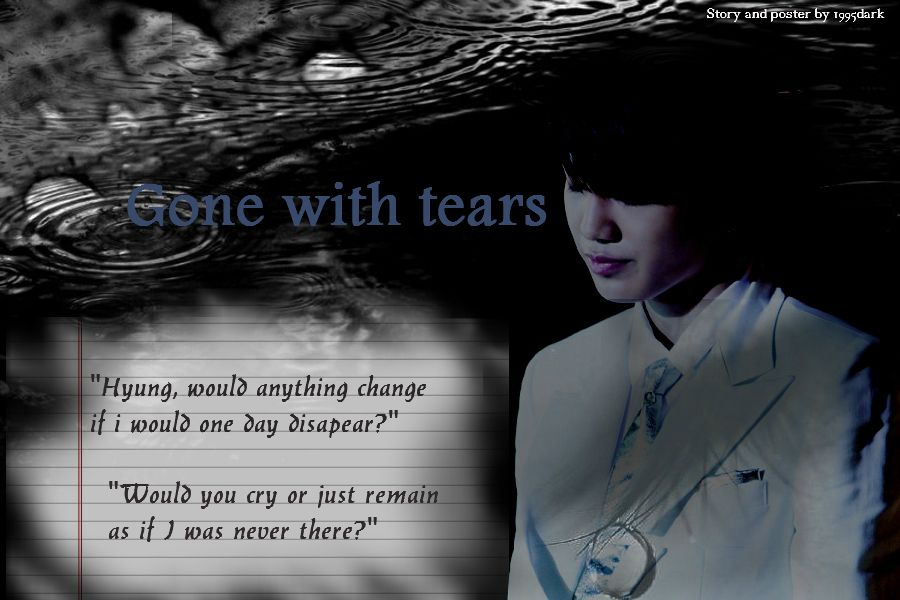 Story Title:
Gone With Tears
Author:
1995dark
Genre(s):
Yaoi, angst, smut
Brief Description:
"Hyung, would anything change if I would one day disappear?" "Hyung would you cry or remain as if I was never here?"
Rated H:
Yes
Reviewed By:
angelfocusbroken (Lady Comma)
---
1. Title:
[5/5 pts.]
The title is quite intriguing to be perfectly honest. I have not found a title this dark or one that has caught my eye almost immediately. It sets the mood of the story and also hints at it's impending doom and gloom. Great job picking out this title!
2. Poster/Graphics/Background:
[5/5 pts.]
All of the graphics set the mood of the story. I love the poster, it was very well made and it goes along with the story very well. The background also fits the story. You did a great job finding the poster and background!
3. Foreword/Description:
[9.5/10 pts.]
Since this is a one-shot, I don't necessarily expect much out of the foreword and description. You wrote just enough to peak a potential reader's attention. The reason why I docked you half a point is because of some minor grammar error which was very noticeable to me. Good job in this category as well!
4. Plot:
[30/30 pts]
I believe this is the first time I have ever awarded someone full points in this category. The plot of the story was so touching and I could definitely relate to Sungjong. I didn't find any flaws or errors in the plot, it was perfect. The part where they were having sex was a bit... hot?! Even though it was gay sex, it was very well written. Great job!
5. Flow:
[5/5 pts.]
The flow was great, there weren't any bumps, or awkward transitions. You did a really good job in this category as well, congratulations.
6. Characterization:
[5/5 pts.]
Since this is a one-shot, it shouldn't be hard to keep your characters in character. You did a great job anyway so I awarded you the full points.
7. Grammar/Spelling:
[5/20 pts.]
This is the category that I am really strict on... the reason why I gave you such low markings in this category is because I noticed so many spelling, grammatical, and punctuation errors. Since this is a one-shot, I would expect it to be written better than most stories. It appeared to me that you didn't proofread through your one-shot before posting it. It also appeared to me that you rushed to write it and get it posted instead of taking your time and fixing the obvious errors that needed to be fixed. I know I am probably being unfair in this category, but I expect more in this category in a one-shot than I do in a story.
8. Overall Enjoyment/Entertainment:
[18/20 pts.]
I did thoroughly enjoy reading your one-shot. I liked the plot and the smut scenes, they were very well written despite all of the errors in your writing. I docked off two points because it was hard for me to understand what you were trying to say at times due to all of the grammar and spelling errors. I don't like having to re-read a particular part or sentence over and over to get the meaning. Other than that, I really did enjoy reading your story and I think you have great potential.
Comments/Feedback:
You have great potential to become a great writer if you would just slow down and proofread what you write before posting it. You appear to have some organizational skills because the one-shot appeared to have been well thought out before being pieced together. The good news is that you have scored high enough to be placed on our recommendations list, so congratulations on that! You did a great job! Keep up the good work! I hope I've helped!
Total:  
[82.5/100]
*Please always remember that if you make changes, or add to your story, you can always request for another review to better your score. Just send in another application, and we'll get back with you as soon as possible.*
^ Back to Top