SAVE BY MY CHILDHOOD FRIEND
by b2stlyjessica1
Tags kevin ljoe romance schoollife teentop ukiss you | Report Content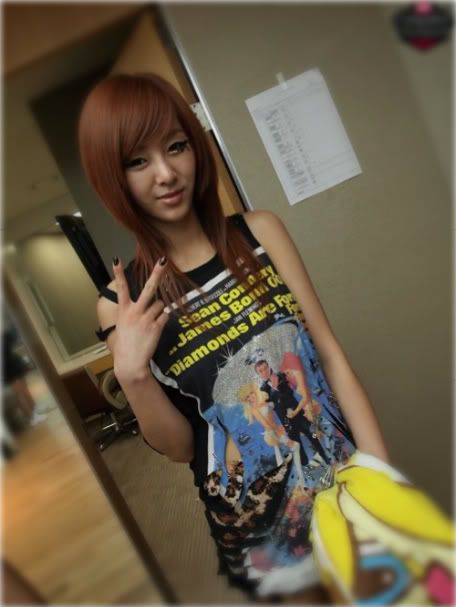 YOUR POV
When we got to the restaurant it was pretty nice my brother help me out and L.joe followed behind us.We ordered it was silenced it felt awkward until my brother break the silenced"Did something happened between you two,hey man stop worryng about my sister told me what happene and its fine just chill"my brother smile to PUNK
L.JOE POV
*Its ok she told him what happen between us WE SLEEP TOGETHER IN THE SAME BED and hes ok with it what kind of brother is he?*my eyes widened I just nodded and I looked up to see her she was eating her pancakes like a little kid not caring what we were talking about about..Her brother start talking to me about sports and hows life in korea I start to feel comfortable around him.....until someone cover my eyes"Guess who?"its a girl voice*who can it be*
YOUR POV
I took the last bite of my delicious pancake I was glad my brother and L.joe were talking like great friends.I look at L.joe he look so cute smiling*Wa.....stop thinking that*I saw a girl walking towards our table and cover L.joe's eyes..."Guess who?"she smile*Aish.who is she?*her smile look so horny
Someone elbow me it was my brother he whispered in my ear"looks like he got a girl already"just thinking that it makes me punch her already she keep smiling and when I met eyes with her she smirk I just rolled my eyes and drink my milk ignoring her
L.JOE POV
"Who?I dont know"she let go and I turn around to see who was it,but this person crashed her lips in mine*WTH ETOKKE wait jessica is watching*I back away and look at that little girl she look at me and rolled her eyes then to the pervert chick and turn to see her brother"Can we go we shouldn't interrup"she poke her brother arm
"Of course we can baby"he did thumps up to me and help her sister up"the food is pay,the rest u order is up to you"then they walked away*since when he calls her baby*
"HEY!! Im right here...remember me from the exchange meeting?"she sat in front of me smiling she licked her botton lip
*gross*
"Sorry I just do that to cuties like you"she wink
I stood up and ignored her,but before I walked away she grab my arm
"Want to come to my house noones there"she giggle*stupid girl like I care*
"not interested"I yank my arm and start walking away,but she hug me in my back not letting
"Can you let go?"I triad to get her arms away,but she resisted
"ok lets go to the amusement park then.."before I could denied she pull me out the restaurant to her van
YOUR POV
Why do I feel mad aishhhhh that girl just had to ruin it
I bet he's having fun PLAYER PUNK!!
"Sister you ok?want to come to....?where do you want to go?"he asked me while he was focusing driving also
"Home"I just want to go home
"WHAT!!!WHY???!!U sure?are u feeling okay?"he park the car
"Yeah I cant walk fine,because my knee,maybe later"I triad to smile
"Ok....lets get some movie to watch then"I just nodded
L.JOE POV
*aishh..so bored*this girl just went to stores and put rabbit ears pouting trying to look cute.Also triad to persuade me to buy her stuff*no way*she must be crazy she wanted to go to the haunted house "ummm sure"I can get rid of her I run towards the haunted house excited
"WAIT!!Im with you remember"she grab my arm and we went in*how do I get rid of her?*she keep screaming at little stuff I have to say it was scary lol...when we got to a section it was zombies in jail there was a voice saying we had 20seconds to run to the exit,before we got kill.There were like five more people with us this should be a good opportunity when the doors closed behind us.The voice said to run NOW the exit was pretty far,so theres no way someone could make it out evryone started to run I ran so fast with the others she still hold me until we were half way to the exit the jail doors open and all the zombies got out evryone managed to get out "I cant my legs"I could hear her breathing hard*great*I ran fast and she let go screaming cause zombies huddle around her I ran faster some zombies got in my way,but I manged to exit breathing hard"Finally free"I walk around the park and saw a shop with plushies and Jessica came in my mind.I imagined her face when she sees the plushie I went in to see the plushies they had until I found the perfect one: http://i611.photobucket.com/albums/tt200/LionKingCollection/IMG_4305.jpg
I bought it and exit the store happy for some reason I felt happy when I felt someone cover my eyes *NO WAY PLEASE DONT LET HER BE IT?*"GUESS WHO IS IT? BANANA HAIR"*wait I know*
"what a relief?"I sight and that person let go I turn to see her smiling my childhood fiend Gina
"Hey long time not see,right"she smiled and I hug her so as she
"So whos this present to?your girl"she let go and look at me
"UMm....a ...fr.....iend"I sttutered I can tell blush was coming in my cheecks*it cant be for the annoying little girl*
"aishhh yeah right ahhh my donsaeng is growing up"she messes with my hair I just laught and mess with her hair also until...........
"HEY!!!HES MINE BACK OFF!!WHERE WERE YOU?'I herad someone scream
"Woah agressive girl L.joe"noona told me
"Noona RUN help me"I want to get rid of her and noona is good at it
"NOT ANY MORE"noona screamed and grab my hand and started running fast"Come on my car is park around the corner"noona told me I was so excited*thank you god to put noona in my way*I smile I could hear the pervert chick after us screaming,but then I couldn't hear her maybe she gave up
------------------------------------------
"Who was that?another fangirl?"noona smiled while driving
"Yeah....I guess thanks hey do you have a place to stay?"
"Ummmm.not really can I crash in your place like we used to when we were little?"she asked me
"Of course how can I say no if you just safe me today,but is not my house Im exchange student,so yeah,but their are not home is just a girl and my hyung,so its fine"
"Oh ok where do you live?"noona asked me I told her where to go until we arrive
YOUR POV
Mmmmzzzzzzzzzzzzzzzzzzzrrrrrrrr......my brother sleep great I turn the tv off and walked out his room when I heard the front door open it was PUNK and girl voice*WAIT?a girl in my house no way*I peek and saw them smiling while she was holding a plushie and he led her to his room
"what dont tell me ewwwwwwwwwwwww.....not in my house oh heck nooooooooo,but what do I do?
*PUNK!!!!I HATE HIM SO MUCH PLAYER NOW HES WITH ANOTHER GIRL DOING WHO KNOWS WHAT?*I felt a tear running down my cheeck*wait why Iam crying for*I whiped my tears away and went to my room for some reason my heartache and I started crying and just fall asleep
L.JOE POV
"So you won't tell who's the girl,ummm?"noona trying to know who is the girl I like she never acceps I dont know as an answer
"Ok...you win"I started to tell her evrything and I cant remember when I fall asleep
G.NA POV
"wow hope this girl doens't break your heart like the other chick"I touch my donsaeng face and fall asleep with him
WOW HOPE IT WAS AN INTERESTING CHAPTER
YEHHH TODAY IS L.JOE BIRTHDAY!!:D
I WILL TRIAD TO DO THE NEXT CHAPTER OK
WHAT WILL HAPPEN NEXT MORNING KEEP READING
^ Back to Top