Hyunbin's Advice
by dbskgirl4ever
Tags comedy dbsk jaejoong jyj korean romance | Report Content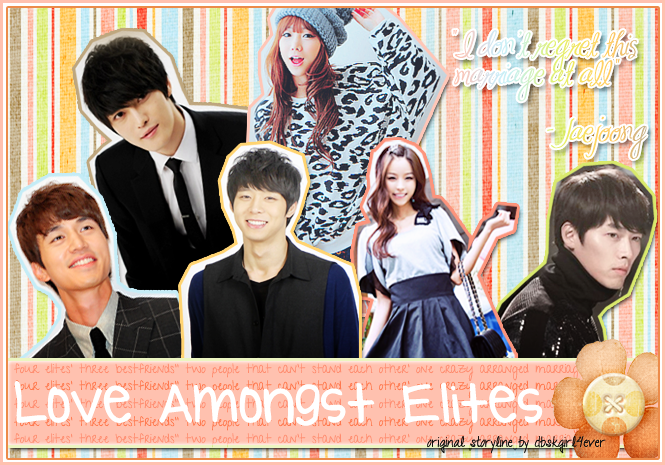 http://www.youtube.com/watch?v=ACWXbusW9BY
---
Jaejoong had a pile of work on his desk. He tried hard to focus but eventually lost his concentration at some point. At the meeting this morning, he made a mistake during his presentation and couldn't even answer a question from his fellow employee.
Jaejoong tossed the folder at the minute pile of finished work. He sighed and smoothed his face. *This is not good. I can't do anything without her now. Shit.*
His phone buzzed. "Sir, a visitor is here for you."
"Who is it?" Jaejoong asked.
"He said you would know if I said Hyunbin." The secretary replied.
Jaejoong straightened up *What does that bastard want now?* "Let him in."
A moment later, the door opened and Hyunbin entered.
Jaejoong stood up and warily eyed him, "What are you doing here?" "I came to help you and you greet me like that?" Hyunbin asked in amusement.
"Help me? How?" Jaejoong asked, puzzled. "You know ~~~~~~ is leaving today, don't you? Exactly 2 hours from now, in fact." Hyunbin glanced at his watch.
Jaejoong had been trying so hard not to think about that but now he grew hurt all over again. "Did you come here purposely to taunt me?" He growled.
"Didn't I tell you I came to help?" Hyunbin touched the lamp, "Pure gold. Hmm."
Jaejoong rolled his eyes. *Help, my ass.* He gathered his folders.
"Can I ask you something Kim Jaejoong?" Hyunbin asked. "You will anyways, won't you?" He answered.
Hyunbin smirked, "Funny. You know me too well already." Jaejoong sighed, "What do you want to ask?"
"Do you love ~~~~~~~?" Hyunbin asked. Jaejoong froze. "Do you love her? Because if you've just been playing with her feelings all along, I'm going to punch your pretty face." Hyunbin threatened. Jaejoong raised an eyebrow, "So your real motive for coming here was to threaten me?"
"How many times do I have to tell you I came here to help? Sheesh. I don't know how ~~~~~~ lived with you." Hyunbin sat down.
Jaejoong frowned at him. Hyunbin leaned over with his elbows planted on his lap. "Answer my question. Do you love her?"
"I do." Jaejoong said without hesitance. "I've never been sure of anyone in my entire life."
"Then why are you letting her get away?" Hyunbin asked. Jaejoong was surprised by his question. "If you love her so much, shouldn't you hold onto her? Unless she doesn't love you, which I'm sure isn't true; you shouldn't give up on her so easily like this." Hyunbin advised.
Jaejoong was confused. "Why are you telling me this now? I thought you hated me?"
"I do." Hyunbin nodded. "But I love ~~~~~~~~ more. I can't let her make a mistake like this." His expression softened. "More than anything else in the world, I want her to be happy. And trust me; I think Dongwook is suitable for her more than anyone. He's been her best friend for more than 2 decades now. He knows her better than she knows herself and he loves her more than I do. That is the kind of guy I want her to be with."
Jaejoong deeply frowned.
"But…~~~~~ is in love with you. Those kinds of things…no matter how hard you try…you can't stop. She's only going with Dongwook because of pity. Sooner or later, she's going to realize her terrible mistake but she won't be able to go back. She's going to end up regretting for the rest of her life. So before something like that happens," Hyunbin looked at him with a serious tone, "I want you to go after her. Stop her. Don't let her get on that plane."
"…What if she doesn't want to come with me?" Jaejoong whispered.
"You idiot. Have you been listening to me? She loves you. If you stop her before it's too late, she'll come with you. All she needs is for you to wake her up. So what are you waiting for? Don't tell me you can live without her because we know in the end, both of you will be screwed over. The only way the two of you can truly be happy is if you're together." Hyunbin said.
Everything clicked at once. Jaejoong straightened up with determined eyes *He's right. I have to get her back. I can't let her go now. I don't want to lose her ever again.* Without a thanks, he ran out the door.
"You're welcome." Hyunbin murmured in amusement. He closed his eyes and sighed *I'm sorry Dongwook but in the end, this is better for both of you.*
^ Back to Top