My Choice
by dbskgirl4ever
Tags comedy dbsk jaejoong jyj korean romance | Report Content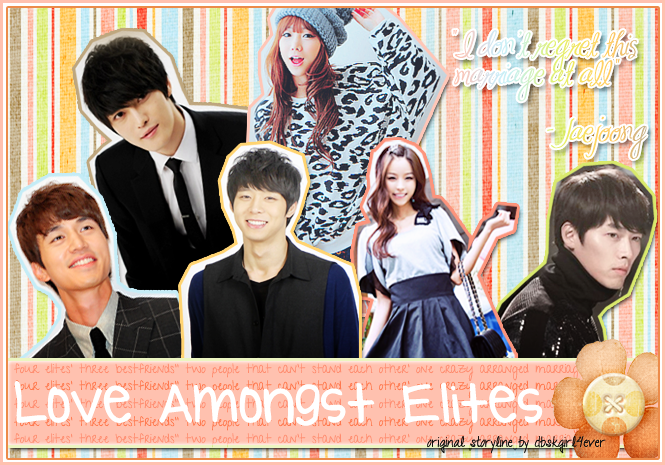 http://www.youtube.com/watch?v=egFBtaOz4kk
--
A couple weeks later, Dongwook was allowed to discharge from the hospital. And in that time, you had decided what to do.
You anxiously toyed with the angel necklace as you waited in the café.
"~~~~~~~~~~~~~~~~~~!" Someone brightly called. You looked up to see Jaejoong. He looked so happy to see you that your heart hurt. Jaejoong ran over, "Sorry. You waited a long time, huh?"
You shook your head, "I just got here."
Jaejoong asked, "Did you eat lunch? Why don't we go eat-"
You shook your head, "I just have something to tell you and then I have to go." "Okay, spill it." Jaejoong nodded.
You opened your mouth but bit your lip. *This is too hard.* "Come on. You can tell me anything." Jaejoong chuckled.
"…I'm moving to Australia." You confessed. His eyes widened, "Why? Are you parents leaving to Australia? That's not a problem. You can just come live with me-"
"I'm leaving with Dongwook." You replied. His face fell. It took a while for him to realize what was going on. "Let me get this straight…you're going to another country with another man?"
You dropped your eyes. "Before I came to your house that night, Dongwook oppa had asked me to go to Australia with him. At that time, I told him I would think about it."
"Then why did you answer yes now?" Jaejoong growled.
You opened your mouth but he answered for you, "You better not answer because of the accident." You closed your mouth. Jaejoong stood up, "I KNEW IT! YOU'RE GOING WITH DONGWOOK BECAUSE YOU FEEL GUILTY!"
People looked your way. You tugged on his hand and pleaded, "Please, Jaejoong oppa. People are staring. Sit down." His hand was stiff and cold as you yanked him back down.
"It's not your fault that he got into that accident. It was his choice." Jaejoong argued.
"He had to make the choice because I was in that situation. If it hadn't been for me, his arm wouldn't be broken right now."
"Arms heal. Hearts don't." Jaejoong snapped.
You swallowed hard, "I know. I know you think I'm being stupid and stubborn but I can only forgive myself if I do this. I can't let Dongwook oppa go to Australia alone when his arm is in this condition."
"So you'll come back after his arm is better?" Jaejoong questioned. You avoided his gaze. "Why are you making this decision now?! I thought you loved me! I thought we were all better now!" He claimed.
Tears welled up in your eyes. "I'm sorry. I never knew I had to decide this now either."
"Pleae think about it again. You're being ridiculous! Why do you always choose the difficult road?!" Jaejoong yelled.
"…I'm sorry. That's all I can say." You grabbed your purse and got up.
Jaejoong grabbed your wrist, "Sit down. We're not done talking."
You gazed down at him, "Maybe we aren't meant to be together after all." You walked out of his life for the 2ndtime.
Jaejoong's hand became limp. His hope shattered. *Am I losing you again?*
 ---------------------------
Time just flew by. You kept yourself busy with all the packing for Australia that you didn't have time to think about Jaejoong. The night before Australia, Dongwook came to your house for dinner. Now your parents' wound from your divorce had healed and they were starting to see him as your prospect for a husband now.
Dongwook put his coffee cup down and smiled, "Thank you for the food, omonim." "You're welcome, Dongwook. I'm glad you liked it." She chuckled.
"How will you survive without Korean food in Australia?" Your dad asked. "I'm sure they'll be fine. After all, Dongwook is a wonderful cook." Your mom winked. Everyone laughed except you.
*Jaejoong oppa was a good cook also.* Dongwook looked at you. You snapped out of your past and looked back up at him. He smiled and you warmly beamed back. *As long as you're happy Dongwook oppa.*
After dessert, Dongwook decided to go home. "I have several more things to pack." You walked him to the door. His chauffeur was waiting outside. "Isn't it uncomfortable with your arm like that?" You asked. "You have no idea. I really want to be able to drive again." Dongwook rolled his eyes. You chuckled.
"Hopefully, I'll recuperate soon in Australia and I'll drive us everywhere." He lightly stroked your cheek. You didn't say anything. His hand fell and he searched your eyes. "Are you sure you really want to go with me? You can always change your mind. I don't want to force you to come with me. Sure, I'm happy, but your happiness is important to me also."
You faked a big smile, "Don't worry about me. I want to go to Australia. I heard the surfer boys there are really cute."
Dongwook chuckled and lightly pinched your cheek, "Aigoo. I'll see you tomorrow at the airport."
"Goodbye, Dongwook oppa. Go home safely." You waved. You watched his car drive away and went back home.
You sat down in front of your dresser and saw the angel necklace around your neck. You lightly touched it *Tomorrow it will be all over. When I'm on the plane to Australia, there will be no turning back.*
^ Back to Top