Crisis
by dbskgirl4ever
Tags comedy dbsk jaejoong jyj korean romance | Report Content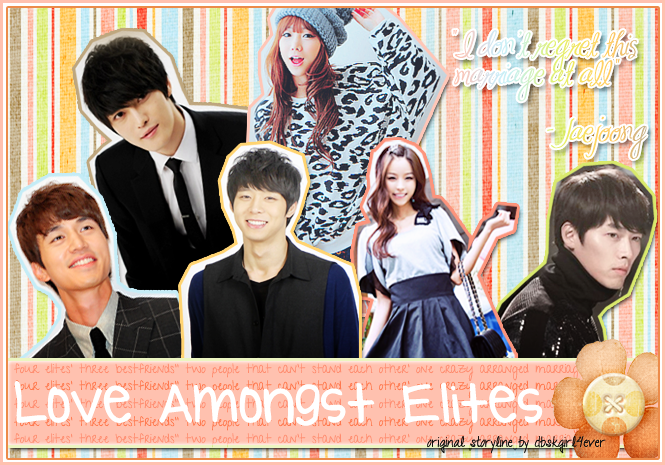 http://www.youtube.com/watch?v=oy-l9FhY9Hk
----
Without a notice from the secretary, the doors of Hyunbin's office abruptly slammed open. He actually jumped.
The secretary came in, "Miss-"
Hyunbin held a hand out, "That's all right."
The secretary bowed and left.
Hyunbin eyed you as you thundered over to the sofa. You lay down and started kicking about, "It's not fair! It's not fair! It's not fair!"
Hyunbin dropped his pen and threw up his hands with an exasperated sigh, "Why is it always my sofa? Why can't you go to Dongwook's office and kick his sofa?"
You stopped kicking and scowled at the ceiling. You couldn't get Jaejoong's stinking (hot) smirking face out of your head. *The guts he has treating people this way. If he hates me that much, he should've not agreed to it! Blaming me! Jerkface!* You kicked once more.
"What is wrong with you now?" Hyunbin shook his head as he went back to work.
"I'm getting married." You mumbled.
"I didn't even propose to you." Hyunbin said without looking up.
"I'm getting married!" You bolted up. "Not to you, not to Dongwook oppa, not to a man that I love, but the idiotic KIM JAEJOONG!"
Hyunbin froze. He slowly looked up at you. "You mean…"
"Yes, the same man who stole my elevator and the same man who said I couldn't afford eyes!" You growled.
Hyunbin blinked, taking it all in. Then he smirked and shook his head, "Man, your life sucks." He went back to work.
"Thanks, Binnie oppa." You resentfully glowered his way. "Anytime." He raised a hand.
You pouted and ran over. "I'm serious, Hyunbin oppa! I'm having a midlife crisis here!" He didn't even look your way.
You mashed your lips together in a firm pout. You grabbed his cheeks and made him look at you, "ARE YOU LISTENING TO ME?! I'M GETTING MARRIED TO A JERK WHO HATES ME AS MUCH AS I HATE HIM!"
Hyunbin stared at you, stunned that someone would treat his face this way. He grabbed your wrists and yanked away. "Aish!" Hyunbin fixed his tie and whipped his bangs in their proper perfect position, "What do you want me to do about it? There's nothing I can do once your parents' minds are made up. Here." He pulled a gold card out of his desk and handed it to you, "Take this and go shop instead. It's all on me."
If it was any other time, you would have accepted it with a willing heart but not now.
You snatched your purse up, "I'm going to go see Dongwook oppa." You left without a goodbye.
Hyunbin held up the gold card and curiously tilted his head. He lightly smiled *She must really hate him enough to decline shopping.*
 -----
"Director Lee-"
BOOM! You came storming inside like a bull that had just seen red.
"She's already here." Dongwook chuckled. He smiled, "Welcome-"
You sat on his couch with a fierce growl on your face.
"Okay, what now?" Dongwook leaned back in his seat.
Your lips turned into a sad frown, "I'm so sad and depressed."
"Why? Did Hyunbin not let you use his credit card anymore? Or maybe your favorite Versace purse was taken by another customer?" Dongwook teased.
"I'm getting married." You said. His smile vanished, "What?"
You told him everything. You came over, whining, "Can you believe it?! I'm getting married to that arrogant jerk! I can't stand him so how can I get married to him?!" You stomped on the floor.
Dongwook chuckled, "So just sit down."
"Okay, this isn't the time for your corny jokes. I'm really having a crisis here. Don't you or Hyunbin oppa care at all?" You pouted with puppy eyes.
Dongwook sighed and closed his folder. He intertwined his fingers together and looked at you. "Where would you like me to book you a flight to?"
You perked up. A getaway was exactly what you needed.
"Anywhere that is far, far away from here. That has a beach! And I can get a suntan! And drink virgin cocktails!"
^ Back to Top