No Choice
by dbskgirl4ever
Tags comedy dbsk jaejoong jyj korean romance | Report Content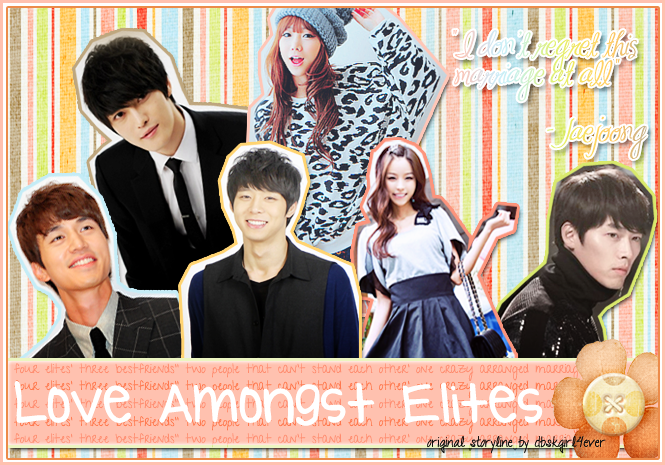 http://www.youtube.com/watch?v=zJ3BwODECTM&feature=related 
--
*What?! That was him! I always thought that boy was my first love. Blech! Forget it! How could someone so sweet grow up to be such a jerk?!* You crossed your arms, scowling.
Jaejoong thought similarly *She was so cute and loving. How did she end up as a brat?!*
"The two of you looked so perfect together. It was like a match made in heaven." Mrs. Kim romantically sighed.
"This is why we arranged this marriage." Mr. Kim added.
"We're friends and business partners. It would be even more wonderful if we were family." Your dad grinned. Your mom smiled and nodded in agreement.
"But we barely know each other." You felt nauseated already. "You'll have an infinite amount of time after marriage." Your mom eagerly nodded.
But Jaejoong stood up, "I'm sorry. I can't do this marriage."
"Jaejoong!" Mrs. Kim gasped in horror.
On one hand, you were glad he was rebelling. But on the other hand, you were offended. Were you that repulsive?
"I already have someone in my heart." Jaejoong glanced at you, "And I will not marry her instead."
"Are you talking about Ahyoung?" Mrs. Kim furrowed her eyebrows. Jaejoong looked away.
"Goodness, Jaejoong. You know better by now that she wants to be with Yoochun." She shook her head. He swallowed hard and clenched his fist. Of course he knew. Still, he couldn't give up.
"I'm sorry, Jaejoong, but you will have to go through this marriage." Mr. Kim gave him no choice.
"And if I don't?" He sneered.
Mr. Kim looked him straight in the eyes, "Then you will not become the heir of Hyundai."
Everyone stared at him in shock. Even you gasped.
Jaejoong stared at his father in disbelief, "A-are you serious?!"
"I am 100% serious." He nodded, "You either marry ~~~~~~~~ or you can find another job. It's about time you settled down, Jaejoong. Ahyoung is not a good choice."
"What's wrong with Ahyoung?!" Jaejoong defended.
Mr. Kim calmly spoke, "Nothing, of course. She's a beautiful girl but she's suited to be your friend, not your life partner." He crossed his arms, "So make a decision now. Ahyoung or Hyundai."
"I don't want to marry someone I don't love!" Jaejoong shouted.
"Your entire fortune is in your hands. You choose not to take this path and say goodbye to your credit cards, house, car, and of course your position in my company." Mr. Kim raised an eyebrow.
Jaejoong paused. He wasn't stupid. He knew he couldn't live without money. He couldn't lose his precious cars! And there was no way he was living in something smaller than a mansion. Jaejoong sighed and sat back down.
"Good." Mr. Kim smiled, "It's all settled now."
"But-" You squeaked. Your parents gave you a look. If you argued, you would end up in the same spot as Jaejoong. You sighed dejectedly. *This is not fair.*
"The engagement will take place with only our families in a couple weeks." Your dad gleefully decided.
You and Jaejoong looked at each other in disapproval. "Are we excused now?" He asked.
"You may go." The adults agreed.
You and Jaejoong left the room. You glared at his back *I have to marry him?! I was hoping I would never have anything to do with him again! Why is life so cruel?!*
Abruptly, Jaejoong halted and spun around, causing you to backtrack with a loud gasp. "It's all your fault!" He sneered.
"M-my fault?!" You asked, astonished.
Jaejoong put his hands in his pockets with an agitated sigh, "If you hadn't come into my life, I wouldn't have had to make this choice!"
You pressed your lips in a firm line, "Look here, Elevator ahjusshi-"
"Ahjusshi?!"
"-We're in the same boat here. I didn't have a choice as much as you so quit blaming me! Why did you appear out of nowhere and ruin MY life?!" You snapped.
"First of all, I was studying in Japan, New York, and Prague for 12 years of my life so of course you haven't seen me. And second of all WHY AM I AN AHJUSSHI?! I'M NOT EVEN THIRTY YET!" Jaejoong yelped.
"Fine I'll just call you ELEVATOR JERK!" You shouted in his face.
"You- ARGH!" Jaejoong lost his cool and stormed off.
You walked fast past him, purposely bumping into his shoulder. He stopped and blinked, stunned, "Aish, that little-"
You hopped into your limo and it drove off.
Jaejoong rolled his eyes and straightened his suit jacket *So immature.*
^ Back to Top