Regret
by dbskgirl4ever
Tags comedy dbsk jaejoong jyj korean romance | Report Content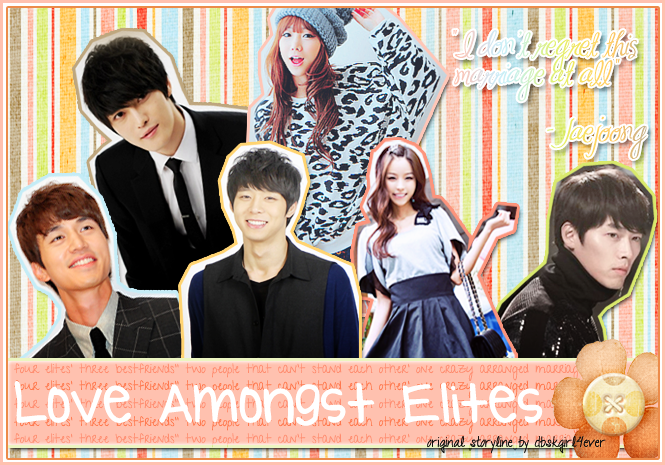 http://www.youtube.com/watch?v=xReiRJ31o2M&feature=related
---
The next day, you didn't come home as well. Jaejoong started to grow worried. He was this close to calling you. But whenever he pressed send, he ended up pressing end right away.
Jaejoong was at the bar with Ahyoung. As she yapped her head off, he kept staring at his phone. *Call me, dammit. Let me know you're okay. I'm going crazy not knowing where the heck you are.*
"Hello? Jaejoong? Are you listening to me?" Ahyoung waved her hand in front of his face.
"Huh?" He looked at her, as if he had just realized she was there. She pouted, "Have you been listening to me at all?"
"Of course." Jaejoong faked a smile. "What have I just been saying?" Ahyoung gave him a look.
Jaejoong opened his mouth but gave up and sighed. "I'm sorry. I just…don't feel too well." He gazed at his whisky.
Ahyoung leaned back in horror, "You're not going to puke, are you?"
Instantly, his mind rewinded to that night he had a stomach ache.
"Do you want to throw up?" You looked around. "No, no." He waved his hand. "Maybe you would feel better once you get something cold to eat. Should I buy you some cola? Or ice cream? Or-" "Stop naming foods!" Jaejoong blocked his ears. "I was just trying to help." You shrugged. "Then stay quiet!" He snapped. You shut your mouth. Jaejoong felt you taking his hand. He opened his eyes. You gently massaged his palm. "When I would get indigestion, my nanny would always do this for me. It made me feel better. I don't know if this is the correct way or not so don't nag me!" He realized how different the two of you were.
"Jaejoong, you're scaring me." Ahyoung said.
"I'm fine." He lied. She glanced at his phone, "You know. That phone hasn't left you hand all night long. What's up?"
"Nothing." Jaejoong mumbled. "You sure?" Ahyoung frowned, "Does it have anything to do with your wife?"
"I don't know where she is." He confessed. "So?" She blinked.
For the first time, Jaejoong was annoyed with her. "So?" He let out a not-so-funny laugh, "Ahyoung, my wife is missing. She left without a word."
She waved her hand, "She's probably having a good time with her friends. You are, too, right?" Ahyoung held out her drink and nodded at him to clink glasses.
*…Right.* Jaejoong clinked glasses with her and drank. But he knew he wasn't having fun at all.
 --------------------
After drinking a lot last night, Jaejoong had passed out across his bed without even changing. The sound of the door opening made his eyes pop wide open. *SHE'S BACK!* Jaejoong scrambled off the bed and ran downstairs.
"Whoa." You stared at his disheveled figure, "What happened to you?"
"Where were you?! Were you with Hyunbin and Dongwook?!" Jaejoong questioned.
You strongly raised your chin, "I thought we decided not to be in each other's lives. If you'll excuse me." You went past him.
"I take it back!" Jaejoong blurted. You stopped and spun around, "What?"
"Er, I actually thought about it a lot for the past few days…and I don't think we should do this." Jaejoong said. You crossed your arms and raised an eyebrow. "We should at least let each other know where we are. Something bad could happen or maybe there will be an emergency. So I think letting each other in on where we're going and where we're at and if we're going to be late or whatnot is a good idea." He nodded.
"Fine then." You nodded.
"So…where were you for the past 2 days?" Jaejoong warily asked. "Jeju." You replied.
"You weren't with Hyunbin or Dongwook, were you?" He asked. "That wasn't part of the deal~" You headed upstairs.
"Wait, WAIT!" Jaejoong called. You spun around again with a roll of the eyes, "Now what?"
"Just delete everything I said." He said. "What?" You were confused.
Jaejoong sighed, "Just forget about the whole stranger thing. It's impossible. We live under one roof. We're married for godsakes. It won't work out."
You crossed your arms with a frown, "Since when were you the one to decide if it will work out or not. It was working out just fine for me!" You stormed back upstairs. Before you entered your room, Jaejoong grabbed your wrist.
"Let go-"
"It's my wish!" He exclaimed. You slowly turned around and faced him. "This is my 5thwish. Please, let's go back to the way things were. Let's talk to each other, hang out with each other, and act like husband and wife." Jaejoong begged.
You gave him a look, "I thought you said we were superficial. You can't have it both ways, Jaejoong oppa. Either you want to have a relationship with me or you don't." You twisted open the doorknob and he blurted, "I do! I do!"
You paused. Jaejoong took a deep breath, "I'm sorry. I was wrong. I shouldn't have asked for the impossible. You were right all this time. So let's just go back to old times, yeah? I'll tell you if I'm going out and you can definitely call me whenever you want. How about it?"
You blinked at him a couple times then widely smiled, "Fine. 5 more wishes to go~" You waved your hand and disappeared into your room.
Jaejoong sighed in relief *At least things will go back to normal now.*
You pressed your ears against the door and heard him walk away. You cupped your hands over your mouth to stifle your giggles. *That was so funny! He was BEGGING me to tell me where I was and who I was with. Was he jealous? Omo!* You bounced onto the bed with a big smile on your face. *I'm so glad I went to Jeju. Now he should know how much I'm worth to him now.*
^ Back to Top