Hyunbin's Warning
by dbskgirl4ever
Tags comedy dbsk jaejoong jyj korean romance | Report Content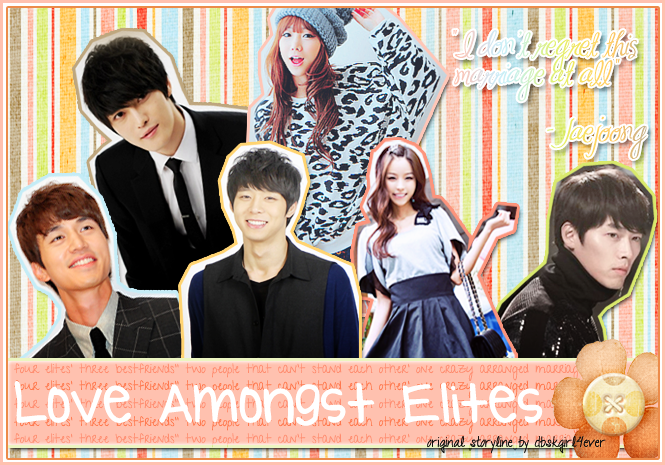 http://www.youtube.com/watch?v=zOncPMUvtXs
--
The next morning, the doorbell rang and the maid answered. Hyunbin and Dongwook came in, "Where is ~~~~~~~~~?" "Upstairs." She bowed.
They darted upstairs as fast as possible. "~~~~~~~~!" They burst inside your bedroom.
You were lying on your bed, looking pale and sickly. Their faces fell. You were a healthy girl and had never been this sick before. They always made sure you never, ever had peanuts since you had the same reaction during a European trip in middle school.
Dongwook stared at you in horror. His heart hurt at your weak figure. You were usually animated like an Energizer Bunny, but today you looked…broken.
Hyunbin put the shopping bags down and came over to the bed immediately. He took your hand and your eyes opened. "…Hyunbin oppa?" "Yeah, it's me, baby." He whispered and stroked your forehead. "You came?" You whispered.
"Why wouldn't I? You're in this condition." Hyunbin frowned. "Are you stupid? You're 24 years old now. You should know not to eat anything with peanuts." *I do. Jaejoong oppa didn't.* You thought. Hyunbin realized how harsh he had sounded. He softly stroked your hand with his thumb and curled your hair behind your ear. "At least you're okay now and that's all that matters."
You softly smiled, "I like being sick. You're being nice to me."
"Don't you even say that!" Hyunbin snapped.
Dongwook finally came over. You shifted your gaze to him and smiled, "You came, too, Dongwook oppa?" He nodded and bent over you to take your other hand. "How are you?" "Better than last night." You sighed.
"I'll bet." Hyunbin sourly said. "What the hell Jaejoong doing while you were in this condition?! Doesn't he know you're allergic to peanuts?!" *I told him but he forgot.* The thought saddened you.
"I have something for you." Hyunbin walked back to the door.
Dongwook took his place and sat on the edge of the bed.
Hyunbin brought the shopping bags to the other side of the bed.
"What are those?" You blinked. "You can't go shopping in this condition. So instead, I brought the mall to you." Hyunbin pulled out all the newest merchandise: shirts, skirts, bags, jewelries, shoes, etc. You beamed, overjoyed, "Now I really wish I was sick often. That way, you can come bring me these everyday!" "No way. You have to come to me." Hyunbin bent down and lightly knocked foreheads with you.
The 3 of you laughed.
Jaejoong just came in through the door with grocery. He heard laughter and curiously looked upstairs. The maid was on her way out. "Did someone come?" He asked. She nodded, "Her friends are here." *Hyunbin and Dongwook?* Jaejoong gave the grocery to the maid to put away and went upstairs. He snuck to your bedroom door and glanced inside.
You, Hyunbin, and Dongwook were talking and laughing. Hyunbin put his hand over your forehead and said something. You smiled and nodded back. Dongwook squeezed your hand and curled a loose strand of your hair behind your ear. "When you're all better, let's go eat at that restaurant by that beach, yeah?" "Yeah." You beamed.
Jaejoong felt forgotten and alone as he watched the 3 of you interact. *They make her smile that. Can I?*
A couple hours, you dozed off because of the medicine. Hyunbin put the shopping bags by your bed as Dongwook tucked you in. He placed your arms inside the blanket and pulled it over you. Dongwook gently stroked your cheek and softly smiled *Get well soon.*
"You ready?" Hyunbin asked. Dongwook nodded.
They left your room and collided with Jaejoong, who had just come out of his own office. "Is she asleep?" He asked.
Hyunbin narrowed his eyes. His grudge towards Jaejoong had just gotten bigger. "Don't tell me you're actually caring now." Jaejoong furrowed his eyebrows at the tone of hostility, "Excuse me but I always cared."
"Then you shouldn't have let her eat the peanuts! Play the part of her husband right!" Hyunbin snarled.
"Hyunbin-" Dongwook held him back.
"It's not your role to tell me what to do right." Jaejoong snapped back.
Before Dongwook could stop Hyunbin, he had grabbed Jaejoong's collar. "You idiotic moron! I regret doing nothing while she married you!"
"Hyunbin, that's enough!" Dongwook growled. "~~~~~~~~~~~ is sleeping inside. If she wakes up, you're in trouble, too."
Hyunbin and Jaejoong silently glared at each other. Hyunbin leaned in closer and hissed, "You better play your role as husband right or I'll end this marriage sooner than it has to." Jaejoong narrowed his eyes *What the hell? Does he know our marriage is fake?*
From Hyunbin's eyes, yes, he knew everything. Hyunbin shoved him back and left with Dongwook.
^ Back to Top